MLB
2014 Oakland Athletics Playoff Preview Q&A
At the All-Star Break, if you asked any Athletics fan or player if he thought the team would be in this dire situation, having to win a do-or-die game to be the American League Wild Card, he would have scoffed at you and continued to groom his ratty beard. Oakland's beards are still intact, but their momentum is waning.
After a few deadline deals (trading for Jeff Samardzija, swapping Yoenis Cespedes for Jon Lester), the A's fell off pace to win the AL West and are now the visiting side at Kauffman Stadium Tuesday night. How did this all happen?
We consulted Alex Hall, the editor-in-chief of SB Nation's Oakland baseball blog, Athletics Nation, to explain to us how it all went wrong and manager Bob Melvin can right the ship
Neon Tommy: Many have noted that Billy Beane's deadline deals for Lester, Samardzija, etc. hurt the A's more than helped them. Will Beane's pitching-first strategy backfire in the postseason?
Alex Hall: I find myself in a surprising minority of people who think the trades not only helped, but that they were essential. In the first half of the season, the team's strength was the offense. The pitching staff was good, but there were unmistakable signs that it wouldn't last long-term -- Sonny Gray is in his first full season, Scott Kazmir was still risky, Jesse Chavez was a complete unknown, and Tommy Milone is always in danger of getting shelled. It was working, but when you find yourself grabbing extra starters off the waiver wire for one dollar (like Brad Mills) you know that you need reinforcements.
Samardzija and Hammel were acquired strictly for minor leaguers, so they didn't hurt the 2014 team at all. Lester cost Yoenis Cespedes, which robbed the lineup of one good hitter. The dirty secret, though, is that Cespedes' fame and popularity far exceed his production on the field -- he's a good hitter and has a great arm, but he makes a lot of outs at the plate (low OBP), doesn't hit as many homers as you might think, and gets lazy in the outfield. There is a perception that he was the best player on the team, and that was simply never true.
Of course, losing Cespedes robbed the roster of some depth, and that became apparent when half the lineup got injured at the same time and Brandon Moss and Derek Norris stopped hitting. Cespdes would have helped that, but he wouldn't have stopped the slump on his own. Not even close.
Meanwhile, Lester, Samardzija, and Hammel were the team's best pitchers in the last two months by a wide margin. Without them, the rotation would have fallen apart alongside the offense and the team almost certainly would have missed the postseason. And now, staring at a one-game playoff, Oakland has Lester to lean on, which is a huge advantage.
In the playoffs, the focus shifts to your top 3-4 starting pitchers, and they become more important than they were in the regular season. Oakland can match any other team's top four, and I would argue that they're built for the playoffs in a way that they haven't been the last two years thanks to those trades. Hopefully the lineup can score a few runs to support them.
SEE MORE: 2014 Kansas City Royals Playoff Preview Q&A
NT: Josh Donaldson is having a career year, leading Oakland in most hitting categories, but his postseasons haven't been so far - he struck eight times in 21 AB last year. Can you elaborate on his importance to the lineup?
AH: First, we must remember that postseason stats are inherently unreliable. They come in tiny sample sizes and are therefore subject to massive variation -- a couple of grounders through the hole instead of right at the shortstop, or a ball lost in the sun that's ruled a lucky double, and your line gets a lot better.
As for Donaldson, one problem that I think he's had is the layoff between the end of the regular season and Game 1 of the ALDS. He seems to thrive on the everyday regularity of baseball to stay in his groove, but last year the team finished its final game on a Sunday and didn't start the playoffs until Friday. Not surprisingly, Donaldson came out rusty.
But now, thanks to the Wild Card game, he won't have more than one day off at a time. That's a good thing, because the A's absolutely need him to contribute -- there's no Cespedes to lean back on, and Moss can't be counted on to pick him up either after his long second-half slump. Donaldson needs to step up on Tuesday, and he's shown the capacity to do that over the last few weeks (and indeed all season).
NT: Presuming the A's beat the Royals Tuesday, what frightens you/the A's most about traveling to Anaheim to play the Angels? Does division familiarity bode well for one team, in particular?
AH: Once you reach the playoffs, there's no time to be scared of the opponent anymore. The best thing is just to visualize all the things that could go wrong for them.
Mike Trout could choke in his first taste of the October spotlight, Josh Hamilton and Matt Shoemaker may not make graceful returns from injury, any bullpen can fall apart at the wrong time, etc.Being the better team on paper in October guarantees you nothing, because anything can happen in short-series baseball.The most frightening thing is the top of that lineup, though, with Calhoun, Trout, Pujols, and Hamilton.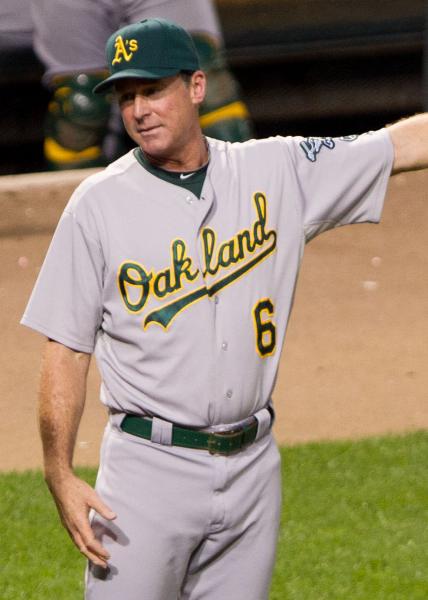 NT: Who is Oakland's most important signing or trade acquisition this year?
AH: I believe Lester saved the A's season. Losing Cespedes hurt, but Lester threw a quality start every single time he took the mound for Oakland (6+ innings, 3 or fewer earned runs). Cespedes may have helped them win an extra couple games with clutch hits, but the drop down from Lester to, say, Pomeraz could have been even more costly. And now Lester is starting the most important game of the year -- if he wins Tuesday, then he cements himself as unquestionably the most important addition of 2014.
To a lesser extent, acquiring Sam Fuld gave the team an extra midseason kick and probably made a difference with center fielders Coco Crisp and Craig Gentry constantly hurt.
But I'll add a sleeper pick: catcher Geovany Soto. The A's lost John Jaso to a concussion (again), and Stephen Vogt hurt his foot and can't catch at the moment. With Norris struggling, Soto has become a quality alternative and could play a big role in the playoffs.
SEE MORE: Dodgers Vs. Angels: Imagining The Freeway Fall Classic
NT: How much pressure is the fan base putting on the A's for this year to be the year?
AH: Earlier in the season, we expected a World Series title. The team was built to win, and then it added some great star power in the form of the three aforementioned starting pitchers. Billy Beane was all-in, and we were at the point of Trophy or Bust. Now, it's more a question of justifying moves.
Beane's reputation is on the line, and if they fail to make noise in October then he will be criticized for everything from trading a fan favorite to violating the old rule of "if it ain't broke, don't fix it." (Even though I believe that it WAS broken when he fixed it, but you just couldn't tell yet.)
A's fans have seen the playoffs. We've seen the ALDS, and we've seen the team lose the winner-take-all Game 5 a total of six times since 2000 (with only one ALDS win mixed in). That's old news now. I think the fanbase will be disappointed with anything less than a trip to the Series.
NT: How far do you see the A's progressing this postseason?
AH: The best way to make yourself look foolish is to try to guess what will happen in baseball, especially playoff baseball. I've decided to borrow a page from Bob Melvin and take this postseason one day at a time. The A's have a game on Tuesday, and if they win then they have a game on Thursday in Anaheim. I think their chances against the Royals on Tuesday are 50/50 or better.
Reach Alex Hall via e-mail here.
Reach Sports Director Jeremy Bergman via e-mal here or on Twitter here.