Los Angeles and Region
Will A Mass Grave In L.A. Be Your Final Resting Place?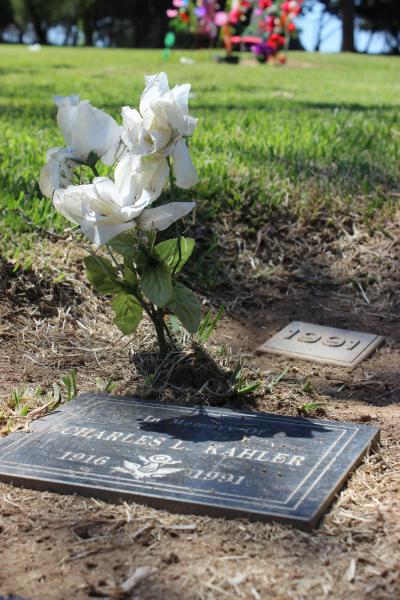 Thousands of people who die in Los Angeles County each year get a free funeral.
These funerals are not a gathering of loved ones or joyful celebrations of life, but rather burials of ashes in a mass grave in Boyle Heights where their remains join an unknown number of poor and unidentified persons.
"The county was never intended to be the mortuary of last resort, but the way the laws are written, the county has to make sure [burial] happens," said Craig R. Harvey, the chief coroner investigator and head of operations at the County of Los Angeles Department of Medical Examiner-Coroner. "Most folks don't know the county runs a crematory."
Due, in part, to lingering effects of the Great Recession, more families are leaving their deceased loved ones at the coroner's department in order to avoid the cost of private funerals. The coroner's unclaimed persons list currently includes 5,685 people who will be cremated and buried by the county if family members do not step forward.
A mortality report published by the Los Angeles County Department of Public Health in 2009 lists homicide as the second leading cause of premature death – after heart disease – in the county. Each of these homicide cases, along with the other nearly 18,000 traumatic, unexplainable and sudden deaths reported annually, come to the L.A. County Coroner's office.
With an annual budget of roughly about $30 million and a staff of 209 people, the coroner's investigations bureau conducts more than 5,700 autopsies per year.
"If it falls under our jurisdiction, the legal next of kin is welcome to take possession of the body," Harvey said. "However, if they fail, refuse, or if there are no next of kin that we can find, that falls on the coroner to make final deposition."
By law, the county must wait 30 days for family members, Harvey said. After the period expires, the county will send the remains to a contracted crematory. The ashes are kept at the Los Angeles County Cemetery for about two years, giving county officials more time to locate the next of kin.
"Sometimes it's financial and [the families] need time to get the money together," Harvey said. When families do come for their loved ones, the family members must reimburse the county close to $400, which covers personnel expenses and the cost of the cremation.
"The county is only allowed to recoup costs; we're not allowed to make money on stuff," he said. "People say its only $400 with the county, but if I went to 'X mortuary,' it'd cost me $1,500 – they're in the profit business. The county is not like a big private mortuary."
Chasing family members for the county burial costs long ago turned into a "zero sum game," Harvey conceded.
"We can pretty much tell when we're successful in notifying people, but they choose not to respond," he said. "Often times, as awful as it sounds, the interest is in what type of estate did the person leave."
SEE ALSO: "The High Cost of Dying in Los Angeles"
For the majority of those who end up buried at the mass grave in Boyle Heights, there is no estate to leave behind.
"We have a huge population of homeless folks. A lot of them live on the streets. …They can turn up almost anywhere," Harvey said. "When they're discovered, the Coroner will be called in because there is no one to sign their death certificate."
Harvey said the coroner's office contacts foreign embassies whenever a person from overseas is found with no next of kin in the U.S. However, for some families outside the country, flying to Los Angeles is not an option.
After holding ashes for two to three years, and if a family cannot be reached or refuses to take the remains, the coroner's office buries the ashes in a common grave after an interfaith ceremony. Harvey estimates between 1,300-1,600 people who died in 2011 will be buried this December.
"Before it would be some employees and the chaplain from the (LA County-USC) Medical Center that would go, but now more people are going," Harvey said. "It matters that someone…took care of the final business for them."
This multi-media story was produced in collaboration with the 2014-2015 M.S. Graduate Program at USC's Annenberg School of Journalism.