USC Sports
USC's Youth Revolution Leads New Era In Blowout Win Over Fresno State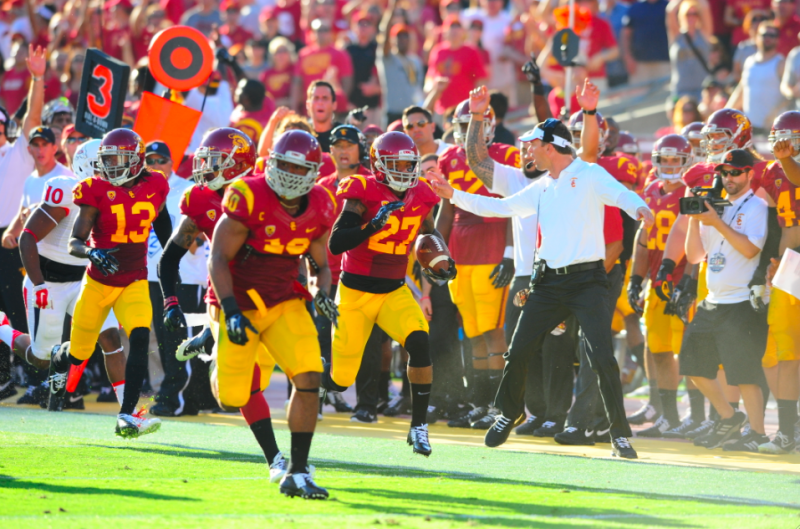 Steve Sarkisian said throughout practice this week that his team was not distracted by the Josh Shaw incident, and that they were solely focused on their first game of the season. After USC's 52-13 win over Fresno State, it's hard not to believe him.
There was a different kind of atmosphere in the Los Angeles Coliseum on Saturday night, one that seemed to focus on actually having fun while watching the Trojans play. USC opened up with big plays, a faster-paced offense and a plethora of excitement. It was simply a young team, the Trojans played nine true freshmen in the first quarter alone, that seemed eager to prove that USC football is back.
"Ever since the summer in practices these guys have come wanting to learn. They're asking questions and texting me to meet for film," said quarterback Cody Kessler. "We threw them in there and I knew that they were going to run the right route and not miss their assignments. I was excited for them, especially in the first game."
One true freshman, JuJu Smith, had more receiving yards in his debut (123) than Robert Woods, Marqise Lee and Nelson Agholor had in theirs combined (84). Another one, Adoree' Jackson, caught a touchdown on offense and made some nice plays on the defensive side of the ball, giving USC their very own two-way player. Tight end Bryce Dixon caught a touchdown and seems like he'll be a constant threat in USC's passing attack for years. And yes, you guessed it, he's also a true freshman.
"When we went to summer player-run practices, we knew the importance of this freshmen class," said Sarkisian. "For us to be a complete football team, we were going to need those guys to come in and really contribute to our success."
"Everybody was expecting us to make some plays. [The team] has been hard on us at camp and they want us to succeed," said Jackson. "We actually came out and did a good job. I hope that we can gain respect from the guys and go from there."
Sarkisian's uptempo offense also helped rejuvenate the fan base in his coaching debut.
The offense ran 104 plays, a Pac-12 record. Kessler set a career-high with 394 passing yards and five total touchdowns (four passing, one rushing). Overall, six different Trojans found the end zone on Saturday night. It was a breath of fresh air for USC football, especially compared to former USC coach Lane Kiffin's methodical offense.
"When you can convert third downs and extend drives, you can start to accumulate plays. By accumulating plays, you can start to wear down your opponent a little bit. Then ultimately you can create big plays," said Sarkisian. "We saw a variety of those types of plays tonight on some passes to the perimeter where we got one-on-one matchups and our receivers were able to break tackles and create big plays."
USC needed to make a statement early on, and they converted three third-downs on their first drive of the game, which ended with the first of two Nelson Agholor touchdown receptions. USC's electric first quarter paved the way towards handing Fresno State their most lopsided season-opening loss in the school's history. Despite running an uptempo offense of their own, the Bulldogs never developed a consistent rhythm against USC's defense.
"They are excellent on defense. They are very physical and really talented. They're big up front, their linebackers are physical and their secondary played well," said Fresno State coach Tim DeRuyter. "We were effective at times, but a lot of the time we couldn't get their (USC's defensive linemen) hands down and they tipped balls."
The Trojan youth injected an excitement that hasn't been felt in Troy in a few years. The freshmen have grown quickly since the beginning of fall camp, but they'll face a major text next weekend on the road against Stanford. Despite losing four of their last five contests to the Cardinal, this team has proven that they can handle difficult situations on and off the field.
"We'll be faced with adversity all the tummy and we found out a lot about this team," said Sarkisian. "This team has great leadership, has been through a lot and dealt with it like professionals."
Reach Senior Sports Editor Max Meyer by email.