National
Protests Continue In Ferguson, Mo. After Police Kill Unarmed Black Teen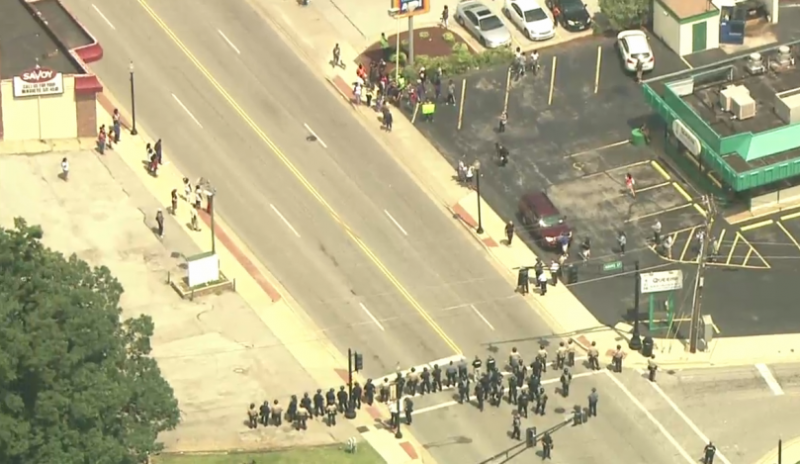 18-year-old Michael Brown would have started his first semester at Vatterott College today. Instead, citizens of Ferguson, Mo. are still searching for answers as to why the unarmed black teenager—described as a "gentle giant"—was shot multiple times by a police officer and left to sit in a pool of his own blood.
The images coming out of Ferguson are incredible, and the rhetoric is deeply rooted in racial issues that have been gestating in greater St. Louis for a long time.
No getting around it. Demonstrators here in #Ferguson are overwhelmingly black. Police standing guard in riot gear are overwhelmingly white.

— Matt Pearce (@mattdpearce) August 11, 2014
Anger and racial tensions boiled over in a region of America that is one of the most heavily segregated in the country. A police officer was captured on tape last night calling protestors "fucking animals." The city's faith in its civil servants completely eroded, some protestors took the streets with rage in their hearts.
SEE ALSO: There Is Civil Unrest In America Tonight And Nobody In The Media Cares
By Monday morning, there was a running tally of all the destruction: 32 arrested, 2 officers injured, a dozen police cars vandalized and scores of business looted and damaged. The convenient store that started the whole altercation was burned to the ground.
But all of it pales in comparison to the loss of life the community suffered just two days ago, when Brown was shot and killed in the middle of the day. Even as the embers of a night of civil disobedience cool off, the citizens of Ferguson are no step closer to finding justice or answers.
And local law enforcement shows no signs of deescalating the crisis. Earlier today, Ferguson police sent officers in riot gear marching down the streets to push back protestors, arresting several people for "failing to disperse." The mayor said anyone attempting to rally would be arrested.
Now both the FBI and the Department of Justice are involved. The hacker collective "Anonymous" also pledged to bring down the Ferguson police department. And despite cable news' best efforts to ignore Michael Brown, people on Twitter may have given the media no choice but to acknowledge his existence.
Regardless, answers will not come immediately, nor will a swift resolution for a family that should have been celebrating Brown's first day at school–but will be preparing for a funeral instead. We can only hope for a calm evening.
Reach Editor-in-Chief Will Federman here. And follow him on Twitter.