Music
Outside Lands 2014: Complete Recap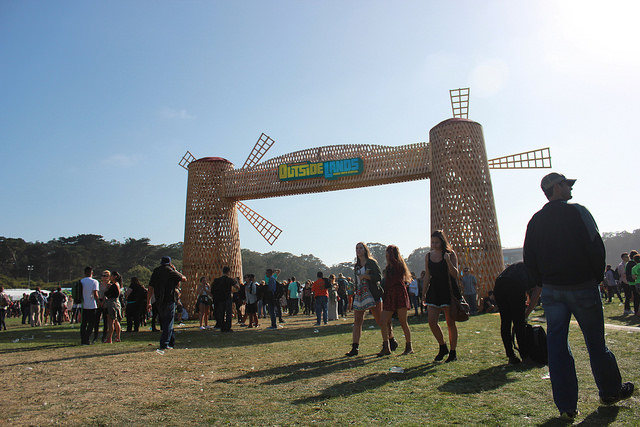 The wonderful music festival was held this weekend in San Francisco's Golden Gate Park. We've got the best highlights from the festivities.
DAY ONE:
Best Instagram Photo Op: The Windmill
At Outside Lands, there are two windmills located virtually in the middle of the festival. Not only was it a pivotal "meeting spot" for most people, but it also provided a quaint background for the perfect picture. Basically, the windmills are to Outside Lands as the Ferris Wheel is to Coachella.
Funkiest: Chromeo
Not being the biggest fan of anything but woods of Wisconsin folk, I have to say that Chromeo was a blast. They made their set interactive and their beats, hypnotic. This duo definitely deserves more credit and recognition for getting the crowd on their feet.
Most Snapchat-worthy moment: Giant Chocolate Bar Being Passed Around
You could've given your friends major fomo by not only being at a festival with chocolate, but also seeing a massive chocolate bar being passed to and fro at the Lands End stage.
Biggest "You Should've Listened to Your Gut Feeling" Moment: People who Bought Fake Tickets
In this week's segment of "I told you so," scalpers managed to sell hundreds of tickets that were, indeed, fake. The result was a bunch of people, wearing their best hippy-grunge outfits, being turned away at security.
READ ALSO: Outside Lands 2014: 17 Things You May Experience
Coolest Food: Yellow Watermelon
Because taking pictures with normal, red watermelon is so Coachella, Lands decided to switch it up a bit, asking local farmers to bring in food. Yellow watermelon slices were only a dollar and tasted fantastically delicious.
Most Underrated Performance: Tegan and Sara
Though their set seemed a bit slow at first to some, Tegan and Sara proved this weekend that they could still slay. Yes, Tegan and Sara, we do want you back in our heads.
Biggest Diva: Kanye West
Surprise, surprise. Fashioning a diamond encrusted facemask, Kanye performed an amazing set of oldies ("Jesus Walks") and newbies ("Bound 2"). However, that didn't stop Mr. Yeezus from interrupting himself (because the only person who can interrupt Kanye is Kanye) for stop good ol' fashion rants. From blaming the media for rumors to asking a crowd of 200,000 people to form a circle (throughout the night), Kanye knew what he wanted.
DAY TWO:
People You Most Want to be Friends with: Local Natives
Watching the band simply jam and mesh as a musical core was awesome to see. After the set, the band was even seen walking around the festival, talking to fans and hanging out with friends.
Cutest Brits: The Kooks
"Ooh, la" is right! Another highly underrated band, the Kooks showed the crowd how naïve it would've been to not see their stellar set. Despite not having released a full-length album since 2011, they managed to entertain the crowd and sneak in a few new singles here and there.
Best Type of Land Ever: Choco Lands
Need I explain?
Souvenir to Invest in: OL Blanket
With Saturday being the coldest day by far, blankets with the Lands logo were probably at the same ratio as flower crowns. The audience was clearly not prepared for the brisk San Francisco weather.
Next Artist to Hit the "Big Leagues": Vance Joy
Joy's Saturday set was one of the best of the weekend by a landslide. The Australian singer has only thus far released an EP and yet the stage he played, Panhandle, at was packed. The area was overflowing from people dancing and frolicking to Joy's playful music.
Deserves the Shadiest of Eye Rolls: Macklemore and Ryan Lewis
Milking the thrift shop and "indie" fame for all its worth, Macklemore and Ryan Lewis performed opposite Tom Petty Saturday night. Because the rapper only has one album out, he staged (for the hundredth time, see: Grammys) a proposal ceremony between two lovely women and played the same song ("Can't Hold Us") twice. Is it just me, or does it seem like he's exploiting the "Same Love" and "indie" themes?
Most Likely to Make You Raise Your Glass: Tom Petty & the Heartbreakers
Seasoned pros, Tom Petty and the Heartbreakers showed every band at Outside Lands how it's done. They created perfect music, all while managing to make the crowd sway for almost two hours.
DAY THREE:
Biggest Sinners: Chvrches
At the festival, there were no "Chvrches" to attend on Sunday. Due to a traveling issue, the band Chvrches could not make it to San Francisco. Word of mouth eventually traveled to festivalgoers like wildfire, leaving everyone and their mother to attend Flume instead (see: Deadliest Crowd).
Biggest Trend: 90s
As if San Francisco doesn't already make you feel like you're in an episode of "Full House," leave it to Outside Lands to bring out enough people to embrace the plastic heel and "fur coat with mom jeans" trend. These people, who probably just finished watching "My So-Called Life" and "Freaks and Geeks" on Netflix for the fifth time, managed to pull off some awesome looks.
Best Promo: Ben & Jerry's
Everyone's two favorite men came to the festival to hand out samples of their new flavor, "Hazed and Confused." A creamy blend of chocolate and hazelnut, the ice cream was perfect for a surprisingly warm San Francisco Sunday.
Most Innovative: Made In Heights
The California duo combines electronic backing, indie beats and an almost synth backing to create music that was unlike any other artist at the festival. They also had choreographed dance moves, adding extra pizazz to their set.
Best Idea Ever: Digital Detox Zone
In a world where our phones are glued to us like your favorite pair of skinny jeans circa 2006, it was refreshing and eye-opening to see a world without the constant need to check your phone. People were actually talking, singing, writing on typewriters, making arts and crafts, reading, and enjoying life in the moment.
Best Stage: Twin Peaks
An artistically-crafted setting, the stage was painted in beautiful, vibrant colors and was tucked away from the main polo field. It was surrounded by trees, was next to a great hill and was close to food. The vibe of this stage was unsurpassed.
Deadliest Crowd: Flume
Although Kanye was probably the worst, I have to acknowledge how crazy Flumes crowd was for an afternoon set of a relatively new (though, up-and-coming) DJ. There was shoving, mobbing and, of course, dancing.
Most Original: Flaming Lips
By far the most entertaining band to watch, the Flaming Lips amused the audience by bringing characters to the stage to dance with them. Wayne Coyne, the lead singer, is so pleased to be playing music, you can't help but feel joyful during their entire set.
Best of the Weekend: The Killers
This is a highly political decision, but I have to say that the Killers annihilated the competition when it came to the best overall performance of the weekend. Even though a majority of their hits are a few years old, the band managed to always keep the crowd on its toes, often asking them to sing the words or repeat a phrase. They also began their set with "Mr. Brightside," setting the mood for the rest of the magical set. There was even a cover of "Sittin' on the Dock of the Bay" and Danielle Haim also joined the band on stage. The night closed with "When You Were Young" and if that didn't give you chills, I don't know what will.
Reach Music Editor Jillian Morabito here.