National
Journalists Arrested And Assaulted As Ferguson, Mo. Descends Into Chaos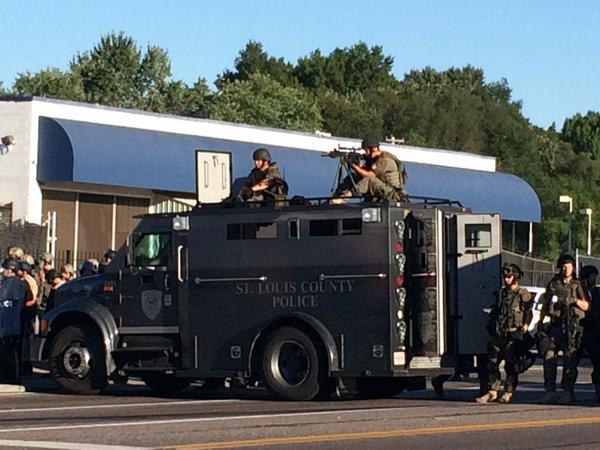 Journalists for The Washington Post and The Huffington Post were assaulted and arrested by police at a McDonald's in Ferguson, Missouri—minutes before the town descended into chaos Wednesday evening.
Police wielding military-grade weaponry have decided to toss the constitution in a dumpster fire, cracking down on nonviolent protestors with a show of force that some journalists have not seen since Cairo.
SEE ALSO: Police Shoot 19-Year-Old As Gun Violence Flares In Ferguson, Mo.
Ryan J. Reilly of The Huffington Post and Wesley Lowery of The Washington Post were working inside of the McDonald's when a squad of officers stormed the restaurant and demanded to see their identification. When both journalists failed to evacuate quickly and began to record the officers, the two were assaulted and detained by police officials.
A group of protestors were singing and chanting in support of Michael Brown—the unarmed black teenager gunned down by a Ferguson police officer on Aug. 9—outside the premises. Reilly and Lowery, who were filing copy for their respective publications, were detained "trespassing."
Matt Pearce of the The Los Angeles Times called Ferguson police chief Tom Jackson to inquire about the fate of his two peers. After Jackson realized the colossal error, the two were released, but officers involved refused to give their names.
By the time both could return to the scene of the protest, tactical units armed with military-grade weapons had successfully antagonized a group of nonviolent protestors, children among them, into an agitated state.
As of 40 minutes ago, police began firing tear gas and rubber bullets indiscriminately after someone threw a glass bottle. Users on social media have remarked officers are also using LRAD crowd control equipment, a military weapon utilized to pacify targets by damaging the eardrum.
This is the fourth consecutive night of civil unrest. Gov. Jay Nixon has stated he is "praying" for the town of Ferguson, but I gather that is little help to his constituents tonight.
Reach Editor-in-Chief Will Federman here. And follow him on Twitter.