Sports
USC Pep Rally: Scenes From An Empty Galen Center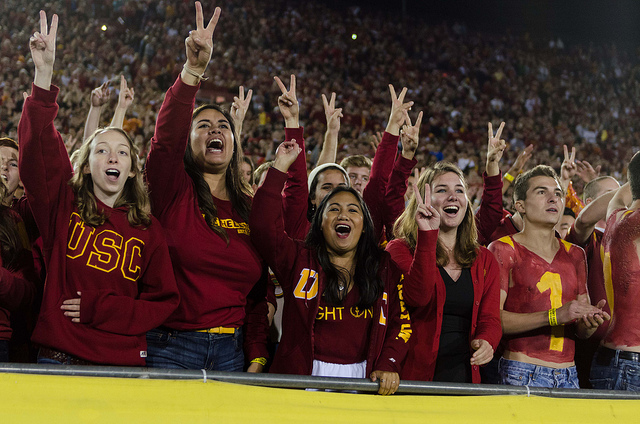 Well, it was sort of fun. I guess?
I didn't attend the one last year as a freshman, and I probably wouldn't have gone to this one if I wasn't assigned to go. But it felt like a worthy event on my USC Bucket List, so I decided I was going to hit up the 2014 Fall Rally.
It was…underwhelming. And I went in with relatively safe expectations. But even after the less-than-an-hour show, I left asking myself, "That was it?"
***
For the record, I would consider myself a well-above average USC sports fan at the school. My parents met at USC—my dad is originally from St. Louis and my mom commuted to class from Alhambra—and I grew up in Los Angeles during the prime of USC's football dynasty, so naturally I became a big fan of all things Trojan. I don't live and die by the success of our student-athletes, but I won't miss a game at the Coliseum this season and will catch a game of at least five other NCAA teams by the end of the year.
I was a little bummed out by the Josh Shaw incident, so I was hoping the pep rally would get my football spirits up in time for Saturday's game. And when they're down, nothing quite gets my spirits back up than the Spirit of Troy.
I started following the marching band right around the Campus Center. They marched all the way from campus to the Galen Center, playing the whole time, and I was actually kind of excited.
I walked in on the ground level, thinking that I may get a courtside seat for the event instead of entering and sitting on the second level like I usually do for basketball or volleyball games. But a security guard did his best Dikembe Mutombo impression, directing me to the nearest flight of stairs.
"Where's your jersey?"
"What?"
"You an athlete?"
"No."
"Oh, sorry. Was looking at your shirt."
I was wearing a USC Lacrosse polo, one that doesn't properly distinguish the fact that I play for the men's club team and not the women's varsity team, though I thought my beard would give that away.
So close, and yet so far.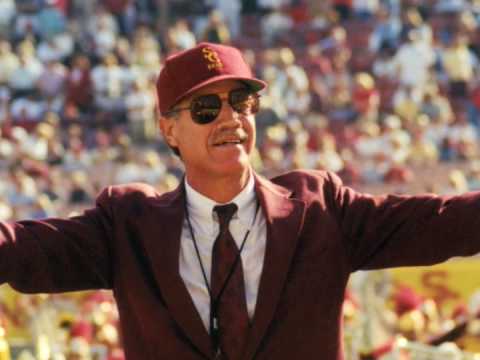 ***
Once I found a seat with the rest of the students, I heard a very familiar voice coming from a microphone on the floor: Dr. Arthur C. Bartner.
I love this man. I've had some fantastic professors at this fine academic institution, but he's easily my all-time favorite employee of the school. He's the perfect cross between Max Nikias and Pete Carroll. If you replaced Nikias' bureaucratic blandness with Carroll's infectious energy, then swapped Carroll's occasionally questionable loyalty and honesty with Nikias' professional integrity and commitment to the university, you'd get Bartner.
The unmistakable fervor in Bartner's voice is not hindered, but enhanced by the 44 years he's spent screaming at our marching band. As the director of the band since 1970, his voice has a subtle yet distinct rasp that sounds so fitting for any football hype-up speech.
It vaguely reminds me of Ed Orgeron's. Not in sound or pitch - Orgeron has a much deeper southern drawl while Bartner hails from New Jersey - but in the sense that one can clearly hear how their respective vocal cords have been strained over the years by voracious passion for the game of football.
Unfortunately, Bartner was not the official MC of the night. He simply offered a brief introduction, then handed those honors off to DJ Malski. I had never heard of Malski before the event, and no, he has not worked at the university for over four decades.
The band played it's usual set, though not in full costume, and impressed as always. "Fanfare" into "Tribute to Troy" immediately sparks images of standing in the Coliseum every time I hear it; "Fight On" is a classic amongst all the other great college fight songs; and "Conquest" stands alone as the greatest victory lap anthem ever made.
If USC became an independent country, like Pat Haden always jokes every time the Olympics come around, we would honestly have an identity crisis trying to pick which of those would serve as our national anthem. The trio of "Fanfare" into "Tribute to Troy" into "Fight On" would probably be the favorite, but I would much rather hear "Conquest" every time a USC flag was raised after a Trojan won a gold medal.
I never went through a 90s skater punk rock phase, so the cover of The Offspring's "The Kids Aren't Alright" honestly has never done it for me. But The Offspring's lead singer Dexter Holland apparently got his masters in molecular biology from SC, so I do respect the song's place in the marching band set list. The cover catalogue features a lot of great jams, from the slightly less original like the White Stripe's "Seven Nation Army" and Free's "All Right Now" to the uniquely USC, like 2Pac's "California Love" and, most notably, Fleetwood Mac's "Tusk."
***
While the band was certainly the highlight, what was supposed to be the main attraction was a heavy dose of disappointment.
All 21 of the - wait, scratch that - just 15 of the 21 NCAA-sanctioned sports teams made appearances in Galen.
Each team threw shirts into the audience, some with more enthusiasm than others. A sand volleyball player knee slid across the court as they were announced to the crowd. A men's track and field athlete did this really sick cartwheel-backflip thingy. The six-time defending national champion men's water polo team walk out to the band's cover of DJ Khaled's "All I Do Is Win," an A+ song selection. The DJ jokingly called UCLA "the smurfs" who live out "on the other side of the 405." He must have forgotten that UCLA and USC's campus are actually both east of the 405, and that UCLA is actually on the other side of 10 freeway, which we're south of and they are north of, but it was a good try.
There were some mid-court dance parties. There was some apathy: I was expecting Steve Sarkisian to give a Netflix commercial speech, or at least one athlete to say something, but the event ended in 50 minutes without anyone besides the DJ saying anything. But all in all, a lot of the student-athletes came out to the event, which was very cool.
In fact, there were probably more student-athletes at the event than actual students.
***
I didn't think that both levels of the Galen Center would be packed, but I was hoping that at least one of them would be. Instead, only one side of one level was about half full, and I found a spot on the top row of the first level.
The timing of the event wasn't exactly great, though I'm not sure when else it could have been planned. The biggest conflict I'm guessing was Greek Rush Week activities, though indifference may have been bigger.
USC lists that about 3,500 of the 18,000 undergraduate students at USC are a part of a fraternity or a sorority, around 20% of the school. In the 2012 school year, USC listed that 2,688 undergraduate students at the school were international, good for about 15% of the undergraduate population. I'm afraid I'm painting with very broad strokes when I say this, and I have no numbers to back this up, but my experience at USC has led me to believe the following: athletic events cater to undergraduates more so than graduate students, the members of the Greek system attend sports events much more often than international students and the Greek system is for the most part void of international students.
The Greek system caters to my demographic much more than any other. I'm white, I grew up in an affluent suburb in Southern California and my parents are USC alums. This obviously isn't the whole picture of the Greek system, but nonetheless, the average kid in the Greek system looks and acts a lot like me.
So it doesn't surprise me when the school organizes an event during the most important week of the Greek semester that very little people show up. Not only is 20% of the school occupied, but that 20% is made up of a lot of the kids that would come out to a sports event if it wasn't for a conflict. Furthermore, freshmen still hyped on the excitement of their first week on campus are much more likely to come out to a school spirit event, but a lot of the freshman class is likely participating in rush events, even those who will choose not to join the system. Much like the college fraternity system, the die-hard college sports culture, especially that for American football, is, well, uniquely American.
The Galen Center seats just over 10,000, and I think there were under 1,000 in the building. I'd guess 500 students, 150 athletes, 100 band members and about 50 other performers.
***
Speaking of other performers, I haven't even gotten to maybe the most entertaining part of the night: the Trojan Dance Force versus the Song Girls.
First off, I don't know why we need both. Maybe I don't know enough about dancing, but those two groups to me literally do the exact same thing in very, very different uniforms.
The difference goes beyond the color scheme, with the Trojan Dance Force in all-black and the Song Girls in the traditional white skirt/turtle neck combo; it's the symbolism in the different outfits.
The Song Girls are another one of the classic traditions at USC. The TV cameras pan to the Song Girls all the time coming back from timeouts during games. I'd bet at least a hundred girls try out each year for about twelve spots. You can even buy the legendary turtleneck sweater from the bookstore, as well as the knitted skirt and a Song Girl T-shirt.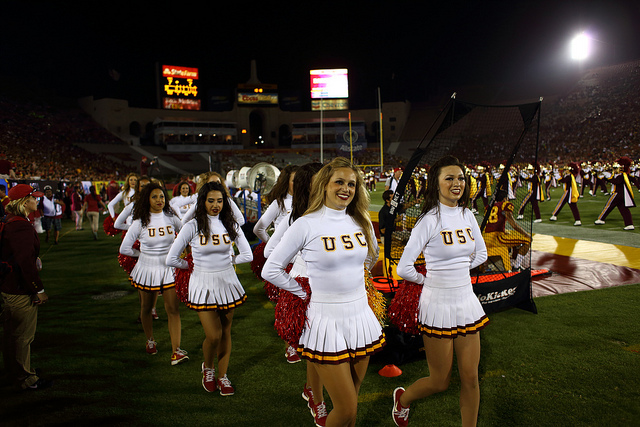 But here's the crazy part: Song Girls aren't cheerleaders, they're dancers. There's a whole separate entity of USC cheerleaders.
The USC Spirit Leaders. They actually have the responsibility for starting chants at games, they use those big plastic yelling cone thingys (does anyone know what those are actually called?), they occasionally will do stunts and they carry the USC flags while running out of the tunnel onto the field. Though don't confuse them with the USC Silks, another whole separate entity that does all the really cool flag twirls at halftime and OH MY GOODNESS WHY DO WE HAVE SO MANY SPIRIT SQUADS ON CAMPUS AND NOBODY COMES TO THIS GOD-FORSAKEN SPIRIT RALLY.
I know a couple of people in these troupes, and I think they get along just fine. But I have this hilarious Mean Girls-inspired image in my head of a Song Girl doing her makeup next to a Dance Force Girl (Dance Forcer?), looking over condescendingly and saying, "You can't use our pompoms."
It's the same feeling I had walking back on 28th Street after the rally, hearing two different sorority houses singing their hair-flip songs as loud as possible, and knowing that each house could hear their neighboring sorority just fine.
***
So what does this all mean? What should we do to get more people to come out for pep rallies, or men's basketball games, or women's basketball games, or any non-football sporting event? Is it something worth pursuing for us as a community?
Obviously, it'd be awesome if everyone on this campus would eat, sleep and drink USC athletic spirit. If every day felt like storming the field against Stanford, or that day at the start of last spring semester when kids actually filled up the Galen Center when the top-ranked Arizona Wildcats came to town. But the only quick-fix way to improve attendance at sporting events would be to serve students alcohol, and that's probably illegal.
Maybe there isn't anything wrong with the fact that we go to a school where 18,000 undergrads are doing 18,000 different things on a random Thursday night.
Some girls are probably rushing potential new members—PNMs if you're in the know—and talking about how their respective house is just so involved with this cool philanthropy event. Some guys are probably scoping out their next pledge class over a blue chip dinner, reminding the rushees that "honestly, what really sets us apart from other houses is that we're just all about the brotherhood." There's probably a film student tucked in bed watching some foreign film for a critical studies class with English subtitles. There's probably engineering student tucked in bed watching some American film after a long day in the lab with Chinese subtitles. And a couple hundred freshmen are all eating dinner together at EVK after the rally, second-guessing whether they should have just made the walk to Parkside.
As long as we all come together Saturday.
Reach Staff Writer Luke Holthouse via e-mail or on Twitter.