Sports
Born And Bred: The Geography Of Sports Fandom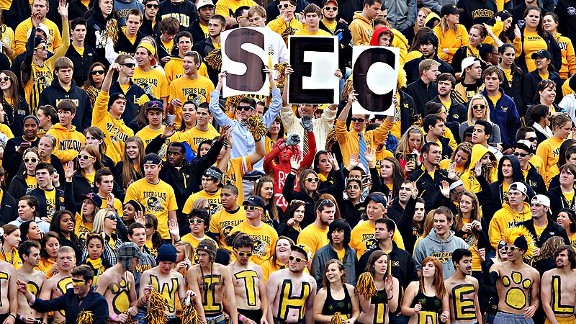 I love college football. But I don't
love
college football.
I wish I could say the latter. I wish I belonged to the crowd proudly representing five generations of alma maters, fans who haven't missed a football game since age two and children who, straight out of the womb, were chanting "Fight On!", "War Eagle!" or "Roll Tide!" I dream of what life in the SEC is like—living, dreaming, breathing college football every second of every day.
Don't get me wrong, I love college football. But I don't love college football. I dislike the BCS system because anyone who believes in a logically functioning universe dislikes it, not because it screwed my team out of a bowl game. I am an advocate for the "Power Five Autonomy" ruling because it makes basic sense from a revenue and business standpoint, not because I'm fixed on some crazy Pac-12 power trip.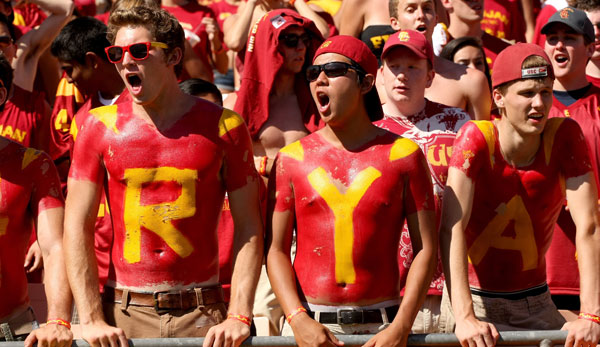 I attend school at the University of Southern California, the Pac-12 Conference's premiere flagship. But that doesn't mean I can name our starting offensive line. I wasn't swaddled in SC-emblazoned blankets as a baby and I didn't "Fight On" in pictures until…well, I still don't do that. I didn't purchase
my first article of Trojans clothing until I visited campus my senior year of high school. Hell, I still don't know the USC Fight Song.
I believe my lack of obsession with college football comes from a preordained geographic disposition. I'm a New Englander. I hail from the rolling foothills and stream-laden forests of Vermont. Home is a 3,500-person, five-church bearing, movie theater-less, fast food-less, everybody-knows-everybody small town in a state many people here confuse for a street. And I don't regret it for an instant. But my town doesn't breed college football fervor.
Put that same town in southwestern Texas, and you've got Friday Night Lights. Place it anywhere in Alabama and the first question the football team gets asked is, "Auburn or 'Bama?"
My small town loves football. Our high school football team is celebrating its 122nd birthday this Saturday. (Sorry to ruin the iconic Friday night image, but we don't have lights.)
However, we don't send kids to D1 schools. We aren't a pipeline for top-tier NCAA talent and likely never will be. The closest college football team that has ever gained national prominence is Boston College, which is two-and-a-half hours away (or 150 miles for those not accustomed to Vermont's perception of distance in hours). And Boston College's only leap to relevance since Doug Flutie? Matt Ryan. The Power Five conferences are laughing.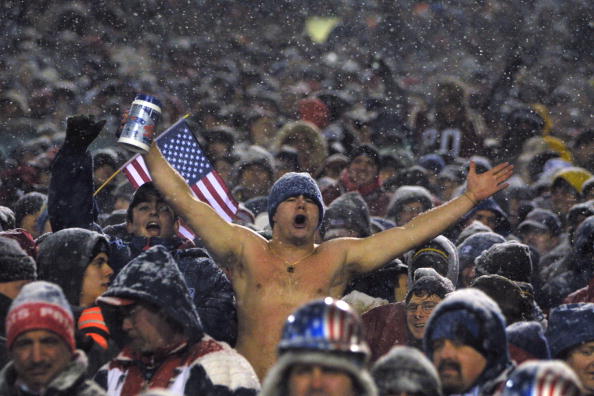 I'm not bitter about my lack of college football fandom. In its place, I've developed a borderline unhealthy obsession with the New England Patriots and an odd love affair with America East college basketball. I feel perfectly fulfilled in my level of sports fandom.
It wouldn't have been impossible to be a devout college football fan. All it takes is one parent with a passion for a college football powerhouse and it could have bridged the geographic gap. (I'm a Los Angeles Dodgers fan from the Northeast after all. Thanks Dad.) But that's not like the majority of parents in New England which means it likely won't translate to the majority of children. The Northeast will probably never turn into a hotbed for crazed college football fanatics.
Maybe college football isn't built for the snowy winters. Maybe the Deep South and the Golden Coast have more allure than rugged New England.
Like it or not, it's something you can only know once you've lived there. Certain regions have a predisposition towards a niche of sports fandom. The South may never understand the Northwest's affinity with soccer. Californians may fail to see how quaint Cooperstown, New York, proves that bigger and is not always better. The Mountain West may never know college basketball in the way three small schools in North Carolina have defined it.
And New England? We may never know what it's like to have our hearts truly bleed cardinal and gold, crimson and white, or maize and blue. We can send ambassadors, like myself, to college powerhouses to experience the Coliseum and the Big House. We can tailgate to our heart's and liver's discontent and scream ourselves hoarse at the game, but there's something soulful missing.
I love football season here at USC. But I don't love college football. It's not in my blood.