Sports
World Cup Final Preview: Argentina Vs. Germany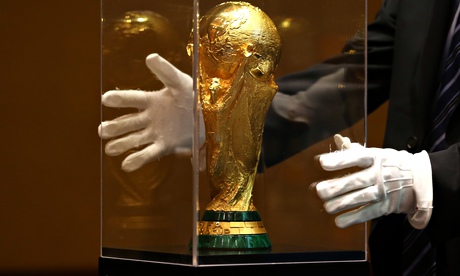 A month is not a long time. The World Cup, however, is a phenomenon like no other because it transcends time. It's no surprise that an event of such magnitude and influence can leave an impression that track of both time and day is lost and rendered useless because the only thing that matters above all is the beautiful game itself.
The opening match between Brazil and Croatia feels like it was months ago, but it also feels like Sunday's final between Argentina and Germany came far too quickly. The World Cup made quite an appearance and enlightened us with quite the performance. Its final act is scheduled for Sunday at noon and all but one of the questions has been answered.
Who will win the trophy?
The two finalists have battled through the month-long trek and have arrived through the ruins with life, but certainly not unscathed.
Germany is the favorite; of that, there is no doubt. The team's first game of the tournament and previous two games are more than testament to the fact that they have the power to impress and dominate with incredible quality and ability. Against Portugal they stymied Ronaldo's potential attack and took advantage of their weak defense to score four goals that started their campaign on the right foot.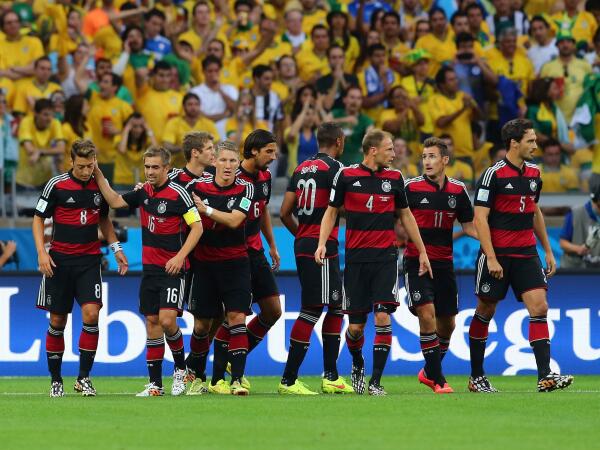 With the stakes higher than ever, they grabbed hold of a depleted, emotional Brazilian squad and exposed them with incredible ease, especially on the offensive end, scoring an unbelievable seven goals. Germany has certainly shown they are a worthy candidate for the title and with their roster so deep, their attack so efficient and their mindsets so focused and composed, it's difficult seeing anybody penetrating the German stronghold to the point of defeat if they are on top of their game.
But all is not bright for the Germans. The games they played between those shellackings did little to affirm their contention or cement their status as potential winners. Against Ghana they looked surprisingly outplayed in almost every facet of the game. Against the United States they struggled to put the ball in the back of the net. Against Algeria they looked unprepared as if they could not fathom that the Algerians were worthy opponents. And against the French, despite appearing in control from start to finish, they could not capitalize and produce a truly convincing win. Nevertheless, they were arguably the most consistent team in an inconsistent tournament; good enough to get here, and certainly good enough to win it all.
Argentina presents a far more complex conundrum. Prior to the tournament, only the legacy of their name and the prominence of their best player in Lionel Messi gave them a shot at making some sort of run to affirm their status as world football powerhouse by attaining their third world championship. The expectations were high but the underlying truth was that this team would only go as far as Messi could take them. Fortunately for them, Messi has done his duty and taken them to the final match.
Surprisingly so, the Argentines are the only team who have yet to lose a match. Now whether that be a product of their weak initial group and their mediocre contenders in the knockout rounds, or a product of them actually playing great football, is another question. Either way, they succeeded by grinding out more than a few tough wins, mostly due to Messi showing up when it mattered, and have made it to the end.
But they are underdogs for a reason. Throughout their run, they have failed to play convincing, solid football. Their defense has sometimes looked confused, their midfield has looked almost nonexistent and their forwards have failed to convert goals on a consistent basis. Yes, even Messi himself.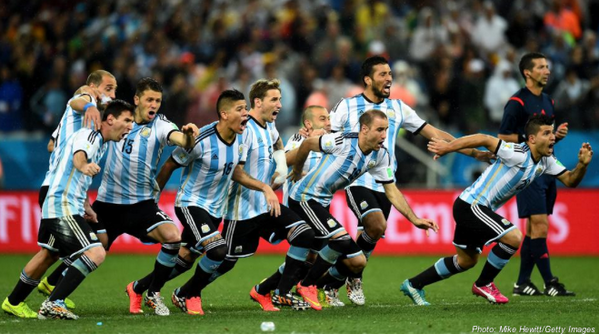 If there is any room for optimism about their chances, it should be that their defense has looked somewhat better as the games have progressed. Against Belgium and the Netherlands, Javier Mascherano did a stellar job of patrolling the backline and will be key in this match as well. Argentina has truly done just enough. But sometimes, just enough might actually be more than enough. Especially when you have Lionel Messi on your side.
How these two teams match-up looks lopsided on paper. The strong and composed German attack and their relentless continuity could expose a weaker Argentina defense leading to their downfall. Messi may be the star of the team, but defensemen Mascherano and Demichelis are probably far more important to their chances. The way the Argentine hold up to the German attack will not only keep them in the game, but it will also allow them to go forward and have the ability to create scoring chances themselves. And that's the key to their game plan.
The more touches Messi and forwards Higuain and Aguero get, the better, as they have not exactly proved to be efficient in their finishing. But this game could shape up to be a battle for the middle of the pitch. Here, Germany has the clear advantage boasting the likes of Schweinsteiger, Kroos and Ozil. Argentina might be better off allowing Germany to take the middle and simply rely on counter-attacking to feed their offense. It seems like a risky strategy, but Leo Messi tends to thrive when there is more space for him to run and dribble, which could lead to an all-important breakthrough goal.
The German defense is not exactly a brick wall, but their goalkeeper Manuel Neuer might as well be. The Bayern Munich man has arguably been the best keeper in a World Cup of unbelievable goalkeeping. This does not bode well for some of the inconsistent Argentine forwards, but a matchup between one of the greatest finishers in the game and one of the greatest goalkeepers in the game should be an entertaining one.
A lot will be resolved during this match. Both sides have a potential Golden Boot winner on their squad in Messi and Mueller. Both goalies are coming off strong performances as well as both defenses. Germany will attempt to end their drought of the past five World Cups, while Argentina looks to avenge their loss against the Germans in 1990 and win their first cup since 1986. The German collective can establish themselves as a true German success in their football history. Meanwhile, Lionel Messi can finally evade Maradona's large shadow and put the debate of his international success to bed by delivering his first World Cup to his beloved Argentina.
The stakes are more than just high; they are astronomical in size.
Germany has been the closest thing to consistency this World Cup has provided and there is no reason they should not back up their advantages and win this game. But in a World Cup where stars have arguably shone brighter than the actual teams, there is no reason not to believe that Lionel Messi could single-handedly lead Argentina to victory as well.
The contrast is more than clear: Germany is a headstrong team with a collective mindset and the determined ability to fulfill their goals. Argentina is a hopeful team whose hopes have been laid on the shoulders of a man that is only five feet, seven inches tall.
They say teams win championships but in a tournament that transcends time, the final could also transcend that presupposed notion. There is no telling who will hoist the trophy after Sunday's match, but whoever does will conclude a brutal month that produces only one true champion and indulges us in an exquisite performance that has not failed to impress. The grand finale should be no different.
You can reach Staff Reporter Paolo Uggetti here, or follow him on Twitter.