Arts+Culture
Transit Oriented Development Goes Glam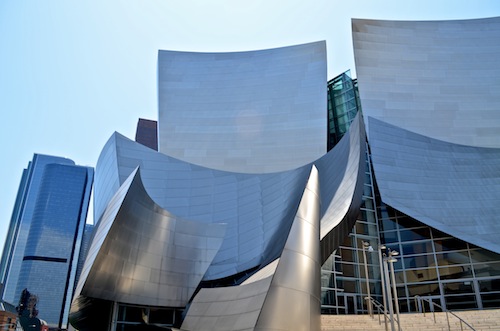 It looks like Frank Gehry partnership with LACMA to design the
space for the Alexander Calder exhibit
is by no means a one-time partnership.
Praised by Hyperallergic's Hrag Vartanian for his use of "crisp niches, modernist railings, and transitions from light blue, gray, and white walls" in the Calder exhibit, Gehry may soon be baking another major contribution to the L.A. skyline--one that may even rival the iconic Disney Concert Hall.
LACMA and Metro have are currently discussing the possibility of having Gehry design a museum/hotel/condo hybrid across from LACMA, atop of the future Purple Line station.
"We're working with the other owners of the property and with Metro," LACMA Director Michael Govan told the L.A. Times. "There's good reason to build a major development there. You've got subway access and density on Wilshire. My dream is some beautiful piece of architecture with an architecture and design museum at the base, which would add to Museum Row."
Keep your eyes peeled for more transportation tips and updates in Neon Tommy's forthcoming Car-Free L.A. series.
Contact Deputy Editor Sara Newman here. Follow her on Twitter here.