NFL
Top 20 NFL Players Of 2013 (And 2014!)
As it has every year in recent memory, NFL Network came out with their Top 100 Players list this summer. While the voting process is totally bogus because 1) only a small fraction of NFL players actually participate, 2) NFL players only have time to watch film of their opponents, and therefore usually don't have a sense of who the best overall NFL players actually are, and 3) there is no check on the process that keeps the participants from voting in the interest of themselves, teammates, friends or basically whomever. However, the list is still entertaining to look, curse and throw things at.
This year, for the first time, I decided to throw together a list of my own. My list is real. It is final. And anyone who disagrees will be forced into coaching the offense at Alabama.
For even further entertainment, I even threw in a prediction of who will be on my top 20 list in exactly one year from now. You're welcome.
Top 20 Players Of The 2013 Season, Based Only On The 2013 Season
1. Peyton Manning
Yes, he got blown out in the Super Bowl. But the dude set all-time records in pretty much every category before that during the best season by a quarterback ever. He may not have the same zip on the ball as he used to, but I'd argue his accuracy is as good as it's ever been, and his mind keeps getting sharper.
2. J.J. Watt
Here he is. My man crush. A statistical regression from 2012 to 2013? Maybe. But his impact on the game was arguably greater than it's ever been in the form of hurries, quarterback hits and overall backfield disruption that doesn't show up on the box score. I have never seen a non-quarterback consistently have as much dominant impact on games as Watt does.
3. Aaron Rodgers
He missed almost half of the regular season last year, but he was healthy when it mattered most and came back just in time to screw the Bears out of the playoffs. His talent and impact when healthy is immense and undeniable, and his effortless arm strength and accuracy combined with his mobility makes him the best quarterback in the NFL right now.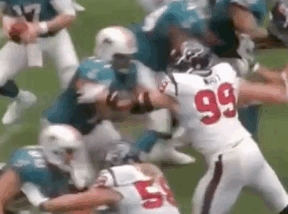 4. Richard Sherman
Some may give Sherman crap because he only plays left cornerback, instead of moving around to shadow the opponent's best receiver like Darrelle Revis and Patrick Peterson do. But that isn't Sherman's fault, and he excels at everything asked of him. He was one of the least thrown-at cornerbacks in the league last year, yet still managed to haul in a league-leading eight interceptions. He also made the greatest single play in Seattle sports history when he tipped Colin Kaepernick's pass away from Michael Crabtree and into the arms of Malcolm Smith for the game-sealing interception that sent the Seahawks to the Super Bowl. Oh, and he knows how to get down.
5. Josh Gordon
Gimme some of what he's taking! He was the league leader in receiving yards last year. In 14 games. With Brandon Weeden and Jason Campbell throwing to him. The dude is a physical freak who looks like a defensive end playing wide receiver. Even though he isn't the most polished receiver and doesn't run the most diverse routes, his highlight reel from 2013 is so eye-popping that I just had to put him top 5. He makes defensive backs look like they're the ones on drugs! HEY-O!
6. Robert Quinn
Quinn may already be the best edge-rusher in the NFL. He was a nearly unstoppable force last year who also held up well against the run. He needs to be game-planned against every week.
7. Calvin Johnson
I can't wait to see Johnson in a New Orleans Saints-style offense brought over by new offensive coordinator Joe Lomardi. He'll move to different positions more than Ron Jeremy. (Am I allowed to say that?)
8. Lavonte David
David is the best player nobody knows about. He can do it all and excels at it—rushing the passer, coverage, tackling—and is an elite linebacker. He should have gotten more recognition for Defensive Player of the Year last year, but I fully expect him to be a larger part of the conversation in the near future.
9. Dontari Poe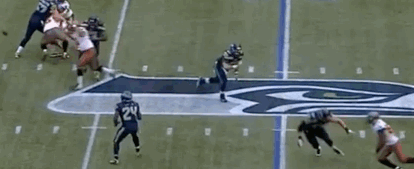 Poe played over 95-percent of the Chiefs' total defensive snaps, which is a ton for a defensive lineman, let alone a player of Poe's size. He's another guy who excels at everything asked of him in both run defense and pass rushing. He's an immovable force and a keystone of Kansas City's defense.
10. Earl Thomas
He may not have elite-looking statistics, but Thomas is perhaps the most important piece to the Seahawks' defense that makes their coverage work. As the deep middle safety in their frequently run Cover 3 defense, Thomas is responsible for making plays basically from sideline to sideline while eliminating the deep ball. Only a player of Thomas' elite athleticism and intelligence is able to fill this role.
11. NaVorro Bowman
Bowman has incredible range, strength, physicality and discipline. He's basically a ninja. He's another player who should have been a bigger part of the DPOY discussion. He is also excellent at shedding blocks to make tackles, and is one of the best blitzing linebackers in the league.
12. Joe Thomas
Thomas quietly continues to be the best and most consistent left tackle of the past decade.
13. Gerald McCoy
Let me start off by saying that McCoy is a good looking dude. J.J. Watt might have some competition. He's so long that he looks like a basketball player playing football. Along with Lavonte David, the Bucs have two elite pieces to build their defense around. McCoy is an elite interior pass rusher with a lighting quick first step, and refuses to stay blocked in the run game. Detroit should have taken McCoy instead of Ndamukong Suh in the 2010 NFL Draft. I said it. And now I'll don my cup.
14. Drew Brees
He's up there with Manning and Rodgers as one of the most accurate quarterbacks in the NFL. Notice a trend here? The best quarterbacks often aren't the ones with the strongest arms—accuracy is perhaps even a more important attribute. Brees has it, along with incredible pocket presence and underrated movement skills.
15. A.J. Green
Green is known for his ability to go up and get contested catches, but make no mistake—he's the total package. His route running has gotten a lot better from his freshman to sophomore campaign, and his quickness and ability to get off the line is fun to watch.
16. Darrelle Revis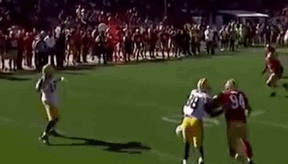 He was often misused in Tampa Bay, but when called upon he still locked down in man coverage. His footwork is incredible--there are no wasted steps. Mikhail Baryshnikov should take note.
17. Jamaal Charles
Not Adrian Peterson, huh? Kanas City's offense basically ran through Charles on the ground and on short passes. He did a very impressive job of being versatile, making explosive plays and taking a beating while staying healthy.
18. Kyle Williams
Williams was the centerpiece for one of the best defensive lines in football last year. With impeccable technique and hand use, Williams plays both the run and the pass at elite levels. While number of sacks sometimes isn't a totally accurate judgment for how good a player is, 10.5 for an interior lineman is a ridiculous number and an indication of Williams' prowess.
19. Antonio Brown
He essentially carried the Steelers' passing attack last year, and has insane after-the-catch elusiveness. He's one of the best young receivers in the league, and can play in a variety of positions.
20. Jimmy Graham
He's technically a tight end, but it's his receiving skills that make him special. He is one of the best in the league at using his body to shield defenders off and also to high-point passes at places where defenders can't reach. He's the best receiving tight end right now by far, and some would take him only after Calvin Johnson as the best receiving threat in the league, period.
Top 20 Players Predicted for the 2014 Season
1. Aaron Rodgers
Now fully healthy, and presumably with a healthier offensive line and Randall Cobb, Rodgers is set up for an MVP-type season in 2014.
2. J.J. Watt
There isn't much else to say about the best non-quarterback in the NFL. There are no flaws to his game. He rushes the passer, plays run defense, two-gaps, knocks down passes and rarely leaves the field. Add Jadeveon Clowney to help divert some attention, and Watt will continue to terrorize the league.
3. Darrelle Revis
He's healthy. And now he's in a system conducive to his abilities. Belichick is a great coach who excels at putting his players in the best possible positions to succeed. Revis will be a prime example of this.
4. Calvin Johnson
He's Ron Jeremy. He also now has Golden Tate to take some attention off him. The best receiver in the NFL could get even better.
5. Geno Atkins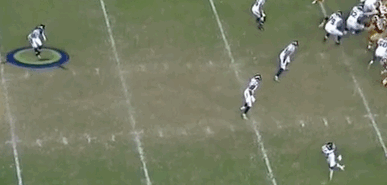 He was the second-best interior defensive lineman (behind Watt) in 2012 before tearing his ACL in 2013. He's still only 26, and is just entering the prime of his career. He is an excellent pass rusher who has killer quickness and uses his relatively low-to-the-ground stature to play with leverage. Watch out for this guy.
6. Von Miller
Miller was perhaps the best young edge pass rusher in 2012 before being suspended and injured in 2013. He has it all—speed, quickness and strength. Put Demarcus Ware across from him to take away some attention, consider the fact that the high-powered Broncos offense will force plenty of passing situations for opposing offenses, and Miller looks like he's in for plenty of opportunities to prove himself in 2014. A preseason Defensive Player of the Year candidate for certain.
7. Lavonte David
David should be an absolute beast in Lovie Smith's Tampa-2 system. He's the ideal linebacker in today's passing NFL—a speedster who can play coverage and rush the passer too. He's a big play waiting to happen.
8. Gerald McCoy
He'll get plenty of opportunity to rush the passer from the 3-tech spot in Lovie Smith's 4-3 defense.
9. Rob Gronkowski
Why isn't Jimmy Graham here, you ask? The best tight end in football when healthy, the latter will be key to Gronk's success in the NFL. He is simply too fast and strong for anyone in his way. Plus, he blocks like a sixth offensive lineman, which Graham doesn't do.
10. Tyron Smith
Smith's length, foot quickness and strength give him the physical skills to be the best all-around tackle in the NFL. I believe this is the year that he makes that leap.
11. Dontari Poe
He already plays almost every snap on defense. Hopefully the Chiefs will spell him a bit more this year, but another offseason of development for Poe should mean great things for a player who's already one of the best interior defensive linemen in the league.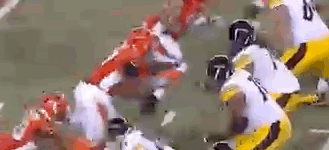 12. Peyton Manning
When does the year finally come when his physical limitations are too much for his mind to overcome? So long as his accuracy doesn't fall off a cliff, I'll take Manning to throw for 40+ touchdowns in the Broncos' talented offense.
13. A.J. Green
Green is already one of the best receivers in the game. He did have a tendency to drop some easier catches last year, but if he can become more consistent in that aspect, his production will more than speak for itself.
14. Earl Thomas
He's the centerpiece of the secondary, the rangiest safety since Ed Reed and is still only 25 years old. His impact on games goes well beyond his numbers.
15. Patrick Peterson
He still occasionally loses quick receivers on short routes, but he's physically capable of matching up with any receiver in the NFL. Another offseason of development, and Peterson will be able to truly back up his reputation he acquired when drafted fifth overall as one of the NFL's top corners. He's only 24.
16. Richard Sherman
Footwork? Check. Size? Check. Ball skills? Check. His personal statistics combined with his team's results provide a rock solid foundation on which to back up all that talk.
17. Luke Kuechly
He has the range and athleticism to compete for the crown of top inside linebacker in the NFL. He makes a ton of impact plays, but tackling consistency will be key to catapulting Kuechly onto this list.
18. Dez Bryant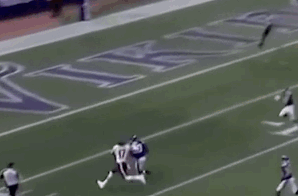 Bryant showed inconsistency at times last year, but this year he'll have to step up, as Dallas' defensive deficiencies means that the offense will be called on to produce more than ever this season. He has the hands, speed and catch radius to be one of the top playmakers in the NFL, and this is the year I think he finally puts it all together.
19. Alshon Jeffrey
Jeffrey will soon take over the role as the Bears' top receiver, if he hasn't done so already. His hands and catch radius are amazing, and a full season of Jay Cutler throwing him deep balls in Marc Trestman's offense should do him wonders. He's already one of the league's top deep threats.
20. Carl Nicks
Yes, a guard. Lower leg and foot injuries have kept him out of action over the past couple years, but when he's healthy, Nicks is the best guard in football. Mark my words!
You can contact Andrew McKagan here.