USC Sports
Sarkisian's Growth As Coach Carries Back To USC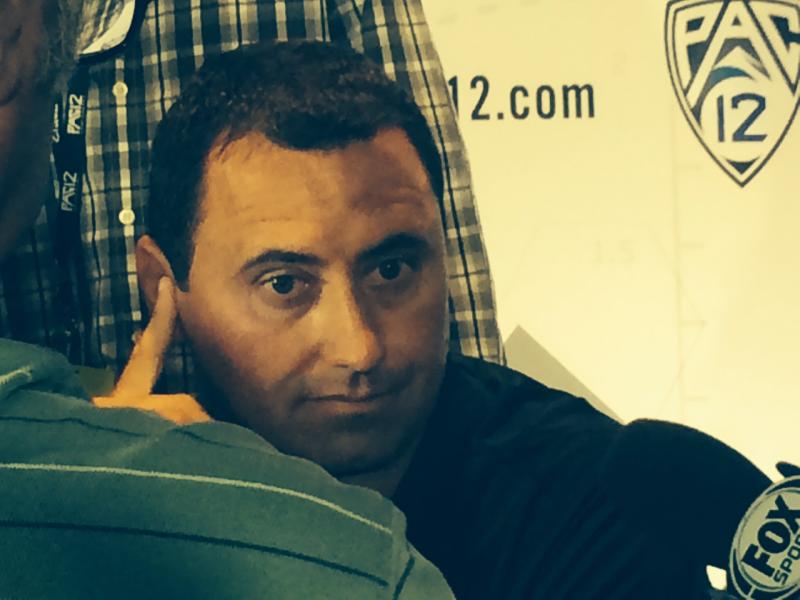 There's a strange phenomenon going on at USC football this fall. Usually, teams with new head coaches head into the season with an aura of uncertainty. For the Trojans, however, the comfort level heading Year One of Steve Sarkisian as head coach seems miles above 2013's Kiffin-led campaign.
Leonard Williams, he of Preseason All-American fame, put it best: "It was really hard for us to fight for a guy who we don't know is going to be there tomorrow." That's no longer the case. The Sarkisian era is in full swing, and the former Washington head coach thinks his stint with the Huskies has taught him more than wins and losses. "You learn to be patient," Sarkisian said. "With the calm, there's a bit more sense of confidence and belief… I'm a lot more aware of how to build a program."
That seems an unusual thing to say for a coach known for his 'rah-rah' attitude and unabashed enthusiasm, but for a squad that bonded through the adversity of three head coaches in a span of months last year, it makes sense. Sarkisian shouldn't come in and turn the program on its head. He needs to use what's he's learned from his various pit stops at USC, earn the trust of his players, and let a squad filled with veterans do their thing. New defensive coordinator Justin Wilcox's schemes won't be a drastic change from last season, nor will the run-heavy focus Sarkisian has been made sure to promote.
The status quo won't be exactly the same. The pace will be faster on offense, much to the chagrin of Leonard Williams and the rest of the defensive line in the preseason, and practices might be shorter due to Sarkisian wanting to monitor reps and maximize recovery times for a roster still short on numbers due to the lingering effects of NCAA-imposed sanctions.
Sarkisian's role at USC should be more like the captain of a ship. He calls the shots, but rather than micromanaging, he said himself that he's learned to place more trust in his coordinators. "You hire good people to do their job," he said. And his players, of course. "It's your team. Guys are going to play for you," said starting quarterback Cody Kessler when asked about the mentoring role his new coach has assumed. "Some guys yell at you to yell at you. He [Sarkisian] yells because he cares for you."
Just as important is to create an environment facilitating the players' support for each other. "Our team is so close that we're fighting for each other," Williams said. And Sarkisian, for all indications, knows that.
Unless your name is Nick Saban, there are benchmarks below a national title that will still qualify as a successful season for these Trojans. Sarkisian said that this team will need the ball to bounce their way this season, but what team doesn't need a bit of luck? The days of glory under Pete Carroll won't be coming back immediately, but for now, an even balance of leadership and a team bonded together will have to do.
Tidbits from Media Day
-> Commissioner Larry Scott said 2 percent of Pac-12 football players are drafted into the NFL. The number is higher at USC, but keep that stat in mind when fathoming over four and five-star recruits in each recruiting class.
-> Leonard Williams said he plans on playing more on the outside of the defensive line this season, including covering opposing tight ends. Williams will be playing in his third defensive scheme in three seasons, so it's hard to argue he's not versatile.
-> Cody Kessler is still unsure of how the offensive line will turn out. He lives with starting center Max Tuerk and trusts his roommate to have the team ready, but it's a wide-open race. "Whoever wants to be one of the five starters will take it," Kessler said.
-> While Williams wasn't waxing on about missing Kiffin, he did have high praise for the departed Ed Orgeron. "No one is like Coach O," he said. "He made me into a strong man."
Reach Senior Sports Staff Jacob Freedman here or follow him here.