Los Angeles
Is Former Qualcomm Exec Peter Marx Making L.A. Smarter?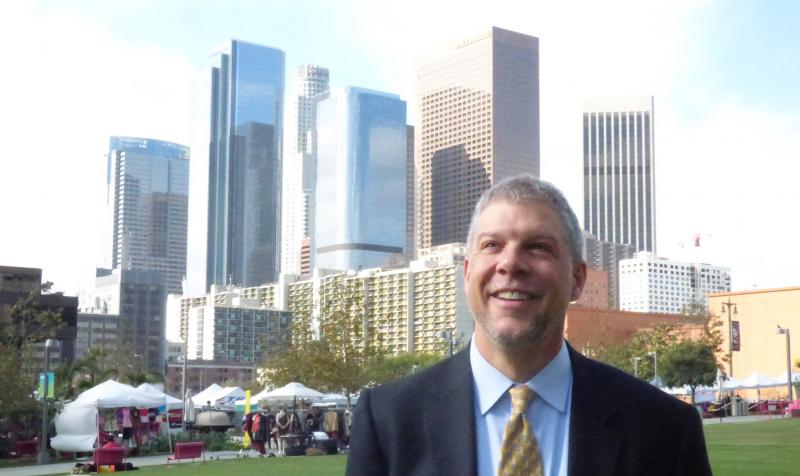 Mayor Eric Garcetti has a Masters degree from Columbia University, was a Rhodes Scholar at Oxford, speaks two languages and moonlights as a jazz pianist. But when it comes to making Los Angeles "smarter" — technologically speaking — Los Angeles has turned to former Qualcomm executive Peter Marx. Five months ago, Marx was appointed the city's first Chief Innovation Technology Officer.
Since then he has been working to come up with innovative ways to improve the overall efficiency and transparency of City Hall, which is no small task. L.A. is struggling to catch up to other major cities like New York and San Francisco, both of which are years ahead in terms of embracing technology and launching open data government solutions.
"It's worse than you think," David Eaves, an open-government consultant told us in a story in which we diagnosed L.A.'s digital doldrums last year.
SEE ALSO: Tech Talk In Downtown L.A. Spurred By New Innovation Campus
Enter Marx, a third generation Angeleno, who was a vice president of business development at Qualcomm Labs, where he spearheaded Gimbal, a context awareness platform. He also worked as the former chief technology officer at Vivendi-Universal Games and was an engineer at Electronic Arts. Noticeably absent from his resume is any experience in the public sector, which he said in an interview could work in his favor.
"In order to do anything effective, you have to build consensus, overcome hurdles, you have to do what you're actually talking about and then you have to demonstrate success," he said. "It's just instead of a board of directors, you have a vote in public, a city council… Instead of a business unit, you have a city department."
Much is riding on Marx's ability to demonstrate success. Garcetti has fashioned himself a technology-forward mayor and has made open-data initiatives a hallmark of his mayoralty. During the mayoral campaign he aggressively courted tech companies. As council member he developed an app for residents of his district and authored a motion that would make data about traffic, crime, parks, and budgets easily accessible to coders. He is extremely active on Twitter and even got the New York Times to write a story about his Instagram habit.
"Harnessing technology is critical to the future of our economy and improving city services," Garcetti said in a statement when Marx was appointed.
But an extremely limited budget and a vast, disparate city department structure will make any substantial progress challenging.
Perhaps Marx's biggest challenge is the limited resources available to him. The city's most recent budget does not break out a line item for Marx's office and according to Garcetti spokesman Jeff Millman, Marx's budget will be drawn from the $6.1 million allocated to the Mayor's office budget. Couple that with the dozens of disparate city departments, which makes it difficult to provide new technology to every city worker, which in turn "limits what [services] the city is able provide, digitally, to residents," he said.
SEE ALSO: Silicon Beach Fest Reveals What's Next On The L.A. Tech Horizon
One of Marx's first tasks is to revamp the MyLA 311 app, which launched last year. The current iteration of the app allows residents to request services like graffiti removal or pothole repairs. And while it works well for reporting problems to the city, Marx says it falls short. He wants added functionality that would allow the city to report back to its citizens via the app. So, if you reported a pothole on a street, "there's no reason… for you not to get a notification saying it was fixed," he said. He likened it to Amazon's policy of sending customers tracking numbers of their packages so they also know the status of their order.
Marx, who is being paid an annual salary of $163,970, said he hopes to upgrade the 311 app with richer context awareness features. So, say you were to walk into a local public library, your smartphone could display all the day's events being held there. Or, if a bus were to break down, the 311 app could inform riders and suggest alternative routes. In the future, Marx wants to make it possible to receive geographic specific traffic incident reports from the LAPD so users could avoid accident areas and improve traffic congestion.
"You can imagine many, many, thousands of things that would be useful to know [could be transferred via the app]," he said. The goal, he said, is to "make city services, which are part of everyone's daily experience… useful, contextualized, relevant, available, measurable… in the same way we expect to see from the private sector."
A few months ago, Los Angeles unveiled its new open data site, DataLA, full of hundreds of datasets regarding public safety, and government efficiency. According to Marx, this is not only an effort to increase government transparency, but also government efficiency. "Our expectation is that government is probably going to be one of the biggest users of the portal," said Marx. "After all, we're publishing things like map layers that are useful for other city departments...we're also trying to help innovators inside the city government."
SEE ALSO: Six Californias? It Could Be So If A Venture Capitalist Gets His Way
Different departments can now easily access data through the online database instead of going through multiple channels for information. For example, if the L.A. Bureau of Street Services has to drill into a street, rather than going through the Department of Public Works, it can now use the online database to find the locations of storm drains to avoid damaging them.
Furthermore, many private companies actually build their applications around government data. Google Maps, one of the most popular mapping apps uses data from the US Census Bureau to list out street addresses. Marx wants to make more city data available for public and private use. He hopes that government think tanks can use the information to create a better experience for L.A. residents.
As Chief Innovation Technology Officer, Marx said much of his job will simply be getting out of the way. "There's a lot of smart guys in City Government that are here to do good… I feel that a lot of my job is to help them and give them permission and overcome challenges," he said.
This article is part of an ongoing content partnership between Neon Tommy and L.A. Currents.
UPDATE: This story originally incorrectly identified Marx as a council member from CD15. This has been corrected.
Reach staff reporter/photographer Benjamin Dunn here.