Los Angeles
Hollywood's Best Kept Secret: The Metro Red Line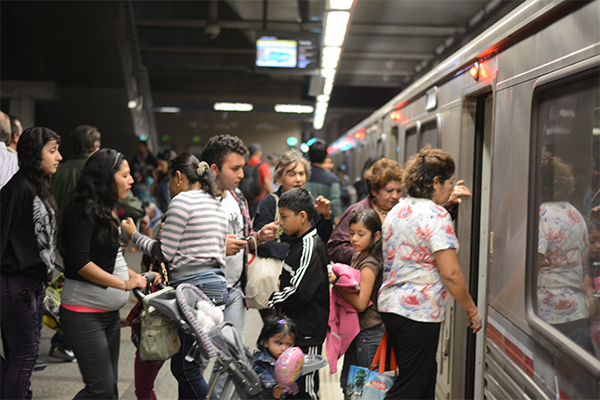 While Los Angeles may be home for now, just one year ago I was traversing the city as a tourist, having scrupulously planned out every detail of the trip weeks in advance. Despite all of my research and preparation, I did not even consider pubic transportation as a feasible option in getting from Santa Monica to downtown to Hollywood.
Like everyone else, I learned the hard way that traffic here is that bad, and that getting from Santa Monica to Bottega Louie on a Friday night is an absolute nightmare when you're stuck in a car.
According to Anna Chen, a public communications officer for Metro, I wasn't alone in my decision to forgo the Metro rail on my trip.
"A lot of people think L.A. doesn't have a subway and they're very surprised to learn we do," said Chen.
Los Angeles Metro's Red Line—the busiest line when in conjunction with the Purple Line—begins at Union Station and ends in North Hollywood. For the few denizens of Los Angeles that actually use the city's rail service, the Red Line is often lauded as the perfect way to get to and from some the area's most poular locales.
READ MORE: Beverly Hills Battles Metro Over Purple Line Extension
Tourists Troels Storm, 28, and Nina Olin, 29, were visiting Los Angeles from Denmark. During their time here they decided to take the Red Line instead of drive.
"We do actually have a rented car, but I think traffic in L.A. is a hassle and parking is pretty expensive as well," says Storm.
Olin agreed that taking the Red Line is easier than taking a car. "We get stressed out about finding the direction, so we find it easier to use the publication transportation," she says. While Olin does not have a difficult time figuring out the Metro system, she wishes that there were pocket-sized maps showing all the available lines.
When asked how they found out about the Red Line, Storm chalked it up to pure coincidence. "It was random," he says. "We weren't actually sure there was a subway underground, but we were just walking up and down [the street] looking at the stops and then we saw this and said, "Oh, that's what we need.""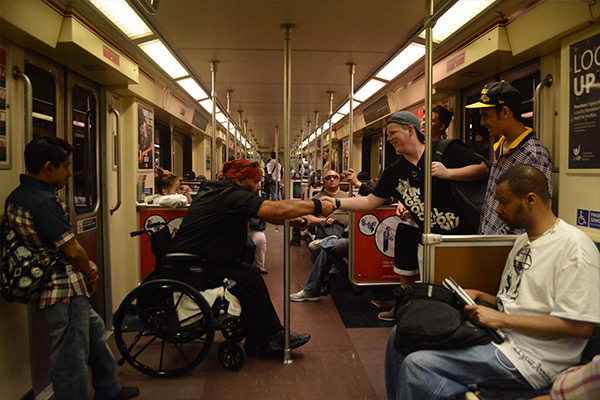 Lisa Young, 41, is a Certified Nurse Assistant and takes the Red Line to work every day. "When you are on the freeway, the traffic is too jammed," Young explained. "[With] the Red Line, you get to work quicker."
Chen notes that, like Storm, Olin and Young, many take the Red Line to avoid congestion on the highways. "The Red Line goes underground, so it's very fast and convenient," said Chen. "People do like the subway in that it is faster because they don't have to deal with any traffic."
Similarly, Michael Sherry, 30, uses the Red Line to commute to work. "I use it probably two or three times a week, sometimes more," he said. If not the Red Line, he takes the bus.
"I think [people] probably aren't aware of how convenient [the metro] is and are so used to driving because everybody drives here," he said. "I was kind of forced to [take the Red Line] because my car broke down." Even when his car is working again, Sherry plans to continue using the Metro for the most part, now that he knows what is available.
READ MORE: Light Rail OK'd In The Valley
According to Chen, the Red Line is also "a really great way for you to travel really quickly," as it hits a lot of the major stops in downtown and provides access to a variety of trendy areas, stretching all the way to the valley.
"I think taking the Red Line has been really great for people to get to work, to get to class and is suitable for those who just want to go out and about," said Chen. "It's become a very convenient way for them to travel."
Andy Baptiste, 22, is a sales associate at the American Eagle in the Hollywood and Highland Center's shopping area. When he moved to Los Angeles from Georgia two years ago, he decided to leave his car in Georgia and now takes the Red Line to work every day.
"My experience with the Red Line is good; I feel like it's reliable," said Baptiste. "I haven't had any problems with it. I wish it could go further but, I'm not mad at it right now." Baptiste explained that taking the Red Line to work is cheaper than driving; he gets a monthly pass for about $75, even cheaper than the cost for a similar monthly pass in Georgia.
READ MORE: Dodger Stadium Express: Metro Nightmare Or Gameday Savior?
On the other hand, Rashieda Lane-Smith, 39, the general manager of the Gap in the Hollywood and Highland Center, does not take the Red Line to work. She drives every day and prefers doing so. Her commute is 25-30 minutes on a good day, but she doesn't mind.
"Honestly, I don't take the Red Line because from where I live, I would have to go all the way into downtown to come back this way," said Lane-Smith. "I live a straight shot down. I could take the bus, but I prefer not to."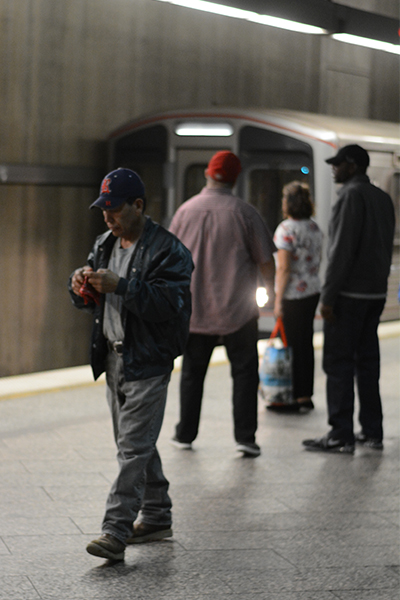 She used to work in San Anita and considered taking mass transit then, but still decided against it. "The line doesn't go all the way out. I would've had to take two rail lines and a bus, and then I would still have to walk to my job," said Lane-Smith.
Adam Guerra, 20, also prefers driving to his job at the Forever 21 in the Hollywood and Highland Center to taking the Red Line. He used to take the line until he bought a car just last month, but since buying a car, he's been driving instead.
"It's more luxurious, you know? It can get a little crazy in the Metro," said Guerra. "Driving is a little more personal. When you're taking the train, people are more out there. You're more out there. There are a lot of weird things going on."
Guerra reveals that taking the Red Line is a shorter commute to work than driving. Despite this, the "luxury" of driving is worth it to him.
READ MORE: Metro Red And Purple Lines To Have Wi-Fi By 2016
Chen explained that the idea of being underground dissuades some people from taking the Red Line. "We don't have Wi-Fi or cell phone service at this time underground so, for them, maybe it's a deterrent if they want to be able to use their phones while traveling," said Chen.
"And also some people aren't really into public transit. On the Red Line, during rush hour, it can be really crowded and it can be difficult to find seats."
Overall, however, she recommends taking the Red Line, and explained that the website is a good place to start for those who are looking to use it or are new to town.
"We have Trip Planner, which can help you plan trips, including ones on the Red Line. Also, we have a destination guide brochure so you can get an overview of the best places to visit along the Red Line, including not only restaurants and sight-seeing locations but station art."
Whether you're a Los Angeles native raised on car culture or you're simply visiting the city for a few days, try your hand at navigating the Red Line; you'll be rewarded with an underground culture of people too cool for cars.
Reach Contributor Belinda Cai here and follow her on Twitter here.