Los Angeles and Region
Crenshaw/LAX Line Doesn't Guarantee Black Workers Employment In South L.A.
In the past eight months Metro has employed over 350 workers in the construction of the Crenshaw Line. Guided by hiring goals outlined in the Project Labor Agreement, Metro is working to create "construction employment and training opportunities to many who reside along the Crenshaw/LAX Transit Project."
The Project Labor Agreement commits Metro to hiring 40 percent of its construction workers from economically disadvantaged areas and 10 percent from disadvantaged populations—including veterans, ex-cons and emancipated foster care youth. The agreement further commits Metro to making 20 percent of its workers apprentices, having received at least 4,000 hours of training in a particular trade.
"I am proud that the MTA Board voted unanimously to become the first transit agency in the nation to use federal and local dollars to create jobs targeted at economically disadvantaged communities and individuals," said former Mayor Antonio Villaraigosa when Metro committed itself to the Project Labor Agreement back in 2012. "This landmark program is part of a strategy to deliver public transit projects while creating jobs that will lift people out of poverty and into the middle class."
Los Angeles County Supervisor and Metro Board Member Mark Ridley-Thomas seemed equally ecstatic, declaring Metro's unanimous approval of the agreement a "groundbreaking victory" that established Los Angeles as a "model for the rest of the nation."
Many have looked excitedly at the construction as an opportunity to help employ black laborers.
"The neighborhood [bordering the line] is a long the track are the last densely populated areas of black residents in L.A. If massive hiring of black construction workers can't happen here, where?" asked Sherri Bell, the community organizer for the Los Angeles Black Worker Center.
"For the community to see workers like them, members of their community involved with the construction it would provide a sense of 'Okay. I see where my tax dollars are going and I see how it's helping.'"
But in reality, it's a bit more complicated.
READ MORE: South L.A. Residents Shop For Employment At Its First Plaza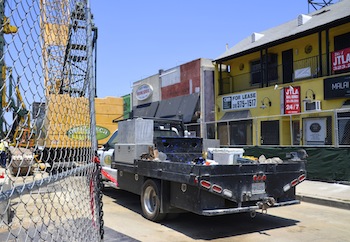 In the beginning of July, Walsh-Shea, the contracting company overseeing construction on the line, hired close to 400 workers. But African American workers were responsible for less than 13 percent of the construction.
"'Local hire' hasn't always translated to black workers," explained Bell. "It's too early to tell how effective this project is going to be in creating jobs for the black community, so for now we're just trying to make sure that communication is clear and that we create as many opportunities as possible for our community."
While Walsh-Shea is exceeding its "disadvantaged worker" quota by over 20 percent, these workers are not coming merely from South L.A. or even from California. As nearly $546 million of the funding for the Crenshaw Line comes from a federal loan, the project needs to be pulling from disadvantaged zip codes across the country.
"The idea that this line's going to solve the black job crisis is a myth," said Barbara Lott-Holland, the co-chair of the Bus Rider's Union. "Pick any day or night and go look at the construction that's going on right now. If you go down Crenshaw and see who's working on the line, you'll see hardly any black men or women."
But the reason for this isn't just discriminatory hiring practices for this project, as some have claimed, but rather deep-seated racial inequalities in the construction industry.
According to the Los Angeles Black Worker's Center, "black construction workers compose… only 4.9 percent of construction workers in Los Angeles" and nationally, there's only a two percent rate of black construction workers on public projects.
Construction foremen often prefer to hire older workers whom they've had years or even decades or experience with; they "see it as a production and safety measure," according to Bertha Briseno, the Project Compliance Manager at Walsh-Shea.
"Those workers aren't living in South Central L.A.," explained Lott-Holland.
READ MORE: Metro Rail Project Promises South L.A. Jobs
Another complication that arises in the community-minded hiring practices is how various people define the area around the Crenshaw Line.
The neighborhoods directly bordering the Crenshaw Corridor—including Baldwin Hills, Park-Windsor Hills, Leimert Park and Hyde Park—are roughly 65-85 African American, but Metro takes a broader stance on how it defines the community affected by the Crenshaw Line.
"The community that we are supposed to mirror in the construction isn't just the areas right along the rail, but anywhere within a five mile radius of the 8.5 mile line," said Engler. "That includes just about as many Latino residents as African Americans, and even some large pockets of Asian residents."
All in all, the seeming lack of black workers involved in the Crenshaw Line to date is troubling, but the Crenshaw Line is only the first of six PLA projects that Metro is undertaking, so it's a conversation starter and a learning tool.
"They want to be successful with this PLA and see it succeed so Metro has really been cooperating with us in addressing the discrepancies in representation," said Bell. "We've been meeting with people about the project even before Metro hired Walsh-Shea. We've been meeting every other month to talk about numbers and see what we can be doing to make the project work better."
Even now, construction on the Crenshaw Line is less than 2 percent completed. That leaves approximately 2,953,500 hours of work to go. Metro has the time and the budget to make it so that not only the completed light rail, but its very construction has the power to change communities.
Contact Deputy Editor Sara Newman here. Follow her on Twitter here.