Film and TV
Interview: Marvel Studios President Kevin Feige On 'Guardians Of The Galaxy'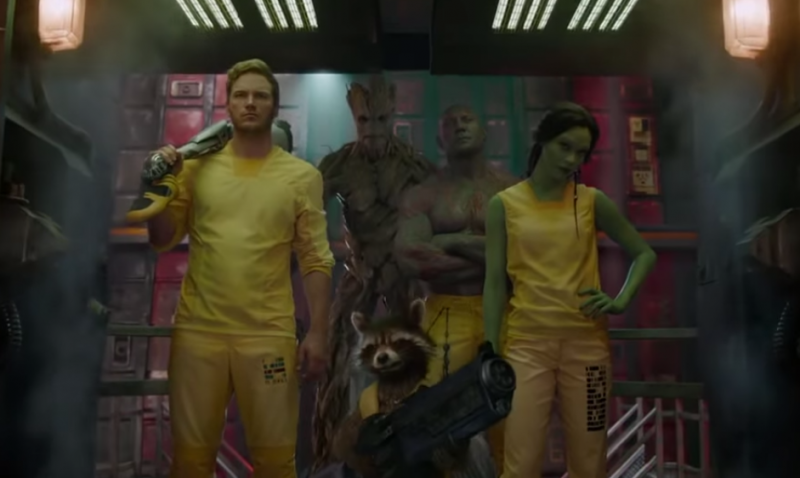 "Guardians of the Galaxy" (GotG) opens in theaters nationwide tonight. Starring Chris Pratt, Zoe Saldana, Dave Bautista, Bradley Cooper and Vin Diesel as the five unlikely guardians, GotG explores the cosmic arena of the Marvel Cinematic Universe. The guardians, who are a rag-tag group of criminals, must join forces in order to save the galaxy.
According to Fandango, the movie has already sold over $65 million in pre-release sales. Two key players in GotG's success have been producer Kevin Feige and director James Gunn. Feige, who is also president of Marvel Studios, has produced almost every Marvel movie since he worked on "X-Men" in 2000.
Neon Tommy was able to participate in a Q&A session with Feige, led by a member of the USC School of Cinematic Arts.
This film is totally different from a lot of other Marvel movies in that it has a lot of sarcasm and fun pop culture references. How much of the character behavior and their banter and all of the pop culture stuff comes from the comic and how much of that comes from James Gunn?
Feige: I think Rocket's attitude comes from the comic. Groot saying only 3 words yet those words having meaning and depth the more you hear them is also from the comic books. Almost everything else is James, particularly the pop culture references and particularly the heart of the movie. While we were making this film, people asked 'Oh is this a comedy?' and I said well, it's humorous--and a lot of the Marvel films are humorous--but what James did was he had the sarcasm and the humor. There was very little irony, very little cynicism in the movie, and it was James being bold enough and not relying on that kind of cynicism to get away with the raccoon and green woman and the fellow who doesn't understand metaphors. We always want films to connect on an emotional level of some kind, and I think this film does particularly well, thanks to James.
Tell us a bit about finding the cast.
Feige: The key for us was finding Chris Pratt. We did a lot of auditions, we did a lot of screen tests for people, and at least a half a dozen really complex screen tests that we haven't done on our other films. The first Captain America film was the last time we did such a big search, such a big screen test process. And when you spend a lot of money to do a big screen test with six actors, you hope that one of those six is going to be the person you cast. In this case, it wasn't and we wanted to keep looking. Pratt popped up, and he was not sure he wanted to come in. He was in his Parks and Recreation shape. But we knew he could get into good shape, he had done it for Moneyball, more so for Zero Dark Thirty, so we were confident that he could do it and we encouraged him to come in. The screen test was partially a chemistry test with some of the Drax actors, and that's really how we found Dave Bautista. Bautista had done a number of good auditions on his own, but it was really when we paired him with Pratt for a chemistry read that they both popped. Once we got James and once we got Chris Pratt, we said 'Okay now we have a movie. We have to fill in great people around them, but at least we have the anchors for something real.'
There are several configurations of the Guardians. How did you and Marvel as an organization pick the specific characters of the movie?
Feige: Well, we wanted to do the tree and raccoon (Groot and Rocket). We thought the movie would work or not work based on those two characters. It was the 2008 series that paired them together, and that was really of interest to us. Some early drafts of the film had a few other male human characters, and a big turning point in development was when we dumped one of the characters and focused only on Peter Quill (Pratt).
What were some of the really challenging parts in creating this movie?
Feige: The tree and the raccoon. Outside of Hulk, and maybe a few others, we haven't relied on whole [computer generated] characters. Iron Man becomes CG when the mask is down but Robert Downey Jr. pops in a lot. So [Rocket and Groot] were by far the biggest challenge. When we cast Bradley Cooper as Rocket and Vin Diesel as Groot, that was one sigh of relief.
Music plays such a huge part in the movie. What was the vision behind using music in that way and was that always part of the plan?
Feige: The music of the movie came about with James Gunn. It was his idea to have the walkman play such a big part in the movie, and in the first draft that he had, for each sequence, he would lay out what song would be playing over that sequence. A lot of screenwriters do that, and in my experience, whatever they put in the first draft is NEVER the song that ends up in the movie. I was reading James' script and he made a little CD of the songs, and I thought it was funny, him thinking that the songs wouldn't change 100 times--it didn't change at all. One or two songs fell out of the final cut, but every song is exactly where he wanted it to be doing exactly what he wanted it to do.
For movie tickets and times, click
here
. You can watch the trailer below: