Theater and Dance
Dance Review: The National Ballet of Canada at The Music Center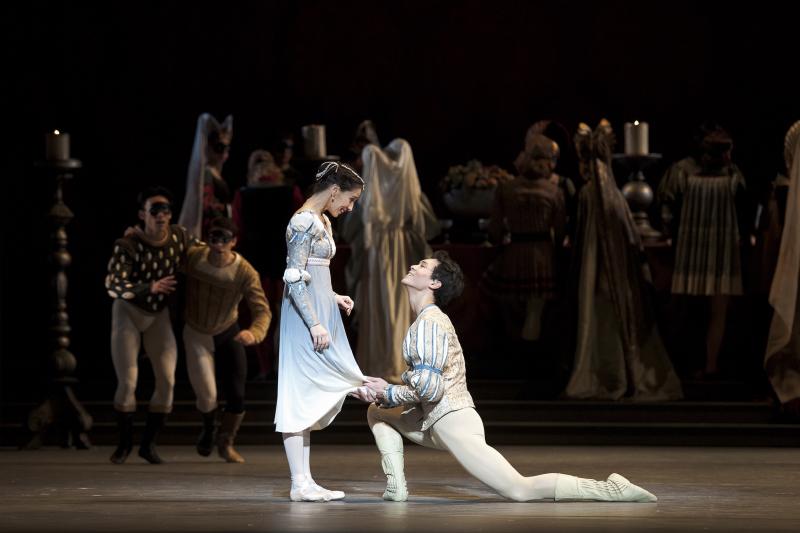 "It is all in the music: you will find the important things if you really listen." Peter Ottmann, senior ballet master of the National Ballet of Canada puts it simply at Friday night's pre-performance talk and hits the nail on the head. Alexei Ratmansky's 2011 version of the Shakespeare classic breaks with expectation, while being deeply moving and wonderfully subtle at times. This "Romeo and Juliet 2.0" simply shines with a special dash of Hollywood-like magic.
The National Ballet of Canada brings Alexei Ratmansky's new production of "Romeo and Juliet" to the Dorothy Chandler Pavilion for an extended weekend run. And it is truly that – a new production; certainly not a remake of more familiar versions, present in company repertoire around the world. Ratmansky's Romeo and Juliet is a good example of a Gesamtkunstwerk: dance, spectacle, drama and music compliment one another and seem inseparable.
He breezes through the complex storyline with ease and clarity - two full hours in early Renaissance Verona structured into three acts seem to evaporate like dew drops on a hot summer morning. Only the letter, sent from Friar Lawrence (Kevin D. Bowles) that is to save Romeo (Naoya Ebe) from killing himself as he finds Juliet's (Sonia Rodriguez) lifeless body at the culmination of Act III, seems to have slipped through the cracks. What first soloist Ebe and principal ballerina Rodriguez may lack in chemistry in the first two acts, Romeo makes up for in the pas de trois work with Benvolio (Dylan Tedaldi) and Mercutio (Skylar Campbell). The latter, an exceptional virtuoso, seems to have that special something: that "nothing to prove" ease of technique and joy of dance present in his every move. Campbell's Mercutio is witty and fiercely loyal, right until the moment he puts his palm on Romeo's face and finally dies from his battle wounds obtained in the dual with Juliet's cousin Tybalt (chilling and dominant interpretation by Etienne Lavigne).
The period costumes and set design by Richard Hudson dominated by rich shades of red and orange foreshadow the conflict between the two families, the Capulets and the Montagues. Hudson's design is never cluttered or overwhelming and serves as a perfectly constructed frame. At the center of this production is what seems most essential to Ratmansky: dance. Variations are seamlessly integrated into the choreographic whole and even though the National Ballet of Canada didn't bring the whole company to Los Angeles, the stage of the Dorothy Chandler Pavilion seemed filled in the town square and mascaraed ball scenes.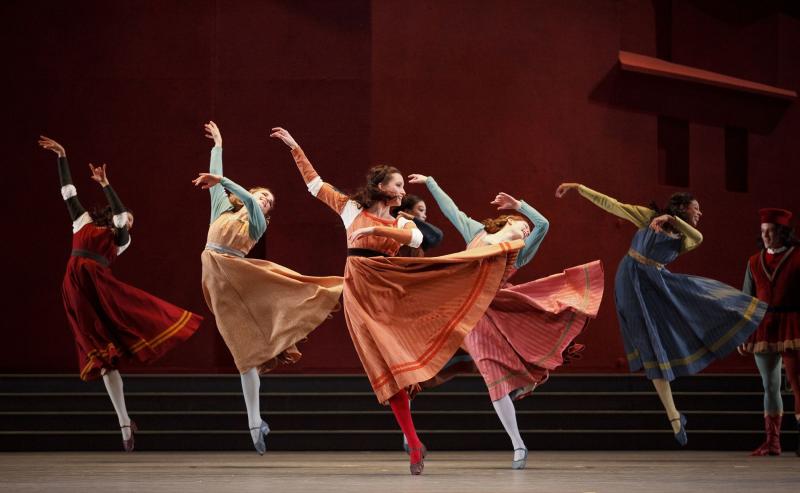 This Romeo and Juliet can't be compared with the British glamour and grandeur of
Sir Kenneth MacMillan
's or the purism of
John Cranko
(the version danced by the National Ballet of Canada until 2011). Neither is it a new interpretation à la
Matthew Bourne
or
Mats Ek
. It is a Ratmansky. Every inch of the stage is used, every note of the score is dramatically charged. Sword fights in particular stand out for being exceptionally exciting. At first sight, it seemed the cast needed to get a tutoring lesson in
stage combat
from the
Royal Ballet
's Christopher Saunders when really is was just distinctly different. Ratmansky's fighting can be looked at from all angles, reminiscent of an action scene from a good movie. Instead of always keeping both feet firmly grounded in combat, Tybalt and his opponent soar across the stage in jétés and tours en l'air - their blades somehow meet mid-air.
Ratmansky created this version specifically on the National Ballet of Canada in only ten weeks. Senior ballet master Peter Ottmann recounts that the Russian native and resident choreographer of the American Ballet Theatre is "tough in a quiet way". So is his choreography. Take the balcony pas de deux for good example: the ascending musical score is juxtaposed with the subtle (but nonetheless demanding) partnering work. Instead of going for the big jumps and manèges, Romeo and Juliet dance closely together, off balance and on - quick footwork and direction changes reoccur – her hand slips through his, intentional. She swiftly steals the kiss before she runs up the balcony steps.
Even as Romeo and Juliet lay lifeless on stage at the end of Act III, the Prokofiev score continues to carry the audience to the moment of reconciliation between the Montagues and Capulets.
Music director and principal conductor of the National Ballet of Canada, David Briskin showed finesses and a deep sensitivity to the Prokofiev score with regards to tempo and the dramatic development of Ratmansky's choreography.
As the curtain closed on Act III, this writer must agree with the young girl who sat close by. Upon curtain call, she turned to her seat neighbor to declare in the most matter of fact tone: "I almost cried". That last spark, the dancer's chemistry, might have put a damper on the tears, but the lasting impression is one of awe and disbelief: Ratmansky's a man looking to keep ballet relevant. Given the standing ovation of this 21stCcentury audience, one must conclude: he is doing a brilliant job.
Reach contributing writer Wiebke Schuster here or follow her on Twitter here.
Read more about dance by Wiebke on The Ballet Bag.
Alexei Ratmansky's "Romeo and Juliet" danced by the National Ballet of Canada is performed at the Dorothy Chandler Pavilion through July 13. Tickets are $38 - $138. More information can be found on www.MusicCenter.org.