Los Angeles and Region
Crenshaw's 'Railway To The Future'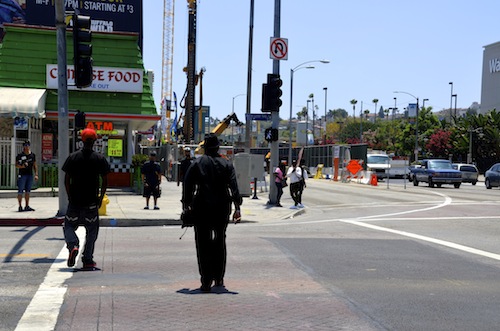 A full two decades after its initial proposal, the Crenshaw Line is finally being built to the delight of politicians and moneyed interests throughout the city.
"The Mayor's watching, Senator Boxer's watching, I'd guess even the President is watching to some extent," said Erich Engler, the Business Manager for Walsh Shea, the company that Metro contracted with to oversee the construction.
With a $2.058 billion budget and an estimated 3 million hours of construction work, it's no surprise that the line's construction is a big deal, but the enthusiasm of public officials appears unmatched among Crenshaw residents.
The line's biggest champions are the ones who benefit from the line economically or politically. Meanwhile, the community where the line is actually being build appears somewhat skeptical about whether or not the line is actually worth all of the fuss.
"I had heard people on the bus who were very positive it when [construction] first started, but most people don't seem so excited by it anymore," said Barbara Lott-Holland, the co-chair of the Bus Rider's Union. "If the purpose of this were to create mass transit to help people get to and from jobs, they should have just improved the bus lines. That's what people really use around here."
The apathy that many Crenshaw residents feel towards the project leaves us to wonder: who was this line really built for?
READ MORE: Crenshaw/LAX Project Headed To Court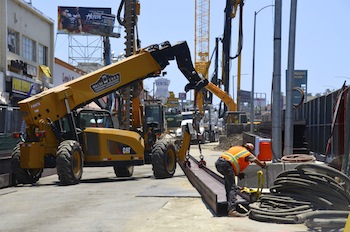 Upon its completion, the 8.5-mile light rail will essentially connect Metro's Expo Line with the Green Line, forming what Councilmember Bernard Parks referred to as a "crucial north-south connection."
While the best of intentions may be guiding Councilmember Parks and the line's other champions, including former Mayor Antonio Villaraigosa, L.A. County Supervisor Mark Ridley Thomas and Mayor Eric Garcetti, they aren't the ones living and working alongside towering cranes and thundering machines.
Crenshaw Corridor, home to the iconic Baldwin Hills Crenshaw Plaza, is currently experiencing the worst of the construction woes. While larger stores like Walmart can handle a temporary drop in sales, many of its neighboring stores don't have the luxury of being able to weather three to five years of reduced foot traffic.
Despite Metro's attempts to help the businesses with better signage and a local discount program, no one can deny the way that the duty, tarp-laden construction is impacting businesses.
"When I opened this store two years ago I'd have people pulling over and asking me to run in and grab a dress or a shirt in whatever size, then they'd hand over the money just like that," said Beatrice O Ima Eyo, the founder of Lady Excel Fashions. "Some days I'd take home $2,000 or $3,000."
"But since they put up the construction barriers in May I only ever get the random customer who sees the store when walking their dog," continued Mrs. Eyo. "I've been here for four hours and only had one other person even walk in the store."
READ MORE: U.S. Economy Pushes Small Businesses To Look Abroad
"The construction is causing quite a headache for the mall and smaller retailers here," according to, Eddie North-Hager, a Leimert park resident and the creator of community-driven blog, Leimert Park Beat, as well as the head of USC's media relations. "But I think after the initial complaints, [Metro's] made an effort to help the smaller businesses by putting up a lot more signs and trying to make the neighborhood inviting overall. Overall, they've been really responsive to suggestions."
While such attempts have not been in vain, Mrs. Eyo and her husband,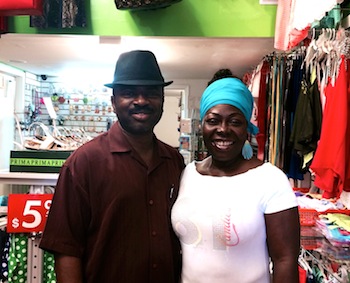 Eyo, both owners of small businesses along Crenshaw Corridor are frustrated with the corporate tactics and marketing policies that do nothing to help them meet their rent, pay their phone bills or keep dinner on the table for their children.
"Why did they have to put up the fence and block our businesses and cage us in?" asked Mrs. Eyo, with tears running down her face. "My husband's store serves mostly handicap people, and how do you expect them to walk from the parking lot at the mall to all the way over here?"
"Whenever the good that we intend to do ends up costing someone else pain, it's not good enough," said Mr. Eyo. "The whole floor starts to vibrate from the construction. They're thrusting this incredible burden on us without taking any provisions to help...Whoever made up the law that they can't compensate us for public projects should just come see out lives and how this project's affecting us."
READ MORE:Ó Crenshaw/LAX Line Will Receive Federal Assistance
With a project of this magnitude, some losses are to be expected, and Ridley Thomas and Mayor Garcetti have been working to create programs and even dedicate funds to help support businesses impacted by construction; but the discrepancy between the perceived enthusiasm of city officials and the attitudes held by many members of the Crenshaw community is nonetheless surprising.
At the Crenshaw Line groundbreaking in January, U.S. Transportation Secretary Anthony Foxx , assured community members that "bringing light rail to this community will create jobs, spur local economic development and make it easier than ever for residents to access downtown Los Angeles and beyond."
Even with the number of trees and buildings that need to be cut down to make space for the metro, however, Ethan Elkind, the author of "Railtown: The Fight for the Los Angeles Metro Rail and the Future of the City," believes that the environmental benefits of expanding public transportation along "such a heavily transit dependent corridor" will far outweigh the costs.
"The new Metro would create a faster, more reliable source of transit that could encourage investment in taller buildings around the rail," said Elkind. "Such transit-centric development would make it so that fewer people would need to drive to work, which would in turn really help cut down on pollution."
Metro has predicted that the new light rail will transport an average of 16,000 people each day and prompt investors and customers alike to pour more money into the arts and local development—especially near the future Crenshaw/Vernon (Leimert Park) and Crenshaw/Slauson stations, which have been deigned as centers for transit-oriented development.
But Lott-Holland remains skeptical.
"All that talk about new jobs and new people coming into Crenshaw to spend money sounds good, but if that would really happen i don't know," said Lott-Holland. "I can't imagine people getting on the train to go and shop at the Crenshaw Plaza. I honestly don't see people from Brentwood or Beverly Hills getting on the bus to do that… I guess we'll just have to wait and see when all the destruction is done."
READ MORE: L.A. Riots: Crenshaw Shopping Mall Finds Footing Two Decades Later
While some may view the construction along the already narrow Crenshaw Corridor as an unwelcome burden, others see it as a tremendous victory.
While North-Hager believes that it was obvious that there should be a stop in Leimert Park, one of the city's most historical cultural centers, a lack of funding omitted Leimert Park off the original list of Metro stops.
"The community took time off from work, they wrote letters, they went to meetings, they called their elected officials," said North-Hager. "And the process worked."
Former Los Angeles Mayor Antonio Villaraigosa helped allocate $40 million in Measure R funds for the construction of the costly underground station. Last May the Metro Transit Authority (MTA) approved $80 million to create a stop in Leimert Park.
"There have always been visitors from all over the community and [having the Metro stop] will make it easier for people to spend money there, and for the businesses to be successful," said North-Hager.
"Its art galleries, open mic nights, Jamaican restaurants and up and coming hip hop artists have really made Leimert Park a destination," North-Hager continued. "I'm hopeful that Leimert Park will manage to retain the character and the shops and the cultural identity that it's had for the last three or four decades."
READ MORE: Crenshaw/LAX Project Takes the Next Step With First-of-Its-Kind Job Initiative
Despite North-Hager's excitement about Leimert Park's increased accessibility, many people are skeptical about who the line's really going to be helping when the construction is all said and done.
"One of the problems that isn't talked about as much is that the land owners of those businesses along the corridor—the very businesses that are suffering most now—are often unwilling to renew the leases because they know that property values are going to go way up when this is all over," said Bertha Briseno, the Project Compliance Manager at Walsh-Shea.
The justification for line's construction is that it will serve as an asset for the Crenshaw community, but after enduring the imposition of construction, will they even be the ones to benefit?
"I think the line is being used to gentrify the neighborhood and I don't think that it supports black businesses," Lott-Holland. "They could have for a lot less money and far greater efficiency put a bus only lane on Crenshaw Blvd. and allowed a rapid bus to have access to the road which would produce faster service and encouraged people getting out of their cars."
"People look at the bus as a third class system of transportation, and the bus is for the poor," continued Lott-Holland. "I look at the Crenshaw Line more as a symbol of corporate welfare as opposed to providing real public access for the people. I don't see how it's actually doing the real community any good."
Like North-Hager and Councilmember Parks, many people expect the current Metro line "to be around for hundreds of years," and consider the line essential to Crenshaw's long-term growth as technology and mobility become increasingly important.
Regardless of whatever attitudes people hold at present, the true value test for the transit agency will be how well it manages to establish a partnership with neighboring residents–and how well capitalizes on the potential to strengthen both the community and the economy throughout South Los Angeles.
Contact Deputy Editor Sara Newman here. Follow her on Twitter here.