NBA
All Falls Down: NBA Free Agency Dominos Hinge On The Decision 2.0
The NBA may be the only sport in the world with a more dramatic off-season than regular season. The Decision 2.0 and an abundance of corresponding domino-effect deals have experts desperately trying to project the league's future, but to little avail. Here's how it stands now, with the first domino yet to fall.
The Kingpin:
Lebron James: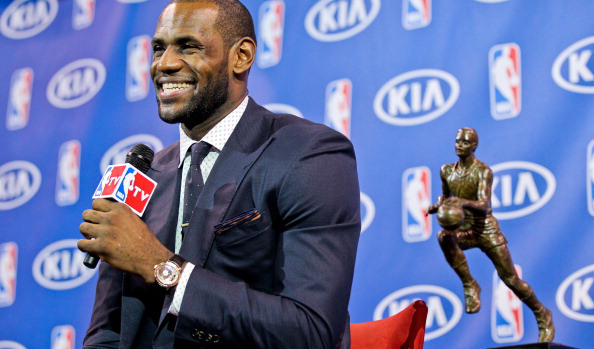 Recently a lot of rumors have been swirling about LeBron and his possible return to Cleveland. At this point, it seems like Cleveland is the only remaining contender apart from the Heat, and given their recent three-way trade to part with Jarrett Jack's contract, they now have the cap-space to offer LeBron the max.
The situation is certainly unclear from a basketball and business standpoint at the moment, given Chris Bosh's max contract offer from the Rockets, Dwyane Wade's balky knees and Cleveland's young and potentially loaded roster. Cleveland has also been exploring a trade for Kevin Love that would be contingent upon a LeBron James signing, which makes their offer all the more enticing.
In addition to the tenuous circumstances from a basketball perspective, LeBron's Decision 2.0 has the potential to ripple throughout the league and cause a number of major dominos to fall in the process, as a number of free agent standouts and league executives stall to make any major moves until the world's most dominant player settles upon a franchise.
This has led the online media to ravenously hunt for any (seriously, any) clues that might point to the direction LeBron may or may not be leaning. While many of these rumors have been blown largely out of proportion, their are a few that have proven themselves noteworthy given the source and context of the speculation. While nothing concrete has been established, all signs seem to indicate that LeBron is heavily considering moving from South Beach back to Cleveland.
We know that both his agent and his wife are pressuring him to return to Cleveland. We also know that Bosh and Wade feel unsure of what LeBron is going to do, and that Bosh is seriously considering the offer from the Rockets. Stephen A. Smith recently was quoted on Mike and Mike in the morning that LeBron to Cleveland was "pretty much a guarantee"; Chris Sheridan, who made a similar claim about LeBron to Miami in 2010, agrees with Smith; and Chris Broussard says he's about 90-percent confident of a LeBron return. However, their sources have been inconsistent, and a few of the claims that the two made in support of their arguments have been disproven.
None of this is any concrete evidence, however. Since LeBron has opted out of his contract, the only evidence of his potential indecision that was publicly evident was the removal of the tagline "Heat Forward #6" from his Twitter bio. Recently the Internet has blown up over a rumor that new, blank webpages were created on LeBron's site with Cleveland's crimson, navy, gold color scheme. Further investigation revealed that no such pages existed on the site, but it's possible they were removed or innocuous in the first place.
None of this necessarily means much of anything, but what is certain is that LeBron is no lock to return to Miami. So much hinges on his decision that the offseason will inevitably be shocked to life the moment he reveals his landing spot. He claims that he will make his decision before he flies out for the World Cup final this coming Saturday, so hopefully the basketball world's wait for the biggest announcement in four years is soon to be over. Wherever he signs, expect it to be two years at the max with a player option for either the second or a third year, ensuring LeBron doesn't get stuck on an aging roster anywhere as his career approaches its twilight in the coming years.
The Big Names:
Chris Bosh:
Bosh's situation is simple enough, as it seems that he will inevitably wait out Lebron's decision and react accordingly.
If LeBron resigns, Bosh will take a big pay cut in the range of $11-15 million and try to win a championship with a younger Heat roster. If LeBron jumps ship, Bosh will presumably accept the four-year max offer he has from the Rockets, and immediately join a championship caliber roster in the West.
It's possible that if LeBron leaves Miami, Bosh will stay with Wade and try to convince other free agents still available to try to compete for the top seed in the lowly Eastern Conference. A roster with Bosh, Wade and newly signed Josh McRoberts realistically wouldn't need much to be highly competitive in the conference. However, this would require he and Wade both taking a pay cut despite LeBron's departure, and it seems more likely that in this scenario Bosh will just sign with the Rockets.
Dwyane Wade:
It seems highly unlikely that Wade, Miami's most storied and beloved superstar, will leave Miami. He is one of the few superstars in the NBA to spend his whole career with the team that drafted him, and has stuck with the team through horrific stretches instead of resigning for a max contract with a competitor.
If LeBron resigns for the max, Wade will also take a big pay cut, with a contract somewhere in the range of $12-13 million. If LeBron departs, Wade's situation is slightly less certain. He could realistically force Pat Riley to offer him the max given his place in Miami Heat history and support from the fan base. This would end the Heat dynasty definitively and represents Riley's worst nightmare. However, he could restructure his contract around the team and take a pay cut like Dirk, setting the heat up to make a run at a few major free agents like the Mavericks have, potentially landing a few key pieces to make another run at a championship.
It's possible, but unlikely, that if Wade demands the max from the Heat and Riley refuses, he returns hope to Chicago and signs with the Bulls. However, this seems unlikely at best.
Carmelo Anthony: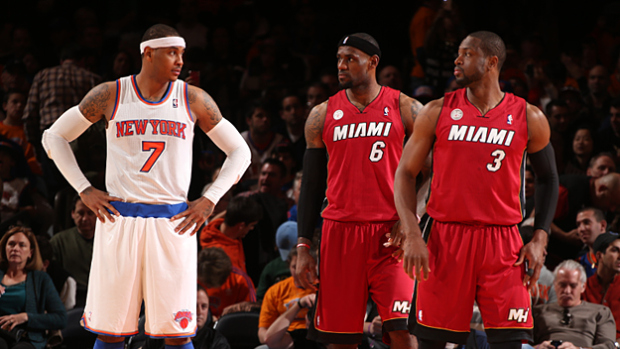 More often than not, free agency winds up being about the money. While I feel there is an excellent chance that Chris Bosh winds up being an exception in this case if LeBron resigns for the max, I think that, more than likely, Melo will be the standard to the rule. The Knicks can offer him an additional $30 million guaranteed over any other club, boast Phil Jackson in management and can pledge to build a team around Melo in a major market with an owner who is willing to spend whatever is necessary to produce rings.
However, this is the same story Melo heard when he agreed to sign with the Knicks originally. The Lakers offered him a max contract, and have a surprisingly interesting roster if Pau Gasol decides to resign. The Bulls were also strong contenders, as they have a roster built to succeed now in need of an isolation scorer, but have the unwieldy $16 million per year contract of Carlos Boozer to worry about and appear to be out of the running.
It seems that, unless LeBron leaves Miami and dramatically changes the landscape of the NBA, Carmelo will be returning to Madison Square Garden next season. However, nothing is truly certain until the King signs a deal.
Pau Gasol:
The best spot for Pau Gasol in terms of roster fit and ability to both contend and receive fair compensation is the Oklahoma City Thunder. OKC's offense is often stagnant, lacking ball-movement around the court—something an intelligent-passing big man like Gasol could potentially remedy overnight. However, multiple other possible scenarios exist for the Spaniard entering the back stretch of his illustrious career.
He could re-sign with the Lakers, which would result in an intriguing lineup if nothing else, featuring Nash, Kobe, Rookie Julius Randle and Pau, and possibly Melo. However, this is not the only avenue through which Pau could team up with Melo, or wind up elsewhere than LA or OKC.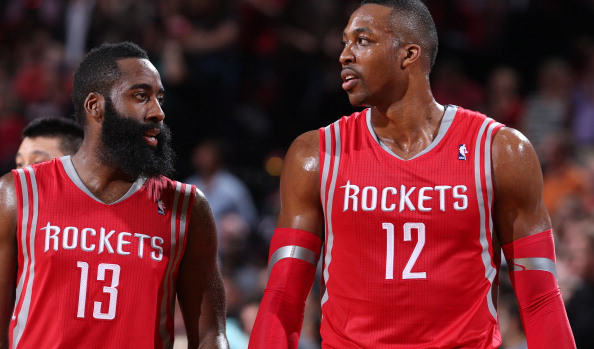 In the event Gasol leaves the Lakers and doesn't sign with the Thunder, an entirely possible scenario would be for Pau to take a contract with the Knicks for cheap with the promise of restructuring the following year, when the Knicks have more cap room available and the team can go after free agent Marc Gasol. They already have Jose Calderon to create a high IQ Spanish trio, and could look to sign someone like Gordon Hayward or Lance Stephenson to fill out the roster in the meantime. More likely is that Pau will either remain in LA or ship out to OKC and chase a championship with Durant.
Other Notables:
Lance Stephenson probably won't get an offer comparable to the five years, $44 million deal he was offered by the Pacers due to the temperament he's recently displayed, and could fall through the cracks to a team like the Lakers or Mavericks, hungry for bargain bin talent.
Chandler Parsons signed an offer sheet from the Mavericks in the area of three years, $45 million per year and seems unlikely to rejoin the Rockets, but could in the event that they can't sign someone like Bosh.
The Rockets also recently offered Dirk Nowitzki a max contract, which could be a message to the free agency pool that they are desperately trying to sign a meaningful talent by any means necessary. It could also be a metaphorical middle finger to the Mavericks and owner Mark Cuban for his offer to Chandler Parsons.
Eric Bledsoe is a restricted free agent, and could be offered a contract that the Suns don't match given the depth they have at the point guard position, however that remains unlikely.
Greg Monroe will be going somewhere other than Detroit presumably, as the 2013 Pistons successfully proved that pairing three talented big men without a jump shot between them isn't a viable strategy in the league.
Gordon Hayward has a max offer sheet from the Bobcats for four years, $63 million. It is reported however that the Jazz are likely to match, keeping Hayward in Utah with a handsome raise.
You can reach Billy Lennon here.