Sports
World Cup Preview: Groups C And D
Group C
The opposite of a group of death, Group C is wide-open. In any other group, these teams would've been vying to squeak into the next round, but they were blessed with a great draw and all have a great shot at advancing. Colombia may be the most intriguing team in the group, as the vacancy of their star player, Radamel Falcao, leaves them an unpredictable squad hoping to supplant him. Ivory Coast could be the team to take charge of this group, given their fast style of play and star players. But in past international competitions, they've failed to put it together and make a serious run. Don't count out Japan. Their team is so fundamentally sound and orderly, that teams always struggle to beat them. If they can put the ball in the back of the net consistently, they can easily win this group as well. Greece is also never an easy opponent. The Greek are always so underrated, yet they're always good for competitive group play, and in this wide-open group they will envision themselves with a good chance at advancing.
Players To Watch
Yaya Touré #19. Midfielder, Ivory Coast.
The Man City midfielder exhibits quality football all the time. He truly is Ivory Coast's best player, but if they want to take full advantage of the easy draw, Touré must be the main preponent of an offensive attack. If they get on the attack early, watch him use his speed and beautiful ball posession skills to creat chances at every turn.
Keisuke Honda #4. Forward, Japan.
The most consistent player on an incredibly sound team is Honda. As Honda goes, so does Japan. Whether he is scoring or controlling the tempo of the match, Keisuke Honda is the key to Japan's chances in the group stage.
James Rodriguez #10. Midfielder, Colombia.
Falcao's absence really puts the pressure on James Rodriguez to carry the attacking load for Colombia. The young midfielder is being thrown into the world stage with pressure to create and execute for a Colombian squad that are the slight favorites in this group. Their counter-attacking style relies greatly on his speed and his ability to find the forwards consistently. If he delivers, they should easily advance.
Must-Watch Match
The Touré-Rodriguez matchup should be interesting to watch. If Falcao was playing this game would have greater hype, but it still has high implications and is likely to determine how this group's standings end up.
Predictions
1. Colombia
2. Japan
3. Ivory Coast
4. Greece
Group D
In this group, 'D' stands for Death. And Group D is the true Group of Death. Italy arrives with a roster combination of savvy veterans and young talent. The Italians are known for their defense, and that has proved to be more than enough as they have won four World Cups, the most recent coming in 2008. England always comes into the World Cup with high expectations, but a tough draw could once again leave them eliminated in the first stage if their new coach and talent don't pan out. Uruguay always seems to be in the mix during international tournaments and they certainly do not lack the talent to do it once again this year. Costa Rica may be overlooked for the bigger names in this group, but the "Ticos" had a strong qualifying run that should make them a tough out.
Players To Watch
Mario Balotelli #9. Forward, Italy.
For many reasons, Balotelli is Italy's most intriguing figure. From a tactical standpoint, this team that focuses so much on their defense is going to need scoring to advance and their main striker is Balotelli. He needs to once again show his powerful finishing skills to provide Italy with some offensive production. Let's just hope he doesn't get into any trouble in Rio.
Luis Suarez #9. Forward, Uruguay.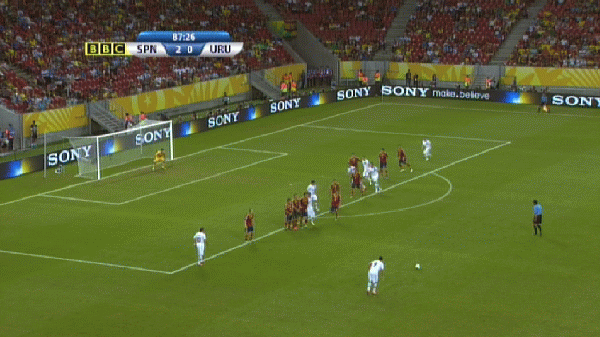 Suarez' injury has been a popular topic of discussion. But if he is truly healthy, and playing at 100%, he is arguably one of the best scorers on the planet. His past year at Liverpool is proof of that, as he scored the most goals in the English Premier League, and all signs point to the coveted forward having his best World Cup yet.
Wayne Rooney #10. Midfielder, England.
Oh, Rooney. The face of England football will once again be under great pressure to will his team to the next round. Rooney is the centerpiece of what the English squad does. He is their best player, there is no doubt about that, but whether he will play like it, is the real question.
Keylor Navas #1. Goalkeeper, Costa Rica.
In such a loaded group, Costa Rican star goalkeeper Keylor Navas deserves some love. Costa Rica is getting virtually no shot to advance, but if they want any chance at a Round of 16 bid, Navas needs to be his stellar self. He is quickly becoming one of the quality keepers this game has, and he has a chance to prove his talent on a huge stage against great teams.
Must-Watch Match
Great attacking against great defense. These are the two best teams in this group on paper, and they should both advance. But winning the group will be something both teams will be aiming for, and this game should determine it.
Predictions
1. Italy
2. Uruguay
3. England
4. Costa Rica
You can reach Staff Writer Paolo Uggetti here, or follow him on Twitter here.