USC Sports
University Of Scholarship Correction: Trojan Athletes Will See Four-Year Scholarships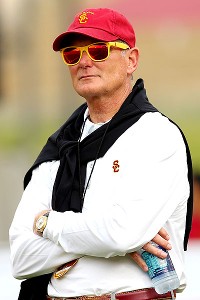 As the NCAA battles student athletes in court over compensation, one Southern California school took matters into its own hands to help its student-athletes.
University of Southern California athletic director Pat Haden made college sports headlines Monday morning, announcing a new student-athlete aid system which grants four-year scholarships to revenue sport athletes.
The scholarships, which will be made available to student-athletes in football and men's and women's basketball starting in July, will replace the widely practiced system of one-year renewable scholarships previously offered by the school.
"In taking this action, USC hopes to help lead the effort to refocus on student-athlete welfare on and off the field," said Haden in a release by the university.
The news comes in the wake of a tumultuous year for the business of college athletics. Amid multiple lawsuits and court hearings regarding pay-for-play for college athletes, the NCAA has maintained its stance that any sort of monetary compensation would be detrimental to the sport.
In late March the National Labor Relations Board upheld a bid by the the Northwestern University football team to unionize, ruling that scholarship players are school employees. The football players were asking for guaranteed scholarships and medical coverage in the event of injuries.
Haden has been a long standing advocate for improving aid for students-athletes. In a Q&A with USC Athletics' Official Blog earlier this month, Haden reiterated USC's commitment to helping student athletes to the maximum extent allowed by the NCAA.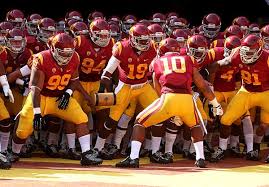 "We do not yank scholarships from players for performance, and we happily pay for former student-athletes to come back and complete their degrees," said Haden. "In terms of health benefits,
meals
and stipends, we provide the maximum allowed under NCAA rules."
While USC's historic new system should serve as a stepping stone for other universities in revenue athletics, not all schools have the immediate funding to implement such systems. According to Haden, it's a case-by-case process.
"We have to acknowledge that some schools and athletic departments have more resources than others, and each needs to do the right things for their student-athletes," said Haden.
For now, Trojan athletes can feel a little more secure about their classroom future.
You can contact Matthew Tufts here or follow him on Twitter.