Theater and Dance
Theater Review: 'The Last Confession' At The Ahmanson Theatre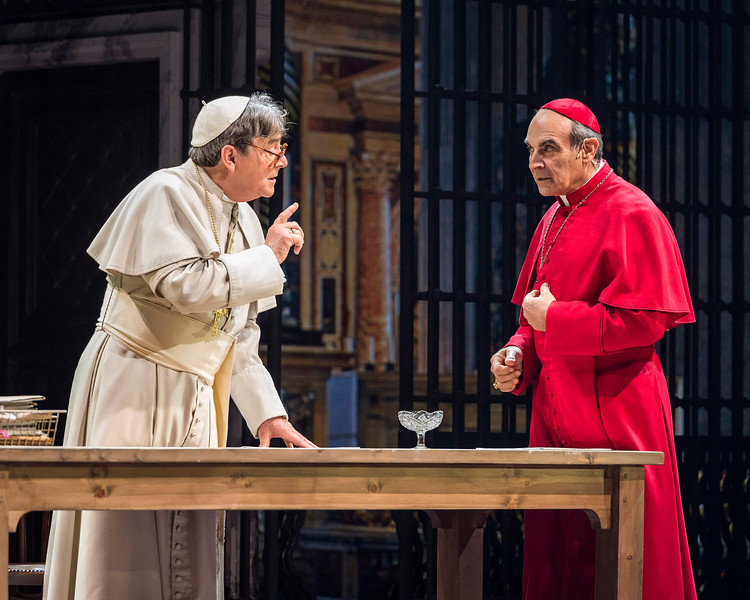 On September 28, 1978, Pope John Paul I was found dead under somewhat puzzling circumstances, only 33 days into his reign as Pope… but no autopsy was ever performed. In recent years, it has become nearly impossible to discuss the Catholic Church without mention of the corruption and abuse it has unfortunately become so notorious for, and playwright Roger Crane explores these questions of misconduct amoungst the clergy in "The Last Confession" now playing at the Ahmanson Theatre. Starring the brilliantly talented David Suchet as Cardinal Benelli, "The Last Confession" investigates the true story of the mysterious sudden death, and possible murder, of Pope John Paul I.
The play begins with an elderly and sick Cardinal Benelli (David Suchet) giving his 'last confession' to The Confessor (Philip Craig) regarding the election and eventual demise of Cardinal Luciani (Richard O'Callaghan). The story unfolds through a series of flashbacks, with Cardinal Benelli serving as both a narrator and a character in his own memories. Roger Crane's rich and powerful language is immediately evident as the play progresses, with every word carefully selected to tell this fascinating story.
While David Suchet is certainly the star of this production, his fellow cast members are nothing less than brilliant themselves, all delivering honest and powerful performances while dealing with very complex issues. Richard O'Callaghan plays the simple and likable Cardinal Luciani, the man who would ultimately be thrust into the Papacy, and subsequently advocate the Catholic Church adopt more liberal reforms. Nigel Bennett also gives an outstanding performance as Cardinal Villot, as he struggles between his obligatory loyalty to the liberal Pope John Paul I and The Catholic Church as an institution. An interrogation scene between Bennett and Suchet certainly stands out as a powerful confrontation between two acting-powerhouses. Another stand-out performance comes from the arrogant and untrustworthy, Chicago-born Bishop Marcinkus, who flawlessly captures the quintessential American opportunist with a fluid moral compass.
While only a few performances have been mentioned, there is truly not a weak actor in this production. Every single person falls effortlessly into his role and it is quickly apparent that is a cast of actors who have mastereted their craft. Director Johnathan Church also deserves serious praise for his ability to bring out the best in each actor and tell Roger Crane's story with such honesty. Even though "The Last Confession" deals with extremely serious issues of murder, corruption, and religion, it is not without its lighter moments, and one would be surprised how entertaining this production actually is. The cantankerous and somewhat senile Cardinal Ottaviani (Bernard Lloyd) offers quite a bit of comedic relief along with Cardinal Bernardin (Roy Lewis). Both men manage to make the audience laugh with their clever banter while still participating fully in the dramatic action of the play. Once again, Roger Crane's talents as a writer show through the words of Ottaviani and Bernardin, and the audience gets to enjoy this political thriller with some grins along the way.
The technical elements of "The Last Confession" did a great job of fully supporting the work without distracting from it. Both the set design (by William Dudley) and the lighting design (by Peter Mumford) capture the intimidating grandeur of the Vatican, with its iron gates, stone archways, and smoky light peering through the windows. The costume design (by Fotini Dimou) was also breathtaking, not only for its aesthetic qualities, but also because the costumes played such a huge role in the transformation of each character.
Most riveting about "The Last Confession" is that is deals with issues that go far beyond its religious implications. The play is really the story of a man's journey to find God and morality as he struggles in the face of power, greed, and pride. No character is wicked or pure, but rather each person is a human being with good intentions and dangerous flaws. Crane does an excellent job of throuroughly exploring all sides to this story, and allows the audience to come to their own conclusions about what is right and what is wrong.
Across the board, "The Last Confession" is a success. From its elevated writing, to its superb actors, to its visual and artistic merit, this show is a memorable piece of theater. It is rare to come across a story that is not only entertaining, but also impactful, and "The Last Confession" is the kind of play that leave its audience thinking, a quality that is becoming increasingly rare in the world of theater.
For more theater coverage, click here.
Reach Theater Editor Savannah L. Barker here.
'The Last Confession' is playing at The Ahmanson Theatre (601 W Temple Street, Los Angeles) through July 6. Tickets are $20-$105. More information can be found at CenterTheatreGroup.org