National
Taxi Drivers Protest Ridesharing Services In D.C.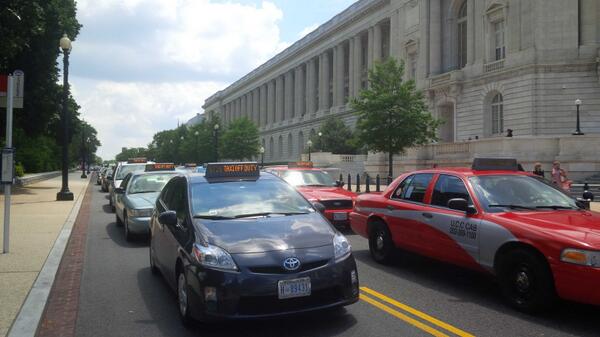 Taxi drivers in Washington D.C. staged a protest on Wednesday to protest ridesharing services such as Uber, Lyft and Sidecar, according to
The Washington Post.
Protesters caused a gridlock by driving in a convoy from East Potomac Park to Freedom Plaza, arguing that the services have different rules than them, putting taxi drivers at a disadvantage.
Taxi drivers in London and other European cities staged similar protests earlier this month against Uber, which, along with Lyft, is already banned in Virginia.
READ MORE: European Taxi Drivers Protest Uber
Ironically, the protest merely served to benefit ridesharing services, as many people expressed their support for them. During the protest in London, Uber's registrations increased by 850 percent.
"Washingtonians know that Uber is the safest, most affordable and reliable ride on the road. It's ironic that taxi companies have congregated on Freedom Plaza, when they refuse to accept the freedom of choice, flexibility and economic opportunity that the Uber platform provides thousands of partners and riders across the city. Uber welcomes any taxi driver who wants to experience the economic opportunity and increased driver safety that the Uber app offers," said Uber, in a response to the protest.
Reach Executive Producer Arash Zandi here. Follow him on Twitter here.