Religion
Take Home A Ganesh Statue, Hindus Don't Mind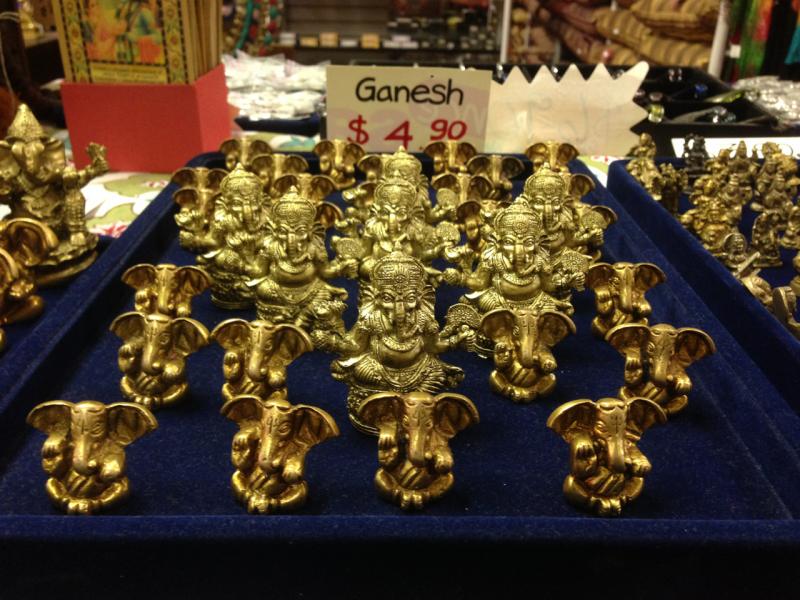 Meandering through store shelves lined with Dancing Shivas and other Hindu god statues is 29-year-old Sarah Scheibner. It's her first visit to Cottage Art, a South Asian shop in Artesia, Calif., that specializes in Indian décor. From pocket-sized Ganeshes to top-dollar deities cast in bronze, there's a god for everyone at every price.
The self-professed "a-religious" shopper is looking for a small Ganesh to hang next to her apartment door.
"A friend told me it brings good luck, and god knows I need some," she says.
Scheibner's not alone in her curiosity in Hindu statues. More Indian shops say they're seeing their customer base grow with increasing interest from non-Hindus who, more often than not, walk out with a god in tow. A few purchase for religious worship, but most are simply looking for a nice piece to fill their homes. But Hindus aren't bothered, saying using their gods as furnishing doesn't tarnish their religion.
Angela W., a Cottage Art sales associate who declined to give her last name, estimates that roughly 85 percent of the store's customers are non-Hindu. And all of them are looking for a piece of India to take home.
"The people who buy these statues, they really want them to be made in India," she says. "It makes a difference."
Unlike Abrahamic faiths, which ban idol worship, statues are an integral part of Hinduism, filling not only temples, but also homes. In India, statues and other depictions of the elephant-headed god Ganesh are a common sight.
James Mchugh, a religious studies professor at USC who teaches Hinduism, says the statues make gods more accessible, bringing them down to earth and into Hindus' hands.
"Some schools of ritual say that in the current, rather degenerate, state of humanity, we can no longer access the divine via abstract means like meditation and Vedic sacrifice," Mchugh says. "And so God has made himself available to us in a form we can access via the senses."
Down the street from Cottage Art is Moon, Gems and Rudraksh, a gem wholesaler and retailer which imports its goods from India.
It's a family business for owner Mahesh Goel. For decades, both Goel's grandfather and father mined success in the gems industry in India. So when Goel's sister opened manufacturing plants in Aligarh, roughly 90 miles southeast from New Delhi, Goel decided to bring his sister's statues to Artesia's Little India.
Goel, 49, sells around 30 to 40 Hindu statues per month, bringing in anywhere from $5,000 to $40,000 in sales. More than half of his customers are Hindu, and they rely on his wares of statues, bells and lamps to help guide them through their prayer ritual, or puja.
"A statue symbolizes each god playing its role," Goel said. "Like the gods Rama or Krishna, they create some principles and rules in their life so if we follow that kind of principle, we have to believe him."
For Goel's non-Hindu customers, he has no qualms taking their business. They've made Ganesh, the "remover of obstacles," a bestseller.
"If somebody doesn't pray or doesn't believe in Ganesh, it doesn't matter," he says. "But once you take a Ganesh statue, at least you respect it. Don't say, 'Oh I just have this elephant.'"
Hindu statues are a common sight in the home and on the street. At the Malibu Hindu Temple, statues of Lakshmi and other gods are locked behind gates, housed under roofs. The crowd is a mix of Hindus coming to pray and curious tourists gawking at the intricate white architecture.
Abha Rashmi and Sudhanshu Guru are visiting the temple for both prayer and leisure. For Rashmi, a software engineer who came to the United States from India three years ago, the statues are more than just for display.
"As Hindus, we believe that the statue is the god," she says. "In these idols, their essence or soul resides in them."
When asked whether it bothers her that non-Hindus might look at statues as just another piece of home décor, she shakes her head.
"Everybody would give you the same answer," Rashmi says. "We don't object over which religion is keeping our god in their home. If it's respected, then we are proud."
Reach Editor-at-Large Melissah Yang here. Follow her on Twitter @MelissahYang.