Sports
Survived And Advanced: United States To The Round Of 16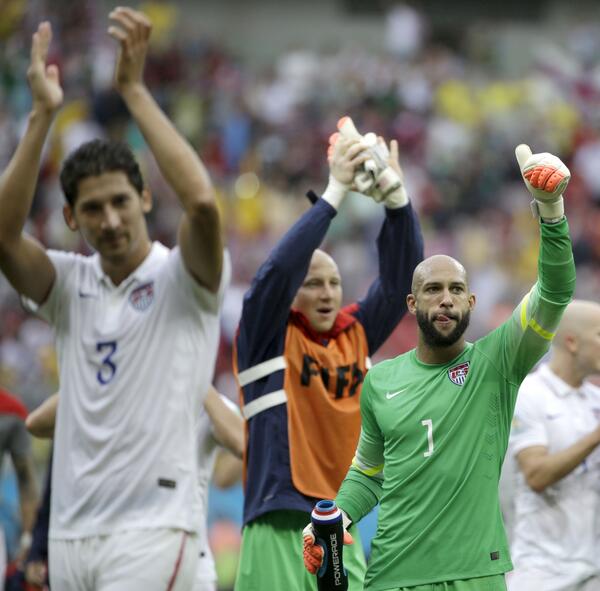 It wasn't pretty. It wasn't ideal or encouraging. It wasn't a win and it wasn't even a draw. But on a fittingly rainy day in Recife, Brazil, the only thing that mattered was that it was enough.
The Americans looked overmatched, outplayed, dominated and essentially exhausted against a German squad that played for a win and nothing less. Thanks to a Thomas Muller strike in the 55th minute, the Germans finally got their long-overdue goal and eventually their desired result. A result that somehow, someway, worked out for the United States Men's National Team, all due to a goal that did not even occur in their own match.
On Sunday, the United States died by a Ronaldo cross. Today, they lived by a Ronaldo goal. An entire nation transformed from loathing Ronaldo's greatness to begrudgingly praising it. Funny, how that works; but this sport can make you do interesting things.
With Ghana a goal away from knocking the USA out of the World Cup for an unprecedented third straight time, Ronaldo fired a rebound back into the goal in the second half and single-handedly defeated the Americans' Ghanaian kryptonite for them.
Life-saving as Ronaldo's goal was, the Yanks' performance was probably their poorest of the tournament so far. Losing to Germany not only on the scoreboard, but in possession and shots on goal. The only thing the United States succeeded at was keeping the deficit at the bare minimum. They had an unimpressive single shot on goal, and could only vaguely create a rare chance here and there. It was clear they were playing for a draw, and who could blame them? Germany is one of the best teams in the world. Give them anything to work with and they'll surely make you pay.
As it has been in the past few games, Tim Howard was the Americans' best player and their only constant on a day where they needed every bit of his stellar goalkeeping. Saving shots left and right, high and low, Howard picked up his teammates when they erred and, had it not been for him, the next round may have remained a hopeless dream.
A dream that months ago felt so far-fetched and so impossible, but now has become a reality. A dream that was not the product of simply believing. Rather, it was the effort of a team whose play was driven by belief, but executed by talent, hard work and the patriotic quality to never give up.
To say that luck or special circumstances allowed the Americans to qualify would be erroneous, as they have shown an incredible capability to play to their true potential when they're on, and a courageous determination to fight when it may not be their day. Their performance reaped them the fair results. None other than that.
It wasn't the sufficient loss against Germany that put this team through; nor was it Ronaldo's goal (although thank goodness for that).
Clint Dempsey's goal 29 seconds into the first match is what put this team through. John Brooks' header in the 83rd minute is what put this team through. Jermaine Jones' stunning equalizer against Portugal is what put this team through. Clint Dempsey's go-ahead goal is what put this team through. The consistent play of Matt Beasler and Kyle Beckerman is what put this team through. The coaching of Jurgen Klinnsman is what put this team through. The outstanding goalkeeping of Tim Howard is what put this team through.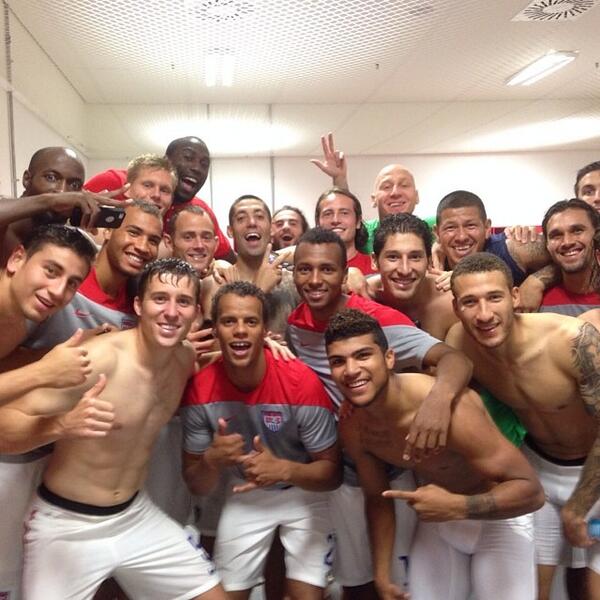 This team put themselves through.
By their uncanny relentlessness, by their incredible persistence, by their dedication and sheer talent alone, they persevered. Through injuries, broken noses, demoralizing results, rain forests, heartbreaks and against all odds, they took up the battle of the Group of Death and survived to see the other side.
For that, they deserve the credit. For that, they deserve the praise. And for that, they deserve to advance.
But the fight is not nearly over; if anything, it will only get tougher from here on out. A young, talented, fast squad in Belgium now awaits the Americans on Tuesday. This time a draw is out of the realm of possibility and a loss sends them back home. Now, in the Round of 16, all that matters and all that counts are victories.
Some will say expectations have already been met, and that getting out of this group is a miracle we should so gratefully accept. But we can be grateful and still remain hopeful.
"I believe that we will win" has been the outcry of fans all around the country. So far, that message has been personified by the USMNT's ability to survive this brutal trek through the Group of Death. Beating Belgium will be far from easy, but even though the primary goal has been accomplished, this team will keep on fighting and they certainly won't stop believing.
So why should we?
You can contact Paolo Uggetti here or follow him on Twitter.