Religion
South Asians Hike Toward Finding 'The One'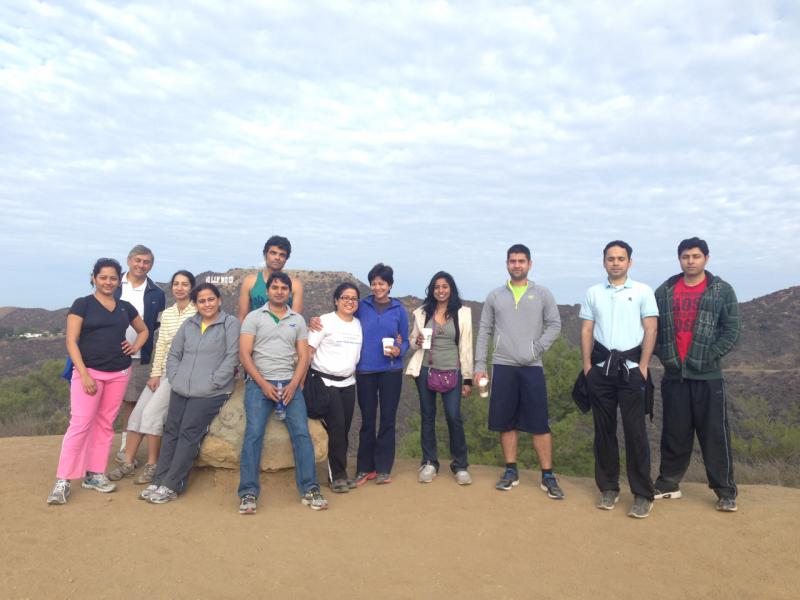 It's a hard climb to find the perfect mate, a fact that the South Asian community knows all too well.
Seventy-eight percent of Hindus living in the U.S. are married, the highest percentage of any other religion in the country, according to the U.S. Religious Landscape Survey by the Pew Forum on Religion and Public Life. And with 90 percent of those marriages occurring within the Hindu faith, there's pressure among Indian Americans to follow suit.
Gathered in front of Griffith Observatory, a dozen strangers hook up for an early morning hike after joining the same online group — "Indian Singles in Los Angeles."
I tell these numbers to the motley group of hikers — their ages ranging from mid-20s to 50s — but they're skeptical. Of course it seems like that, they say. Hinduism is so dominant in the Indian community that the likelihood of marrying another Hindu is high.
As we take the 1.5-mile hike to the top of Mt. Hollywood, and I find out more about their dating habits and what they value in a partner, it becomes apparent: Religion is just one of many steps on the path toward finding "The One."
Punam Kalra, who organized the event, dismisses the premise that the event is only for single Indians looking to date — despite the group's name.
"Who knows why you meet someone. It'll just happen," the 33-year-old tells me. "Fresh faces, new energy. That's all."
She later confides she'd prefer to marry someone who's Hindu, even though she ranks her religiosity a five on a scale of one to 10. But she admits her motivations are more cultural than religious.
"It just makes the whole family lifestyle a more seamless transition," Punam says.
When it comes to dating prospects, living in America offers more flexibility that it does in India, not just for those born here, like Punam, but also for Indians who have immigrated.
This is the fourth meet-up for 31-year-old Varinder Arora, who came to the U.S. from northern India six years ago. He says he's noticed that those with stronger ties to India are more particular when it comes to dating.
"India is a bit more conservative," Varinder says. "For some people, it matters what you are or who you are."
Roughly 80 percent of India's population is Hindu. And within the Hindu dating scene, a person's caste can be another important factor to consider.
Rooted in ancient Hindu texts, India's caste system was a social structure that categorized people based on their jobs. Social movement between castes was rare, but in recent years, the system has largely faded.
Still, caste bias can make dating difficult for young Hindus.
On Indian dating sites like shaadi.com, religion and caste are search options, like height or education level, that help online daters filter their potential matches.
Bhargavi Karlapudi, who moved from India three months ago to study at Pacific State University, decided to join the group since she was new in town. She says her parents used to push her to date within their caste, which historically was oil merchants, but they've relaxed their restrictions as she has gotten older. Now at age 31, she jokes that at this point, her parents just want her to find somebody.
But after some more prodding, Bhargavi acknowledges that her parents still harbor traditional taboos against marrying into lower castes or other religions.
"I don't think my parents would be very comfortable if I really went and got married to somebody from another religion," she says. "And they would probably not be happy if it really was somebody from 'SCs' or 'STs' because they're treated as 'Untouchables,' even if that was a very long time ago."
The Scheduled Castes (SCs) and Scheduled Tribes (STs) are two institutionally recognized groups of disadvantaged people, formerly known as "Untouchables," that comprise roughly a quarter of India's population. After India became an independent country in 1947, the government outlawed caste-based discrimination, providing opportunities for these groups to advance in society.
Bhargavi and the rest of this hiking crew say they value personality and compatibility over religion and caste, reflecting a more lax point-of-view on dating and marriage within the younger generation.
"Relationships are never perfect, but somebody who at least makes an effort, that's what's important to me," Bhargavi says.
Maybe the type of people who join an online meet-up are the same type of people who'd be open to dating outside their religion. But maybe these hikers are walking down a new path of religious freedom — the freedom to date as they please.
I ask Bhargavi if she's going to try and date while she studies in the U.S.
She looks at me, laughing, "Yes, certainly! Why should I give up?"
Reach Editor-at-Large Melissah Yang here. Follow her on Twitter @MelissahYang.