NFL
See Through The Film: Sean Lee
The Cowboys' defense was bad last year, to say the least. But at the start of the 2014 league year, their level of talent looked even worse, on paper at least. The team lost two of its best defensive linemen when they cut Demarcus Ware and let Jason Hatcher walk via free agency. The one bright spot that was expected to hold Dallas' defense together, however, was middle linebacker and defensive signal caller Sean Lee. The fifth year player out of Penn State is widely considered in the elite tier of linebackers in the NFL. However, the Cowboys lost Lee for the entire 2014 season this offseason to a torn ACL, leaving them more bereft of talent on the defensive side of the ball than they have been in recent memory.
After hearing this unfortunate news, I decided to investigate further. What exactly are the Cowboys losing in terms of on-the-field presence and production? Is he really among the league's best? Here's what I found (and, for the first time, in GIFs!):
Week 1 Giants @ Cowboys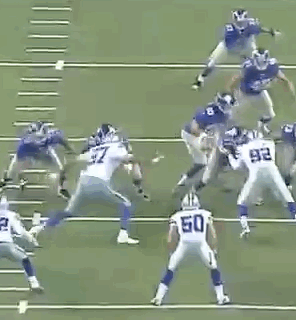 Plays like this are what make Sean Lee special. He is an extremely fast, athletic player and he shows it here in his pursuit and tackle in space of the running back.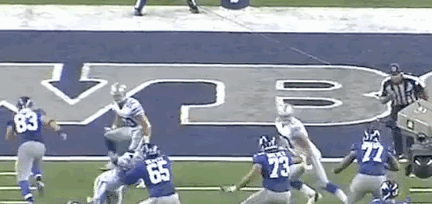 Here, Lee shows his prowess in man-to-man coverage as he is simply too athletic for Brandon Myers, the tight end he is covering. Covering receivers and playing in space is the strength of his game, and he shows it here as he defends the pass.
Week 2 Cowboys @ Chiefs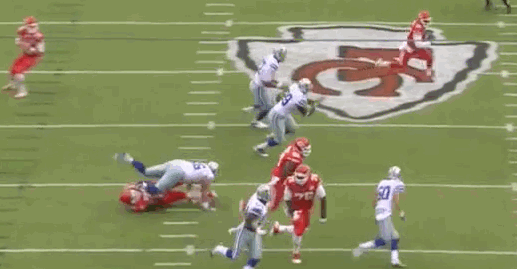 Lee shows his sideline-to-sideline range here when he chases the speedy Donnie Avery across the field and makes the tackle on the reverse. The ground Lee is capable of covering makes him one of the rare athletic talents in the NFL at linebacker.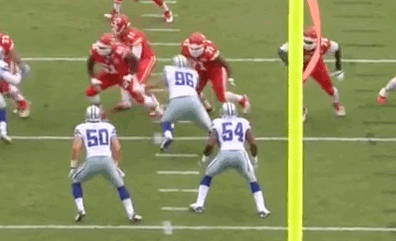 Chiefs' left tackle Brandon Albert was the team's most athletic offensive lineman last year, and got paid like it. Lee (50) ducks under Albert's attempted block at the second level and proceeds to make the big hit on the runner. Avoiding blocks is one of the most crucial parts to being a good linebacker, and Lee flashes that ability here.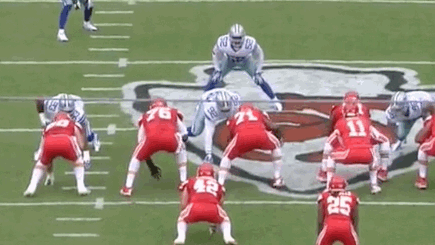 Lee was fooled by the play-action fake multiple times in this game. He leaves the middle of the field wide open here as you can see him bite on the fake from screen right to screen left, and better execution by Kansas City's offense could have created at least a sizable gain with a slant or dig route through the area Lee vacates. If this was a one-time mistake, I wouldn't have much of a problem with it. But Lee's tendency to bite on play-action repeatedly leaves huge throwing lanes open in the middle of the field for easy yards.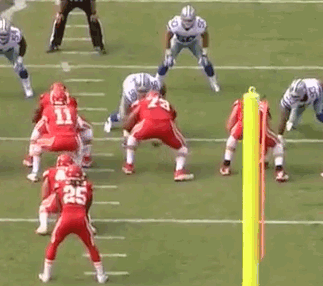 Lee fights through fullback Tony Fiametta's block to get in on the tackle here. He keeps his balance through the initial contact and relentlessly overpowers Fiametta to help stop Charles in his tracks. Notice the quickness and body control as he crosses Fiammetta's face, breaking free from the block and lunging at Charles.
Week 3 Rams @ Cowboys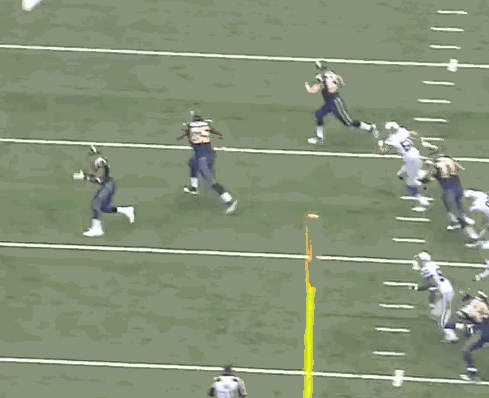 Lee chases down Zac Stacy almost 20 yards downfield after a screen pass. It appears that Lee's initial assignment was to blitz on this play, but his relentless pursuit and pure speed allows him to catch Stacy from behind. This is a play that is made by Lee because of his athleticism, and many other linebackers wouldn't have that ability or the drive to chase down a play like this.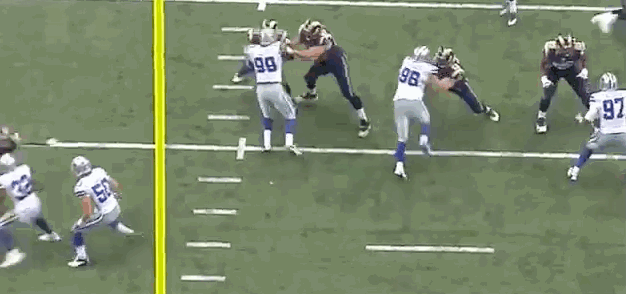 Here is an issue that I saw with Lee multiple times. Far too often he was slow to react to a receiver coming across the field on a drag route. Since this is within five yards of the line of scrimmage, Lee can legally get physical and knock the receiver off of his route, but for whatever reason he fails to do so. Lee is a very gifted athlete and has shown himself capable of great pass coverage, but his awareness and footwork in coverage in these situations has proven to be a recurring issue.
Week 4 Cowboys @ Chargers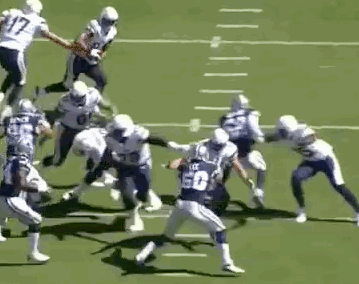 When Lee is able to shed blocks, he doesn't do so by using his strength or through the "stack and shed" technique usually. He rather relies mostly on his athleticism to avoid the blocks of bigger, slower offensive linemen like he does here. Plays like this show Lee's true identity as more of a finesse, athletic defender rather than a downhill, run-stuffing grinder.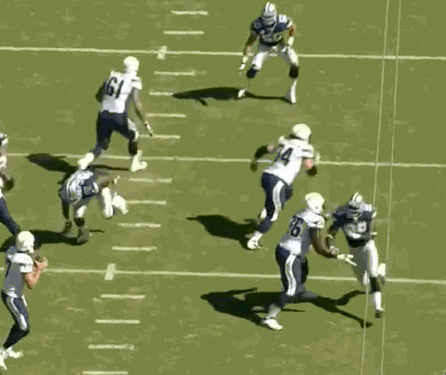 Check out Lee's recognition and explosiveness as he knifes through potential blockers to blow up the screen pass. 0-60 in an instant.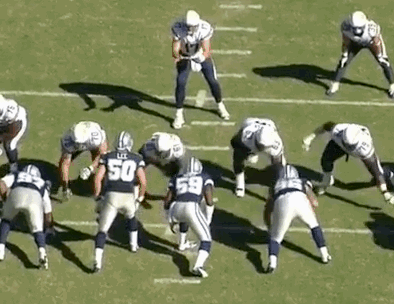 Lee defeats the block of center Nick Hardwick and again shows his range as he chases Woodhead downfield to make the tackle. Even though it was a successful play for the Chargers, Lee did all he could do here.
Week 5 Broncos @ Cowboys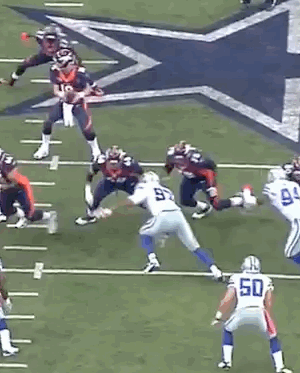 Lee stays disciplined--which he occasionally appears to struggle with--and patiently waits for Moreno to cut back to where Lee is. He executes his assignement and contains that side of the play. Situations like these are where Lee is at his best, which is using his speed to make plays in space.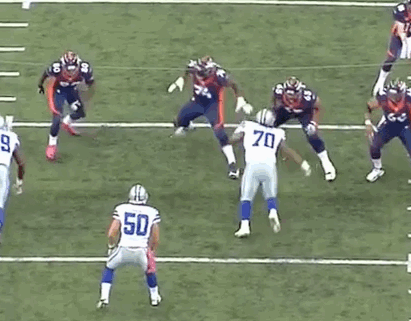 Broncos' tight end Julius Thomas is a rare athlete. Not only is he 6-foot-6, but he can also run like a wide receiver, which is faster than most linebackers and safeties who usually try to cover him. But the job Lee does on him here—especially as Thomas runs a whip misdirection route designed to use his agility to his advantage—is extremely impressive. Lee stays right on Thomas' hip throughout the entire route, and also keeps Thomas from getting any yards after catch while limiting the completion to a short gain. Lee's athletic potential and prowess as a man-to-man coverage linebacker are evident here.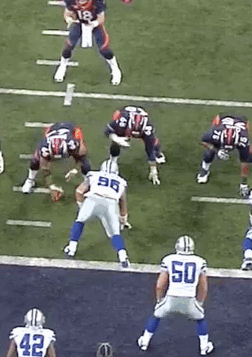 Lee shoots the gap here, faster than the lineman can react to block him, and makes the tackle on Moreno. Again, this shows Lee's athletic explosiveness and his potential as an attacking linebacker.
***
After sifting through these five games of Sean Lee from the 2013 season (in spite of spotty wifi that elongated the process substantially), I came to see the potential Lee really does have to become a star. He goes all-out on every play and has little to no regard for his personal safety (which could very well contribute to why he can't seem to stay healthy). Besides those intangibles, his speed and range sideline-to-sideline is as good as you'll see out of any linebacker. That being said, I don't think his talents are taken advantage of enough in Dallas' Tampa 2-heavy scheme.
You'll often see Lee running down the middle of the field, almost as a third safety, as part of his assignment playing Dallas' cover-2 defense. While this almost prevent-style defensive scheme is designed to force a lot of checkdowns and short gains from the offense, Lee's man-to-man coverage ability isn't taken full advantage of when he's simply playing deep zone coverage--more often than not you'll see Lee covering air and then running up to help make a gang tackle on a receiver, which a lot of NFL linebackers can do.
When Lee isn't playing the deep middle in cover-2, he can be exploited because of his over-aggressiveness. He bites hard on play-action a little too often, and on actual running plays, he will sometimes over-pursue the running back and leave a cutback lane open.
He also isn't the strongest player in the world, and has trouble getting off blocks when he is unable to simply use his athleticism to run around offensive linemen. Elite linebackers like NaVorro Bowman are able to defeat blockers with athleticism and technique, and Lee seems to need to work on the technique part when he is actually forced to engage blockers.
Some of Lee's faults can be at least partially attributed to poor play around him. For instance, he didn't exactly have space-eating defensive tackles last year to keep him clean from blockers like Bowman and Patrick Willis do in San Francisco or Ray Lewis did in Baltimore. Lee was therefore forced to deal with more offensive linemen getting to the second level than many linebackers would. Also, Dallas' run defense was so bad that Lee might have felt he had to over-commit to the run in order to compensate for poor defensive line play, helping to explain why he bit so hard on play-action fakes.
Still, I don't see Lee as part of that elite category with Willis, Bowman, and, to a lesser extent, Luke Kuechly. He doesn't appear to have the strength or the technique in run defense of these other players yet. I also think Lee could be miscast in Dallas' scheme and would fare better as a weakside linebacker in a 4-3 where he doesn't have to deal with as many blockers, and where he can focus more on man coverage and attacking sideline-to-sideline at the line of scrimmage while using his tremendous athleticism.
Lee is capable of being a tremendous playmaker because of his physical gifts. While he isn't perfect, he was still a valuable part of the Cowboys' defense. He will be missed--not as one of the best all-around linebackers in the league, but as a very good player with the range and tackling ability to cover for his teammates and protect the middle of the field from the big play. Fellow Cowboy linebacker Bruce Carter will have to step up his game and start to play up to his high potential after a down year last year if he wants to at least try to fill the shoes of Lee.

(Carter beat by Danny Woodhead for a touchdown. Sorry, I couldn't resist.)
You can reach Andrew McKagan here.