NFL
See Through The Film: Jamie Collins
Overall, Jamie Collins didn't play much in his rookie season--he was on the field for just over 25-percent of New England's total defensive snaps. However, as he earned more and more playing time in the last four games of the regular season and into the playoffs, he showed why he should have been given more opportunity earlier on.
From the simple eye test, Collins is big and relatively fast. But there's much more to a football player than these basic measurables. Given his youth and lack of action last year, many people automatically jump to the conclusion that he's simply a raw athlete.
But after he played so well in more significant action, I wanted to further investigate what kind of player Collins is. As with any rookie, there are things about Collins' game that surely need fixing. After watching him exclusively and extensively, this is what I saw:
Week 14 Browns at Patriots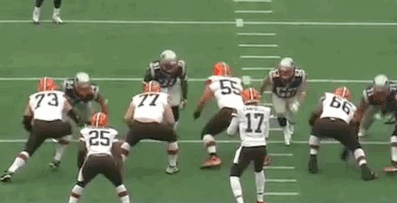 5:22 Collins (91) shows the A-gap blitz here and then is blown off the line of scrimmage by Alex Mack (55). Playing with leverage when he takes on bigger blockers, especially in run defense, isn't consistent enough with him yet.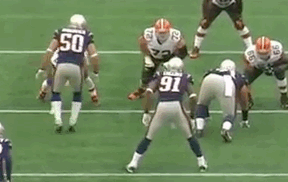 28:30 Jordan Cameron isn't necessarily known as a blocking tight end, but the fact that Collins handles him here is still a good sign for Collins. Collins engages Cameron, and then sheds him using his strength and hands. Collins doesn't get in to make the tackle, but the technique he demonstrates is still promising. With his athleticism, using the proper technique consistently will get him far.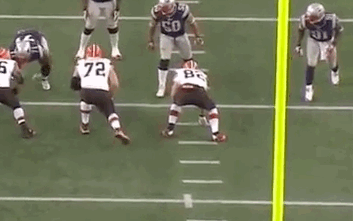 1:24:30 Collins doesn't get a sack or a pressure on this play. However, his pass rushing form is what is notable. Notice how he get his hands to the inside of the chest of right tackle Mitchell Schwartz and extends his arms to use his arm length to his advantage. From this position Collins has many options, and once he starts to develop further moves he will be a consistently dangerous pass rusher. If the play had called for a slightly longer drop from the quarterback, Collins would have had a strong possibility of coming away with a sack or at least a pressure. Many young players have no idea how to rush the passer and end up throwing themselves at the offensive lineman with little technique. However, Collins shows promise as an all-around player capable of filling multiple roles, including that of pass rusher.
Week 19 Colts at Patriots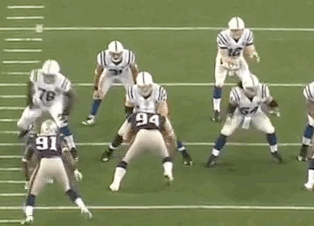 13:20 Collins blitzes from his middle linebacker position and simply overpowers running back Donald Brown. Collins gains leverage and keeps his legs driving against the smaller and lesser athlete in Brown. In the future Collins will likely be lining up at many different spots on New England's defense, but Belichick will probably keep him in a downhill linebacker role for the most part. This means that when he blitzes he will largely be countered on offense with a running back; the fact that Collins so easily overpowers one here bodes well for his future.

21:10 Collins is isolated here with tight end Coby Fleener. While Fleener hasn't proven to be much more than an average player in the NFL thus far in his career, he does possess above-average athleticism. Collins is bigger than Fleener yet still shows the movement skills to stay with him and lock him down in man-to-man coverage in space while showing excellent form as he walls Fleener off and uses the sideline to his advantage.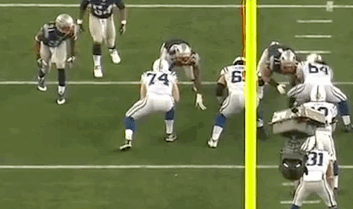 42:40 Collins doesn't get to Andrew Luck here, but he again displays excellent pass rushing technique that bodes well for his future. Notice the rip move he executes as he swings his left arm underneath the left tackle's left arm to gain leverage and position as he comes around the edge.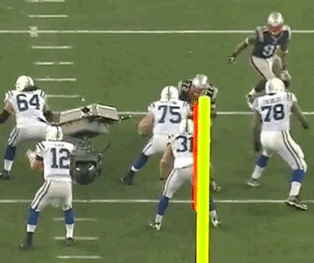 1:10 Collins again overpowers the running back relatively easily, and this time gets himself in position to sack Luck. The consistency at which Collins defeats lesser blockers is an encouraging sign for his development.
Week 20 Patriots at Broncos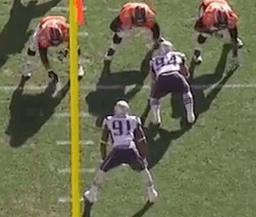 12:41 Watch Collins defeat the block of the center here to make the tackle on the ball carrier. He uses excellent technique as he breaks out the swim move to get past the blocker.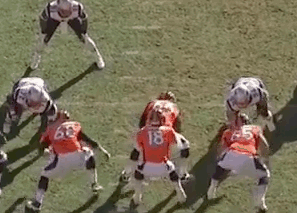 19:22 Another great play in run defense by Collins. He explodes into the backfield, beating the block, and secures the tackle for loss.
***
Collins earned more and more playing time toward the end of last season as he delivered in bigger roles given to him by Bill Belichick. And even though he is widely considered a raw athlete, he is actually a lot more polished than many would expect.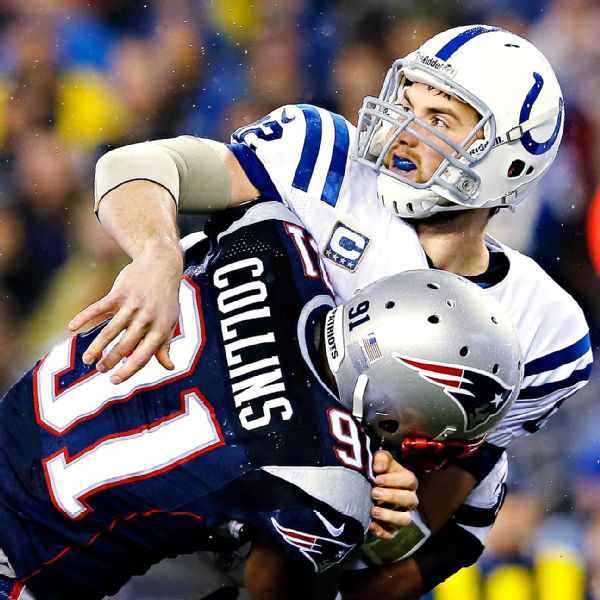 He has a surprising array of pass rushing moves, and doesn't just try to bull rush offensive linemen every time he rushes, which is a common mistake of many young pass rushers. I don't know his exact assignments on every play, but he also didn't seem to be out of place much, if at all, suggesting that he has the mental side of the game down as well.
Collins' roles expanded as he gained more trust, and not only did he play middle linebacker in the nickel defense, he also switched to outside linebacker in base defense, excelling in both roles. He was put in space a lot, and looked comfortable in both man and zone coverage. His versatility was his greatest asset last year: whether he was used out wide isolated on a tight end, running down the middle of the field in a Tampa-2 feel, blitzing or playing run defense, he made plays in every role.
He has the athleticism to cover tight ends in man coverage, and he could be New England's answer to hybrid tight end/wide receivers like Jimmy Graham and Julius Thomas.
Now, Collins isn't perfect--he sometimes still plays too high, and it would probably benefit him to get stronger in the offseason to better take on offensive linemen. His run defense is sometimes incosistent, and getting stronger to better be able to stand up blockers at the point of attack would help him.
Collins has a rare size-speed combination, and will be a star under Belichick as he will be put in the best possible positions to succeed. In fact, I wouldn't be surprised to see Collins become a Defensive Player of the Year candidate as soon as next year, if he gets enough snaps (remember, he still has to compete with Jerod Mayo and Dont'a Hightower for playing time). Mayo's cap number skyrockets after next season though, and the Patriots could very well move on when that happens--I fully expect Collins to be a full-time starter by 2016.
Collins played extremely well in limited action last year, but there is still room to improve. While he still must keep working to improve both physically and mentally, he is a rising star and should flourish thanks to his ability and versatility in New England's multi-look scheme.
You can reach Andrew McKagan here.