Los Angeles
In Photos: Los Angeles Turns Out To Celebrate Stanley Cup Victory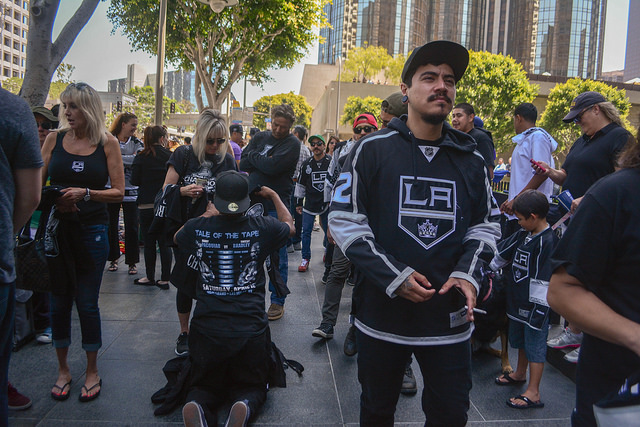 It seemed like almost all of Los Angeles was lined up along Figueroa Street for the L.A. Kings Stanley Cup championship parade. It marks the second time in three years the Kings have taken home the coveted piece of hockey hardware.
Jubiliation and excitement were hard to control for those poised to watch the victorious team drive by on double decker buses.
Even Mayor Garcetti could hardly contain himself, dropping the F-bomb on live television when he declared, drink in hand, "this is a big f--king day!"
We forgive you Mr. Mayor, it is a big effin' day for Los Angeles.
"I love L.A. I love when we win, and I love when everyone celebrates at the same time," exclaimed Carlos De Leon from Van Nuys. "It's something everyone can get behind, and that's important, you know? It's important to know that we're all in this together."
The parade started at 5th and Fig, and gradually made its way down to the Staples Center a few blocks away. The crowd roared the entire way, making special point to bellow louder when Mayor Garcetti passed by, dancing and waving while holding the Stanley Cup itself over his head.
Enough talk, here are some pictures. Good day, Los Angeles.
Contact Staff Reporter Matthew Tinoco here. Follow him on Twitter.