Sports
One Win From Second Cup, Kings Look To Establish Dynasty
The Los Angeles Kings, up three games to none in the best-of-seven Stanley Cup Final, will look to close out the New York Rangers tonight to win their second Stanley Cup in three years.
But the Kings have been in this spot before. Two years ago, they led the Final against the New Jersey Devils 3-0 before dropping two games, eventually beating the Devils in six games. That run was different, however. When asked if being up 3-0 this year felt any different than in 2012, Kings' head coach Darryl Sutter said, "We were at home. Now we're on the road."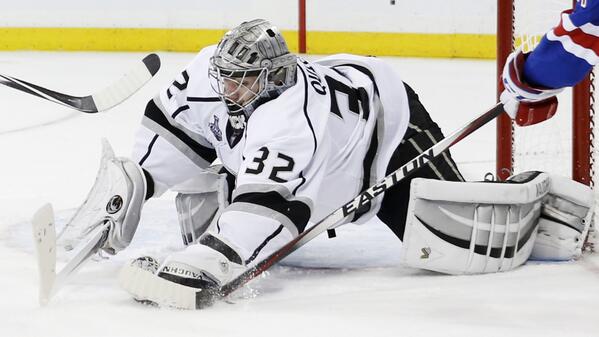 The series has been much more evenly matched than its 3-0 tally would seem to suggest. But to give the Kings credit where it is due, they have not failed to capitalize on scoring chances at the most crucial times. After coming back from two-goal deficits to win Games 1 and 2 at Staples Center on overtime goals by Justin Williams and Dustin Brown, the Kings took advantage of misplays by the Rangers' defense to open up a 2-0 lead in Game 3 before fourth-line center Mike Richards added one more to make the final score, and the series score, 3-0.
Now, on the two-year anniversary of the night the Kings became a winning franchise, they have the chance to live the dream again.
The last team to sweep the Stanley Cup Final was the 1998 Detroit Red Wings, winning their second of back-to-back championships, and marking the fourth straight year the Finals were swept. The Kings will look to join that club, as well as take one more step in turning their meteoric 2012 Cup run from a fluke for a franchise that had never won in 45 years previously, to the cornerstone of a dynasty.
Since the Gretzky-led Edmonton Oilers dynasty of the 1980's, only four teams have won 40 playoff games in a three year period. The Kings have already joined that club, and they can make it 41 tonight.
Moreover, by winning their second championship in three years, the Kings can cement their legacy as one of the rare groups of players that has the sustained talent, mental toughness and willingness to pay the price to complete the toughest playoff run in all of sports, more than once. And with a core of under-30 players such as Drew Doughty, Anze Kopitar, Dustin Brown, Mike Richards, Jeff Carter, Jake Muzzin and so many others, we can expect to see a royal level of dominance by the Kings for years to come.
You can reach Noah Sachartoff here.