Sports
Give Me Liberty In The Group Of Death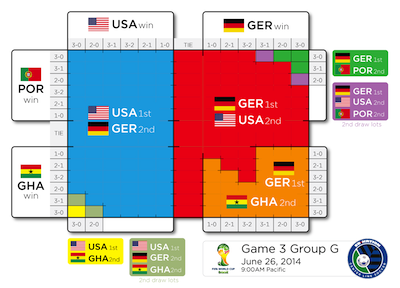 Alright, forgive me for intruding on our fascinating discussion of Luis Suarez' third biting incident, but the United States Men's National Soccer Team (USMNT) have a game tomorrow—quite an important match, if I may say so myself.
So what's the deal? How can our beloved Yanks do what many deemed impossible and advance to the round of 16 in this incredibly unpredictable tournament?
Unfortunately, had they prevented Ronaldo from unleashing that cross from hell in the last possible second of Sunday's match, we would be relishing our qualification and not having this conversation. But we're not going to live in the past, instead let's talk about the future and what exactly needs to happen for this team to clinch their spot in the next round.
As always, there's an easy way to do this, and then there's a hard way.
The Easy Way
Win, and they're in. Simple as that. If the USMNT edge out all-mighty Germany in the final match of Group G, they will not only advance, they will, in fact, top the highly touted Group of Death.
Who could have ever seen that coming? Not me, that's for sure. But if you actually did, then may your incredible patriotism and belief never be questioned.
Draw, and they move on. After a devastating draw with the Portuguese left us heartbroken, a successful draw against the Germans could leave us feeling ecstatic. Ah, how the tables have turned; the game of football certainly works in mysterious ways and reminds us once again that not all draws are the same. Nevertheless, any kind of draw gives the United States second place in the group due to goal differential (plenty more on this later), and a golden ticket to the round of 16.
I think I speak for all of us when I say I wish I could stop right here and only think of happy, successful, easy scenarios, but, such is not the case. So we move on to. . .
The Hard Way
Alright, stay with me, this could get a tiny bit confusing. FIFA and its wonderful rules state that if teams are tied in point totals the tie-breakers are first decided by goal differentials. Sounds complicated, but it's truly simple. Goal differentials are the number of goals other teams have scored subtracted from the number of goals the team has scored. The higher the goal differential, the better it is.
So, if the USMNT end up losing the match against Germany, the qualifying scenarios will most likely be decided by goal differential.
At this point, the United States and Germany both have 4 points accumulated, while Portugal and Ghana have 1 point apiece. A loss for the Americans puts Germany at 7 and atop the group, while simultaneously freezing us at four points. If that happens, destiny is no longer controlled by Clint Dempsey's boots, Tim Howard's gloves or John Brooks' head even. The United States' fate would then be decided by Ghana and/or Portugal.
Yes, that's right, Ghana could still passively, yet effectively eliminate the U.S. for the third straight World Cup.
Best-case scenario: Neither Ronaldo nor the Ghanaians find the back of the net or find it the same amount of times. Any kind of draw between them would be harmless, as both teams would end up with 2 points, and the United States would move on despite a loss.
Worst-case scenario(s): Don't mean to alarm you, but there are multiple worst-case scenarios. The most likely worst case scenario involves Ghana beating Portugal. Now, because a Ghana win still only gives them the same 4 points the USMNT would have after a German loss, the deciding factor would come down to goal differential. Ghana's GD (goal differential) is at -1. The United States' GD is +1. Here's where it gets tricky. Say the Germans are only able to put one goal past Tim Howard, and say Ghana beats Portugal 2-0. In that case, say goodbye to the next round because Ghana would end up with a GD of +1, while the United States would drop to a GD of 0.
It's simple math; however, I do understand the need for examples so here's another one: A 2-1 loss to the Germans, a 3-1 Ghana win over Portugal means Ghana would advance on GD totals ending up with +1 once again over the USMNT's -1. Basically, if the Americans fall to the Germans, they must do so by the slimmest margin of one goal and then hope that Ghana do not beat the Portuguese by any kind of two-goal difference (i.e.- 2-0, 3-1, 4-2, etc.)
With Portugal, still somehow alive only after Varela's header, the scenario is the same, but with more room to breathe for us and less room for error for them. If the USMNT lose by one goal giving them a GD of 0, the Portuguese must win the match against Ghana by at least five goals to surpass them with their GD (currently at -4); a tall order.
However, if the Americans defense is non-existent against this highly potent German attack and they lose by more than one goal, say two or three, then Portugal only needs to beat Ghana by only three or four goals respectively. Sounds difficult, but remember the Portuguese have this certain someone named Ronaldo who is pretty well-known for scoring (a lot.)
If somehow either Ghana's goal differential or Portugal's equal the United States GD then the next tiebreaker would be total goals scored. Thankfully, the Americans are currently leading that category with 4 goals scored.
Essentially, if the USMNT are going to lose, the slimmer the margin the better. And don't even get me started on the coin toss scenarios above. That would be the SEVENTH and final tiebreaker if all the other ones ended up even. If it came down to an actual coin toss there's nothing left to do but pray. And yes, a Portugal win would clearly give the Americans a better chance of advancing with a final match loss, given the amount of goals Portugal must win by to finish in second place.
So go ahead this time, root for Portugal, root for Ronaldo, but don't forget to root for the United States first. A victory, or even a simple draw, renders the worst-case scenarios listed above useless and sends the Americans through. Hopefully Klinnsman and the boys have one more thrilling battle in them, because that's just what it will take.
Contact Staff Reporter Paolo Uggetti here. Follow him on Twitter here.