Opinion
A First-Timer On L.A. Pride
As a queer Latina, I am constantly seeking spaces where I am accepted. I believe everyone in the world would love to feel accepted wherever they go.
So when I found out about the L.A. Pride Parade, I was ecstatic. I've been wanting to go for years. And I finally was able to go to this year's Pride.
I would have been happy simply watching the parade and being surrounded by people who cared about creating open, huge spaces where the queer community and allies can be together.
I took it one step further, however. I joined the parade.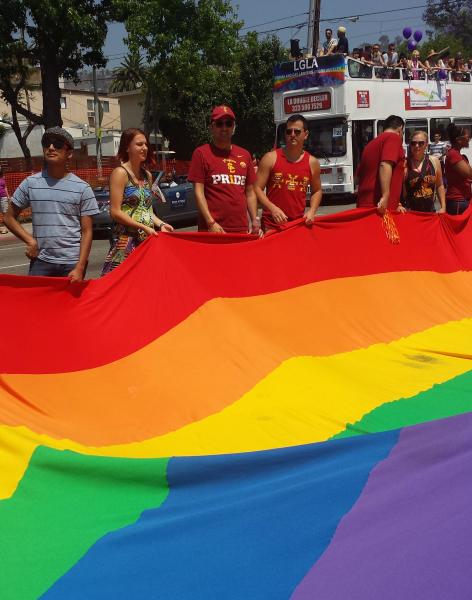 As a student as USC, I learned that our LGBT Resource Center and the USC Marshall School of Business had teamed up to make it possible for USC students, staff, faculty and alumni to be a part of the parade. I jumped at this opportunity.
On June 8, 2014, I went to West Hollywood with my Mom and little sister. I convinced them to join my mom's company, Chase Bank, in their parade place.
Already, I was brimming with excitement when I joined USC's group. Just seeing the sheer amount of people, both those participating in the parade and audience members, was inspirational.
This was a huge group of people who choose to come together and create a safe space for people of all sexualities, gender identities and races.
As I walked in the parade, carrying the rainbow flag with my USC peers, I had a huge smile on my face. The sun was beating down on our backs, but nothing could take away from the laughter and cheers we heard while walking in the parade.
People of all ages (and many of their dogs) were cheering with us. We were united in our goal to just celebrate our identity, whatever it may be, and share it with our community.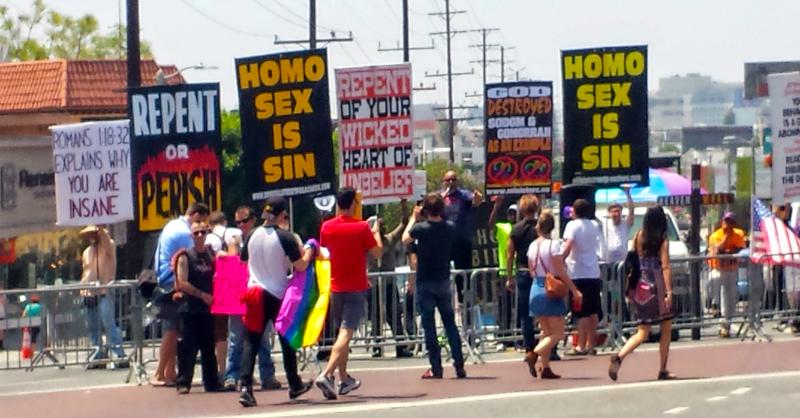 Inevitably, protestors came. There was a group of no more than 15 people outside the fence, holding hateful signs, the unoriginals that we have come to know so well, "Homo sex is a sin," etc., etc. More than anything else, they were just loud. They had a small stage and microphone to shout their narrow-minded beliefs at those enjoying Pride.
But the noise they made was really nothing compared to the cheers and yells of happiness of the Pride go-ers.
It was amazing to see all types of people and groups being represented at Pride. In direct contrast to the narrow-mindedness of the protesters, there were many religious groups who were showing their support.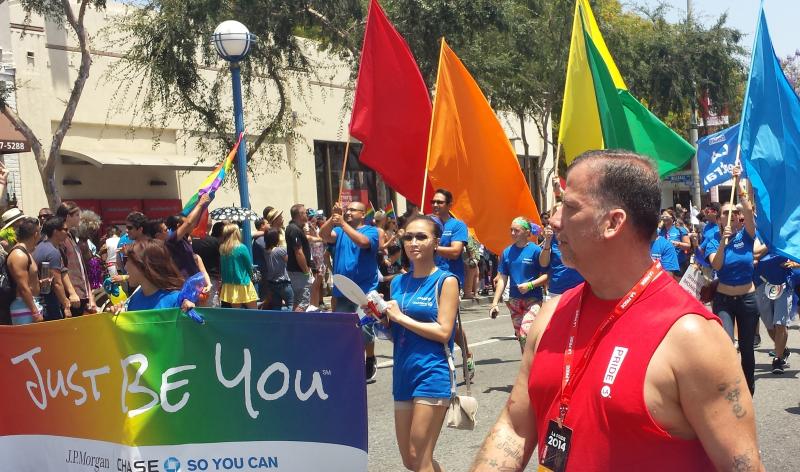 There was a Jewish group and a Lutheran group with a female priest. One exciting group was not in the parade but in the audience.
It was a group of Christians, young and old, who were wearing shirts that said, "I'm sorry." They were holding a sign apologizing for the extremist and narrow-minded viewpoints some religious folks hold in regards to queer people.
They didn't need to do this, but it was the thought that made my heart swell with thanks.
There were corporations like Chase Bank, Bank of America and Whole Foods. Media platforms were showing their support as well, like Channel NBC 4 and ABC 7, Oxygen, Bravo, Logo TV and even Sprout. Yes, a child network was there, in the parade. Let the significance seep in.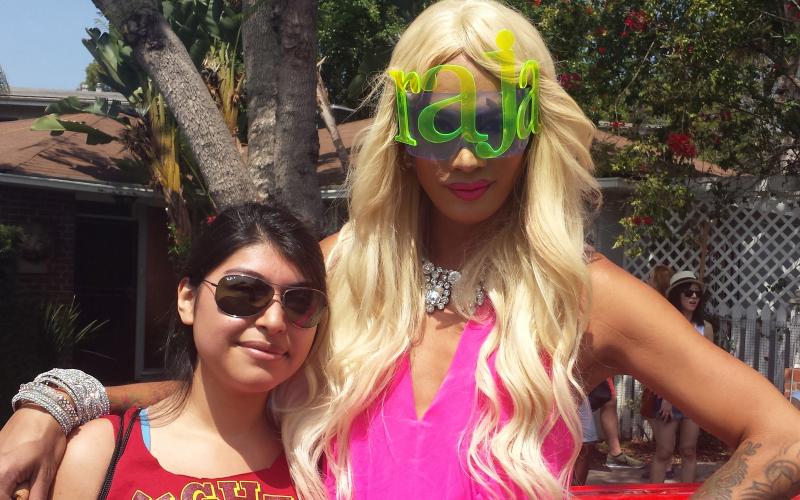 Of course Logo had to be there.
Ru Paul's Drag Race
third season winner
Raja Gemini
and fifth season winner
Jinkx Monsoon
were representing the Logo TV car.
I even got to meet Raja. Life is complete.
But the absolute best part of the parade was seeing my people. Queer people of color, Hispanics and Latinos who wanted to be a part of this culture of acceptance. I don't always feel welcomed in Latino spaces.
As much as I love my Mexican heritage, being queer is not traditionally acceptable. At best, ignored. So seeing Latino groups participating in the Parade made my feel validated.
It showed me that queer people of color was here, and represented. We are not forgotten. From the showgirl entertainers to the Aztec dancers from Bienestar to the Trans* activists groups, I loved seeing the variety of Hispanic representation where it desperately needs to be.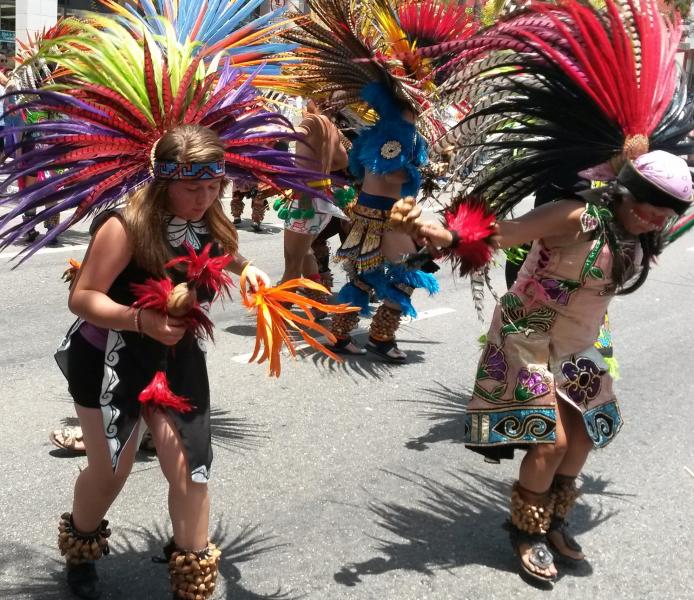 Maybe this will show my dad that we are here and that it is not crazy to be queer. After all, he had a pansexual daughter and an asexual daughter.
Pride was about being open and feeling safe to express your identity. Not being afraid to show your likes, love and lifestyle. This is the way I want to live my life. So having an entire parade dedicated to the celebration of identity and love is just what I need. Maybe what we all need.
And the Chipotle coupons from their float definitely solidified my love and glee for the Parade.
Reach Contributor Kristy Plaza here. Follow her on Twitter here.