Sports
Comeback Kings Take Their Place At The Top Of Los Angeles Sports
Quite a few books will be written about the past seven weeks of this hockey team. They will be really, really entertaining books.
How fitting it is that the longest championship run in NHL history of 26 games, ended in the longest game in Kings' history, taking almost 95 minutes? How fitting is it that it ended in the single most dramatic way a professional sporting event can end? It had been 34 years since a team won the Stanley Cup in overtime in front of their home fans. How fitting is it that this team was the one to break that streak?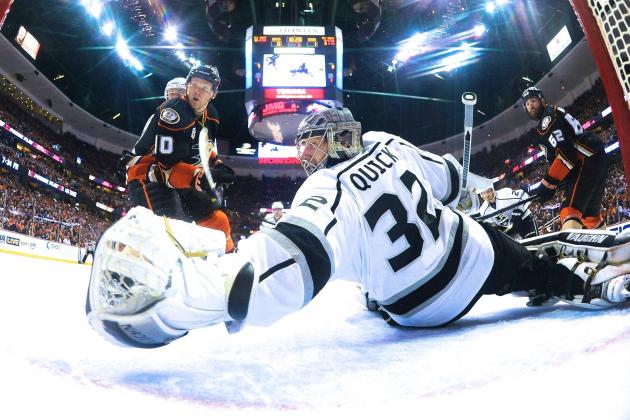 In a playoff run that seemed so impossible only seven weeks ago--one that has seen 26 games worth of comebacks and overtimes that have earned this team the nickname of "Cardiac Kings"--there was no other ending that would do this team justice.
Ask any player who has won the cup, and you'll always get the same answer: the last win is always the hardest. So in a playoff run in which they trailed games and series' on the regular, staying alive no matter how near dead they were, it's only fitting that the sixteenth and final victory came after a third-period comeback, and a gut-wrenching, near heart attack inducing, 35 minutes of extra time.
Playing at Staples Center, with the opportunity to become only the second team since 2007 (the other being the Kings of 2012) to win the Cup in front of their home fans, the Kings rode an indescribable level of noise and energy from a crowd that paid upwards of at least $700 just to get in the door. From before the first puck drop, electricity filled every inch of the cavernous arena, through every section and every aisle, and when they began to chant "We want the Cup!" with about 5:30 left in the second overtime period, the Kings' fourth line and third defensive pair was listening.
As the chant persisted, Matt Greene intercepted a centering pass right in front of Jonathan Quick in the Kings' goal crease. Martinez, Clifford, and Toffoli broke up the ice on a 3-on-2 rush, and before the crowd could utter another syllable, Toffoli bounced the puck off the low far pad of Henrik Lundqvist and Alec Martinez snapped the rebound into an open net, sending 19,000 nervous wrecks into an eruption that the citizens of Pompeii would have been impressed by.
This franchise has become a model for how an organization should be run, surpassing any level that other LA teams have achieved in recent memory. When General Manager Dean Lombardi, a finalist for NHL GM of the year, took over this team in 2006, he pledged to follow a model centered around developing a core group of players who come up through the system together, and then surrounding them with the final pieces they need to win. Develop he did, drafting young, undeveloped talent in Anze Kopitar, Drew Doughty, Tyler Toffoli, Tanner Pearson, and many others, who years later, have their names engraved twice on the Stanley Cup. The installment of Darryl Sutter as head coach, whom Lombardi worked with in San Jose before joining the Kings, was the final piece in creating a winning culture, taking advantage of a tight-knit group that was now willing to pay the price for each other in order to achieve their championship dreams.
By acquiring Jeff Carter at the deadline in 2012, and likewise Marian Gaborik this year, Lombardi identified the few remaining holes in two very good teams that needed to take one final step forward. Both players were doubted by many as having the toughness and willingness to round out their games to play in a system like the one Sutter runs. I would say the players silenced their critics, but the 3-foot, 35-pound shiny trophy speaks for itself.
Times are changing for hockey in Los Angeles. In a city dominated by the Lakers, the Lakers' personal lives, and Donald Sterling's lawyers, the best-run franchise in the city plays on ice, and they are in the midst of a dynasty. Fans who watched this team for decades know that these days are what will one day be the "good old days," and they want in. If ratings and ticket demand have been any indication, fans are beginning to appreciate what is happening before their eyes. After two championships in three years, with a conference final in between, and with a young and winning core intact for the foreseeable future, there is no reason to believe the level of success will decrease.
In the meantime, the city will stand back and bask in another "Summer of Stanley."