NFL
49ers Still In Prime Position To Be NFL's Best
The San Francisco 49ers have not won a Super Bowl in their three years under Jim Harbaugh.
While the team has indeed been successful, averaging 12 wins per year and advancing as far as the NFC Championship twice and the Super Bowl once, they haven't come through to actually win the big game. And as a team with elite core players like Justin Smith, Patrick Willis, NaVorro Bowman and Vernon Davis in their primes and not getting any younger, lacking a Super Bowl win during their careers is largely viewed as a missed opportunity and a failure for the 49er organization.
Add to that the fact that there are questions about quarterback Colin Kaepernick's mental ability to play his position and his play in clutch situations, as well as Harbaugh's conflict with the 49ers' front office over his contract, and there are still major concerns about the team in the near future.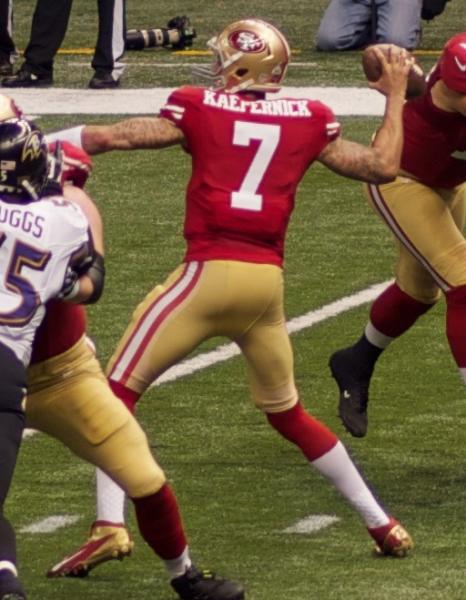 Still, there are plenty of reasons to be excited about San Francisco's chances this year that seem to outweigh the negatives. With Kaepernick heading into just his second full year of being the full-time starter, he is sure to improve under the tutelage of the offense-minded Harbaugh. After all, it's hard not to improve after a season where, from weeks 2-11, Kaepernick broke the 200-yard passing mark only once. And remember, even with this not-always-consistent quarterback play, the 49ers still succeeded to make the playoffs and reach the NFC Championship game.
After signing a potentially huge contract extension this offseason, Kaepernick's cap number this coming year will be just under $4 million—still relatively cheap for a starting NFL quarterback. So, in spite of his fancy new deal, the 49ers will still have the salary cap flexibility this year that most other teams with good quarterbacks do not have.
This factor allowed the team to acquire and keep guys like Stevie Johnson, Anquan Boldin, Joe Staley, Anthony Davis, Ahmad Brooks and Ray McDonald, all of whom are on relatively expensive contracts. In the future, if and when Kaepernick's cap number leaps to over $15 million, the 49ers will not be afforded the luxury of so many expensive players. But for now, their cap situation is just fine.
Sure, Justin Smith is a year older and there are questions about Aldon Smith's off-field issues, but San Francisco has the offensive firepower to compensate for defensive growing pains that also include Bowman's injury and a change at the strong safety position. Not only did the team acquire Johnson and Brandon Lloyd this offseason (two former 1,000-yard receivers), but they also gained running backs Marcus Lattimore, returning from an ACL injury, and Carlos Hyde, whom they drafted this year.
With all these weapons at Kaepernick's disposal (and don't forget about Frank Gore, Michael Crabtree, and Vernon Davis), combined with the fact that the defense may not be as strong as it once was, don't be surprised to see the 49ers use more spread sets and throw the ball more this year. This more open offense would be beneficial to Kaepernick, as it would allow him to get into more of a rhythm and use his athleticism more as well.
Much like Lattimore, whom the 49ers didn't put on the field last year due to his injury, the team will also gain back defensive tackle Ian Williams and defensive lineman Tank Carradine, two players who could potentially crack the starting rotation. It's almost like the 49ers are having a second draft, as they will get contributions from the aforementioned players as well as Vance McDonald and Chris Culliver, who are also returning from injuries and who should see much bigger roles this year. And speaking of the draft, first round pick Jimmie Ward could be an absolute star playing a hybrid safety/slot cornerback position similar to Tyrann Mathieu as Ward looks to replace the hole left by veteran Carlos Rogers.
The 49ers' window has never been wider than it is now. However, with Kaepernick's cap number potentially jumping to over $17 million next year and Harbaugh's future with the team beyond 2015 in question, that window may soon be narrowing. For this year though, the 49ers could very well strike gold.
You can reach Andrew McKagan here.