Sports
37 Years And Counting, California Chrome Falls Short Of History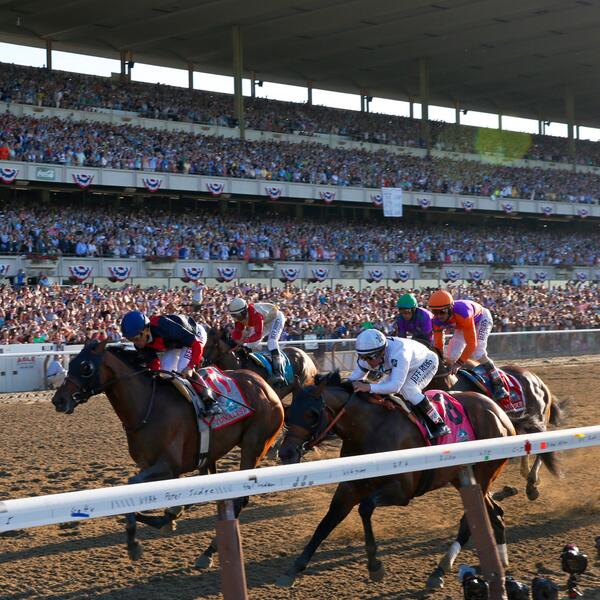 Thirty-six percent is the approximate success rate by horses that have completed the first two legs of the coveted Triple Crown and have gone on to achieve it by winning the final leg that is the Belmont Stakes.
Thirty-six is the number of years since the horse racing world has had a Triple Crown winner. Today, the drought was in danger of finally coming to an end. At last, there was a horse that looked like he had a chance to win it all.
From the hectic bettors and the proud owners, to the sights of elegant attire and the tastes of endless drinks, Belmont Park in New York was buzzing with anticipation and hope. Hope that on this Saturday, 7th of June, those who were attending were going to witness history in the making. All aspirations of such a momentous event took only two minutes and thirty seconds to vanish, as a disappointing fourth-place finish for California Chrome extended the Triple Crown drought to 37 years.
Thirty horses have been in California Chrome's position, on the brink of a Triple Crown, but only 11 have succeeded. The last of those horses to do so was Affirmed, a Florida-bred horse that made 1978 memorable by winning what some refer to as one of the hardest achievements in sports. Unlike California Chrome, Affirmed was not the clear favorite in any of the three races, as he battled with rival Alydar and beat him in the Belmont by no more than a nose.
Chrome's journey, on the other hand, was relatively smoother. The California-bred (and appropriately named) horse won the Kentucky Derby by almost two full lengths and distanced himself from the pack in the Preakness Stakes two weeks later, winning by one and a half lengths. Some argued that the field in those two races had been a weaker one, and that the subpar quality of this year's horses, along with the lack of a true rival, allowed for Chrome to have this historic shot at a Triple Crown. Yet even then, this is an accomplishment that is nothing short of amazing, especially given the thoroughbred's background and story.
Owners Larry Coburn and Perry Martin purchased California Chrome's dam at a mere price of $8,000. Considering the horse has reaped them $3.24 million in earnings prior to the Belmont, it's safe to say that was money well spent. The horse, though slightly favored in the Kentucky Derby, seemingly came out of nowhere. The work of trainer Art Sherman and young jockey Victor Espinoza, who has his own rags-to-riches story, had been crucial in allowing California Chrome this amazing opportunity. The story was there, the talent was there, and all signs pointed to the possibility of a Triple Crown within reach.
Unfortunately, the 1.5-mile race, the longest of all three Triple Crown races, was too much for Chrome, as it has been for countless other horses seeking the coveted Triple Crown in the past. The horse was clearly tired, and simply did not have enough to pull off the amazing feat. Espinoza, who experienced his first ever loss atop Chrome, said himself that he felt the horse "was a little bit flat." Don't tell that to Steve Coburn though, who was livid in a post-race interview declaring that rested horses should not be allowed in the Triple Crown races. Given that the winner Tonalist had not raced in either the Derby or the Preakness, Coburn had material to work with, but his speech was perceived as more of a whining rant that clearly showed Coburn was highly displeased with the result--so much so that he argued racing rested horses was "the coward's way out." Perhaps if Chrome would have made the finish a closer one, Coburn's point would have resonated louder. However, whether racing rested horses is the "coward's way out" or not, is not for him to determine or declare, as the rules are the rules, but it does leave you wondering whether Chrome would have fared differently had only non-rested horses been allowed to race.
Another year of elite horse racing has come to an end and the public is once again left disappointed. Another year has passed, and yet another shot at a historic Triple Crown has been wasted. Nevertheless, here's to California Chrome for an amazing run and a valiant effort; we can only hope that the 37th time will be the charm.
You can reach Staff Writer Paolo Uggetti here, or follow him on Twitter here.