Sports
World Cup Preview: Groups E And F
Group E
The focus of this group may be on France, and rightfully so. They are the perennial European powerhouse, and are looking to reinforce their football degree after a debacle in the 2010 World Cup. Despite Ribery's back injury, they have plenty of talent to make it through and surprise other teams. However, Switzerland is not to be ovelooked. The Swiss may lack a household name and a star player, but they are a very complete team from top to bottom. Don't be surprised to see them make some serious noise in this tournament. Ecuador falls under that same category. Paired alongside two European squads, this South American team will look to surprise one of them and squeak into the Round of 16 with a counter-attacking style that could give any team trouble. Honduras is a talented team that did well in qualifying. The Catrachos, as they're called, aren't neccesarily better on paper, but their strong-willed attitude and tough play defines them well, and no matter the results, they'll fight to the end.
Players To Watch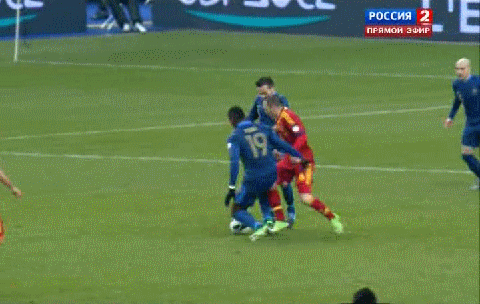 Paul Pogba #19. Midfielder, France
Bringing composure and consistency to a team who had a problematic campaign in the last World Cup, Progba is the moderator France needs. Positioned right in the middle of the pitch, Progba is both a solid defender and a strategic attacker. France's success in this group and their expectations for this tournament will be affected either positively or negatively by Progba's play.
Antonio Valencia #16. Winger, Ecuador
An incredibly athletic and skilled winger, Valencia has the potential to make something out of nothing when the ball is at his feet. Sometimes even reckless in his attacking, he can certainly place the ball both at the perfect spots for forwards and in the back of the net when Ecuador will need him to score.
Must-Watch Match
France has the name brand, but Switzerland just may have the talent to beat them. Given that the second-finisher of this group will probably have to face Argentina in the next round, both teams will fight hard to avoid them, and that should make this the best game of the group.
Predictions
1.Switzerland
2.France
3.Ecuador
4.Honduras
Group F
One of the least competitive groups on paper, Argentina is the favorite and should win all of their three games. The Argentine will be led by the best player in the world, and a seemingly loaded lineup that can hopefully take them far into the tourney. Bosnia-Herzegovina will be looking to spoil the Argentine's party and overtake them for the first spot. An underratedly talented team, this Bosnian squad have the advantage of having little if anything to lose. That prevailing feeling will certainly help them moving forward. Nigeria and Iran are the longshots in this group and while crazier things have happened, they should be at the bottom of the group at the end of the first round.
Players To Watch
Lionel Messi #10. Forward, Argentina.
Arguably the best player in the world, Messi is not only the face of Argentina, but also the face of the sport. His quiet mannerism somehow meshes perfectly with his boisterous talent. With his club team Barcelona, he has broken scoring records left and right, yet he has struggled playing for his national team. Criticism of the forward is starting to mount and the pressure will be on him to get Argentina the title as it seems to be the only thing lacking from his stellar resumé.
Edin Dzeko #11. Forward, Bosnia-Herzegovina.
The most recognizable face of the Bosnian squad is the lanky Dzeko who has had much success playing for Manchester City. He is on the pitch for one reason, and one reason only: to score. However, in the World Cup, he will probably have to do much more than that for Bosnia-Herzegovina to make a plausible deep run.
Vincent Enyeama #1. Goalkeeper, Nigeria.
Nigeria's slim hopes rely on limiting the amount of goals allowed, and if anybody can anchor their defense, it is Enyeama. An underrated goalkeeper, he is as athletic and talented as they come at the net. He will definetly have his work cut out for him having to face the likes of Messi and Dzeko and their teams' relentless attacks, but Enyeama can certainly keep up.
Must-Watch Match
Argentina vs. Bosnia-Herzegovina
The Bosnian squad won't be content with a second place finish and they have the talent and the drive to contend with Argentina for first place. This match will be far more competitive than many think, and the fight to win the group will most likely be influenced by the result of this match.
Predictions
1.Argentina
2.Bosnia-Herzegovina
3.Nigeria
4.Iran
You can reach Staff Writer Paolo Uggetti here, or follow him on Twitter here.