Los Angeles
10 Non-Touristy Things To Do In Los Angeles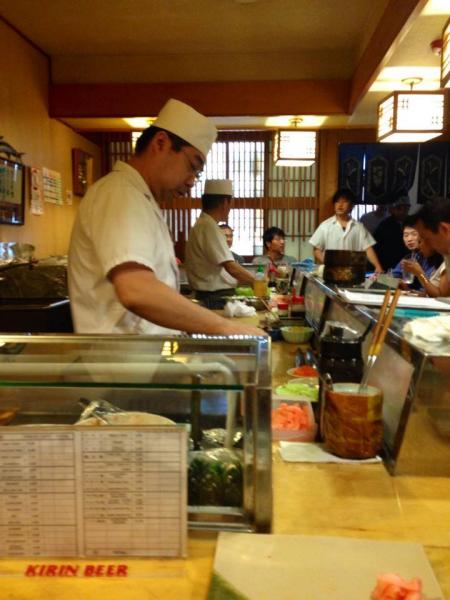 Los Angeles has a lot of bragging rights to its name. It is the most populous city in California, the most diverse city in the country, the only American city to host the Olympics twice and the entertainment capital of the world. And it accomplishes all this while simultaneously maintaining temperatures averaging a comfortable 57-75 degrees Fahrenheit.
As a third generation Angeleno, I'd like to think I know a thing or two about this city—like which freeways to avoid, where to get the best Mexican food and how to up one's chances for celeb spotting. But what good would this knowledge be without sharing? Behold, a guide for newcomers to The City of Angels.
If you check off all the items on this list, you might just be able to call yourself a true Los Angeles local.
10. Go for sushi in Little Tokyo.
For all you sushi fans—and honestly, are you really an Angeleno if you don't eat sushi—savor the spicy salmon cut rolls made right at your table in Little Tokyo. Locals agree that Hama Sushi and Sushi Komasa are some of the best. But be sure to bring your sushi A-Game; chefs will dole out a visual slap on the wrist if you don't follow tradition. Pro tip: take a post-sushi stroll to check out world-class street art in the nearby Arts District.
9. Attend a movie at Hollywood Forever Cemetery
The final resting place for many of Hollywood's greats, people travel from all over the world to read the headstones of Johnny Ramone, Cecil B. DeMille, Jayne Mansfield and Rudolph Valentino. I know what you're thinking: sounds pretty touristy to me. But, since 2002, locals have been attending Cinespia for some classic flicks like Cabaret, The Addams Family and The Texas Chainsaw Massacre. Be sure to check for movies at the beginning of the month if you're looking to go to make sure they don't sell out. Pro tip: line up early with your picnic basket and blankets to make sure you don't get stuck watching from behind a headstone for someone's dearly departed.
8. Escape your troubles at Terranea Oceanfront Resort
The 102-acre "private peninsula paradise" resides on the old Marineland lot delivers a breathtaking view of the Pacific Ocean. Bring your puppy pal for a breezy stroll, sink your teeth into a pulled pork sandwich at Nelson's or treat yourself to a day at the spa. Pro tip: you don't need to be an overnight guest to utilize most of their facilities.
7. Hike with celebs at Fryman Canyon
Located off the iconic Mulholland Drive and nestled in the thick of the Santa Monica Mountains, Fryman Canyon is where locals go when they're looking to avoid the overcrowded peaks of Runyon Canyon. Stars like Emile Hirsch, Anne Hathaway, Stacy Keibler and Helen Hunt have all been seen meandering the Canyon's Betty B. Dearing Trail (not to mention, George Clooney's house is right at the end of it). But, even if you don't see anyone gasp-worthy, work your tush and feast your eyes on the endless stretch of city hills and greenery. Pro tip: pack a meal and picnic 'til sunset; the view at magic hour is to die for.
6. Shop for accessories on Olvera Street
Olvera Street is the Mexican Marketplace known as "the birthplace of Los Angeles". Look for handcrafted goods from street vendors, snack on some pan dulce from the cafes, and experience the 1930s L.A. atmosphere. For even more cultural celebration, attend Dia de los Muertos festivals on November 1st and 2nd. Pro tip: save some room for the churros—they're to die for.
5. Float around Downtown at Bonaventure's Bona Vista Lounge
Revolving once every hour, the Bona Vista Lounge is hidden away in the 35th floor of Westin Bonaventure Hotel. Grab a cocktail and some appetizers while you feast your eyes on the skyscrapers and hills of the city below. Pro tip: the dining is pricey, so consider beforehand, so that you can enjoy the view without breaking the bank.
4. Lose yourself in Descanso Gardens
In 1953, founder E. Manchester Boddy preserved 160 acres of gardens, woodlands and chaparral so all could experience the natural goodness of Southern California. Every part of the gardens reveals something beautiful and different than the other, so wander around the Oak Forest, Japanese Garden, Camellia Collection and the Rose Garden to find your favorite. Pro tip: students get discounted tickets.
3. Taste the matzo ball soup at Canter's Deli
Hungry at 12pm, 7pm, 4am? No problem. Get your Jewish deli food fix 24/7 at Canter's Deli. Since opening its doors in 1931, the restaurant has earned a reputation for serving some of the best lox and bagels, corned beef, matzo ball soup and challah in Los Angeles. It's not certified kosher, so it still offers options like ham sandwiches for all you meat-lovers. Be sure to grab some baked goods and Dr. Brown's soda for dessert.
2. Hear the L.A. Philharmonic while they rehearse at the Hollywood Bowl
Since 1922, the Hollywood Bowl has had legendary performers such as The Beatles, Louis Armstrong, and Elton John grace the stage. Known for its band shell against the backdrop of the Hollywood Hills with the Hollywood Sign in plain sight, the amphitheater is as aesthetically pleasing as the music that bounces through it. On weekday mornings in the summer, walk around for free and listen to the Phil playing 'til perfect.
1. Get up to par at Sherman Oaks Castle Park mini golf
Considered one of the best places around for mini-golf, the park has three 18-hole courses with fun adornments and competitive obstacles. For those not into improving their backswing, the park also has an arcade with some of the classics as well as a batting cage to practice your swing. Recent addition to the park: the place where Justin Bieber allegedly tried to steal a woman's cellphone.
Contact Staff Reporter Sarah Collins here. Follow her on Twitter here.