Los Angeles
Canter's Deli Stands As One of L.A.'s Last Original Jewish Institutions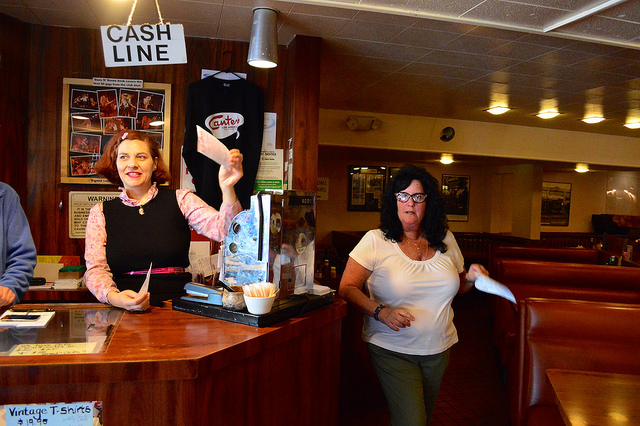 Canter's Deli
is a third generation, family run business that has shaped Los Angeles'
Jewish culture and food scene.
Located on Fairfax in the Miracle Mile, Canter's is one of the city's last "real Jewish Deli's." Flanked by boarded up, dilapidated Jewish establishments and new, pulsing skate shops and hipster clothing stores, Canter's towering sign is hard to miss. Once an old movie theatre, the 50's style restaurant hasn't changed in decades. And as one of Califonria's oldest delis, the owners intend to keep it that way.
Canter's started in New Jersey in 1924. After losing a deli in the 1929 stock market 
crash, Ben Canter and his two brothers moved to Los Angeles with $500 and opened Canter Brother's Delicatessen in 1931 in Boyle Heights, once the Jewish center of Los Angeles. In 1948, Canter's moved to 439 Fairfax Avenue, followed by a smattering of other Jewish businesses.
"That move changed Fairfax into another Jewish hub in L.A.," said Jacqueline Canter, one of the managers. A few years later, the family purchased the neighboring Esquire theatre and hasn't changed the decor, or the exterior, since, even though the neighborhood has evolved to a more hipster hangout and most of the original Jewish establishments were forced to close or move.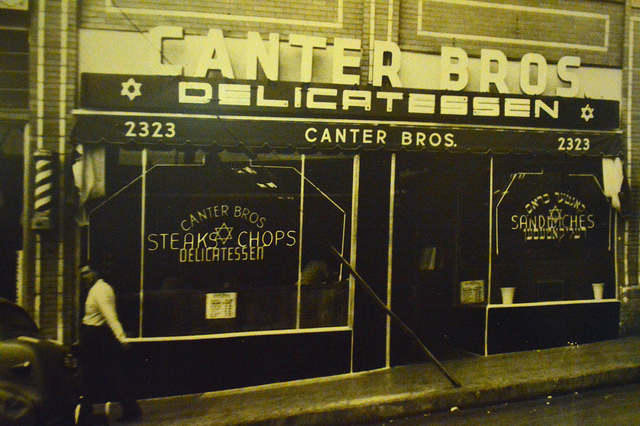 Waitress Amy Brooks weaves through worn, faux-leather booths and barstools carrying coffee and calling her customers "hun," and "sweetie," in a thick New York accent. Brooks has worked at the deli for 12 years and says it's an L.A. institution and one of the last remaining tributes to true Jewish cooking.
Brooks works long shifts almost everyday, lunch and the night shift, and says she will never work "anything else but deli."
And you can see why. The take-out counter is stacked with old delicacies, such as lox wings, smoked cod and meat/potato knishes as well as chicken soups and borscht. The counter opposite boasts mounds of fresh bagels, byales, challah breads, kichel, babka, mandel break and cookies.
"The Jewish deli is the home," says Brooks. "We have funerals, weddings and Bat Mitvahs here. The feel real of Jewish culture is definitely in here. As soon as you walk in it hits you in the belly."
See photos of Canter's and Amy: