Los Angeles
Removing The Ink: An Inmate Erases Her Past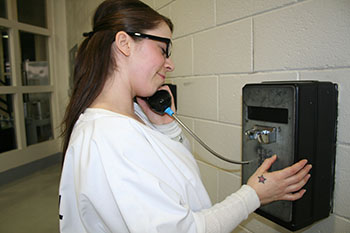 As a stripper at the age of 19, Kristine Roush was drunk, high on pills and had everything money could buy.
"I'd wake up and not know where I am, have thousands of dollars in my purse and I didn't remember making it," she said.
She did, however, create a permanent reminder of this time in her life.
In black and aqua blue ink, Roush has the phrase "F**k it" tattooed on her right foot, with stars in place of the letters 'u' and 'c.'
"Just like it says, I got the case of the f-its," she laughed. "I thought it was so funny, until two days later I woke up and I was in jail."
Roush began stripping as a way to support her widowed grandfather.
"I asked my mom, I said, 'Could you take me down to this place, wait in the parking lot for 10 minutes and leave if I don't come out?'"
For years, her mother did just that. Roush stripped for money until she was 26 years old.
She grew up with her mother and stepfather, who were both drug addicts. At the age of 8, Roush remembers her first encounter with drugs.
"My mom was gone all the time, and me and my sisters wanted to play a prank on her," she said. "So, we hid in her closet and waited for her to come home and we busted out of the closet in the middle of a dope deal."
It didn't take long for Roush to follow in her mother's footsteps. At age 11, she began drinking, smoking marijuana and doing cocaine. By the time she was 13, she was addicted to methamphetamines.
Roush, now 30, is in jail at the Twin Towers Correctional Facility in downtown Los Angeles for possession of drugs.
"I just got really into my addiction," she said while fighting back tears. "I was completely lost."
Roush comes from a family of addicts, drug dealers and gang members, many of whom have been in and out of prison.
"I sort of grew up in a dysfunctional home," she said. "My mom just let us run the streets."
Growing up, Roush had numerous run-ins with the law.
When she was in junior high, she recalled a time when a classmate called her a "slut" in front of her peers.
"I waited for him to get to the stairs and then I kicked him down the stairs, ran down and beat the crap out of him," she recounted. "I left him there, got on the bus and went home."
She was later confronted by police officers at her home.
Roush had been in and out of jail numerous times in the past, but this stay behind bars was different for her.
"Every time I have been to jail, I've never done anything with my time," she said.
However, about a year ago, Roush became a part of the Education Based Incarceration program, which is a program dedicated to educating inmates who are committed to bettering themselves, according to Captain Kevin Kuykendall of the Medical Services Bureau.
"I came here and I have communication skills now. I know where my anger is coming from now. I know where all my problems are coming from," she said.
Roush has been sober for 13 months, the longest she has been clean since she was 11 years old.
"I quit wanting to get high," she said.
Roush credits much of her strength to the training and education she received through the EBI program and is working on erasing what she considers her shameful past.
"To watch my mom do it and I turn out just like her, it's really disappointing," she admits through tears. "I just hate the fact that I don't just look like my mom, I act just like her."
Unlike Roush, her mother is not in custody and is "still running the streets," according to Roush.
"I wish she would go to jail because maybe she would get the opportunity that I got," she said.
One of those opportunities Roush is referring to is the tattoo removal program offered to inmates who are part of EBI. The service is meant to help inmates remove unwanted tattoos with the hope of bettering their chances of getting a job when they are released, according to Dr. Raymond Waliany, medical director at the Correctional Treatment Center.
"I know there's a lot of jobs that you are not allowed to have tattoos and I don't want to be held back by these stupid mistakes I have made," said Roush.
So far, Roush has undergone six treatments to remove two tattoos, including the "f**k it" tattoo on her foot.
"All my tattoos — well most of them — represent all of my bad times," she said.
One tattoo that Roush is especially ashamed of is the one on her upper back that says "Chaos," the name of her first boyfriend.
"It's so embarrassing you know? This guy used to beat the crap out of me," she said.
With every treatment, she is more and more excited to have this part of her life removed.
"I love [it] because I am not just changing from the inside, I am changing from the outside too," she said.
Roush has become active in the EBI program, trying to inspire other inmates to turn their lives around.
"I want girls to look up to me," she said. "I want to be able to teach girls that you can move on, leave all that crap behind you and you can start new."
Currently, Roush is the instructor of the aerobics classes offered in the jail.
Roush has another three months left behind bars, but when she gets out, she wants to work as a physical fitness instructor. She also plans to get her GED, take nutrition classes and do humanitarian work among a long list of other goals.
She jokes about how she is supposed to accomplish her list, but she is quick to set the record straight.
"I am going to do it all," she said. "I've wasted enough time."
As for her concerns of relapse, Roush has a plan in place.
"I'm going to do outpatient treatment, go to meetings and do all the things I said I would never have to do to stay clean," she said.
Reach Contributor Ani Ucar here. Follow her on Twitter here.