Politics
President Obama's Latest California Fundraising Tour Starts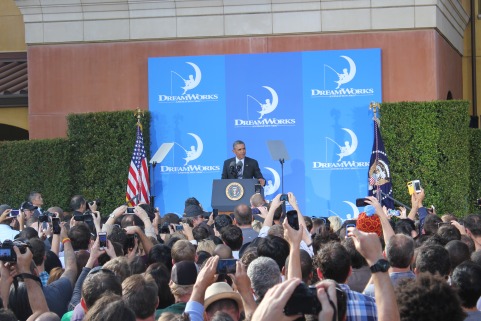 President Obama is in Los Angeles on the first stop of a Calif. fundraising stint.
He arrived in Los Angeles at 4:29 p.m., according to a pool report, where he was greeted by Los Angeles Mayor Eric Garcetti. KNX reporter Claudia Peschiutta tweeted that UCLA students were also on hand for the arrival.
SEE ALSO: President Obama Arrives In Los Angeles (Video)
The president was then on his way to meet his motorcade in Cheviot Hills, which will take him to a fundraiser, according to another pool report. The White House claims that this is "a joint event for the DSCC [Democratic Senatorial Campaign Committee] and DCCC [Democratic Congressional Campaign Committee]."
According to a DSCC official, the event will take place "at the home of Alan and City Horn." The same official said, "Tickets for the event range between $10,000 and $64,800." Alan Horn is the chair of The Walt Disney Studios. The event at his Bel Air home will also feature House Minority Leader Nancy Pelosi (D-Calif.) and Senate Majority Leader Harry Reid (D-Nev.), according to the Santa Monica Mirror. The DSCC official said that the DSCC Chair Michael Bennett, a Colorado senator, will also be present.
According to the White House, after the fundraiser, the president will travel to Century Plaza in Century City to attend the USC Shoah Foundation's Ambassadors for Humanity Gala, which is in its 20th year. The foundation's website says that "Steven Spielberg will recognize President Obama with the Institute's highest honor, the Ambassador for Humanity Award."
SEE ALSO: Obama In L.A.: DreamWorks Speech Highlights Jobs, Creativity
Before going to San Diego on Thursday morning, President Obama will take part in what the White House calls "a DNC roundtable," at the Beverly Hilton Hotel.
The White House says he will then travel to San Diego for a fundraiser, after which he will fly to the San Jose. While in the Bay Area, President Obama will attend multiple fundraisers and on Friday, the White House says he "will participate in an event on energy."
The president has been to Calif. many times before for various fundraising efforts for both his personal campaigns and Democratic party fundraisers.
He will return to Southern Calif. in June as the speaker at University of California, Irvine's commencement on June 14.
Reach Senior Reporter Max Schwartz here; follow him on Twitter here.