Los Angeles
Parents Condemn 'Silent Suspensions' At Watts Middle School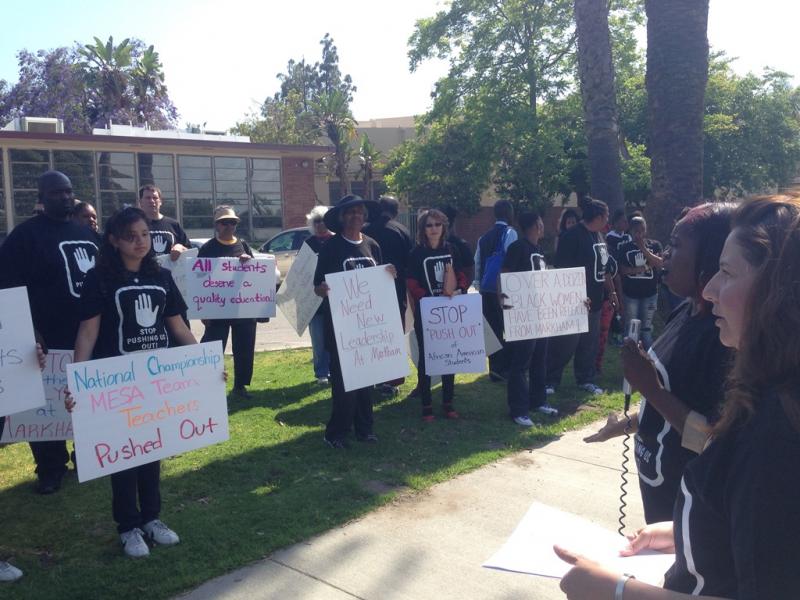 On a sunny Wednesday afternoon in Watts, parents and supporters gathered in front of Markham Middle School to call out administrative officials for allegedly targeting African-American and Latino students with its questionable suspension policies.
Over the last several weeks, according to Ingrid Villeda, the United Teachers Los Angeles (UTLA) South Area Chair, UTLA members and parents of children have been informed by the Los Angeles Unified School District (LAUSD) that the suspension rate of Markham Middle School had decreased by a substantial amount. Yet, upon further research Markham P.E. teacher Ayesha Brooks found that the students were actually being "silently suspended" to keep the official suspension rate to a minimum.
"Silent suspensions are unfair and they're asking the parents to do double duty by sending students to school then to come right back and get them," said Brooks. "They're just sitting at home playing video games, but they need to be at school."
READ MORE: The Many Faces Of USC: Watts
After violating the school's uniform policy, 11-year-old Tania Kay Lascarres was sent home without any parental notification. On her way home, Lascarres was hit by a car.
"I'm here to stand up for my daughter because she has no one else but her parents," said Lascarres's mother, Tyronda Farley. "I thought the school was here to help. There's not even a counselor for her to go to."
The incident has prompted other parents, including Keisha Wilson to speak out against Markham's administration.
"I found out that a girl was hit by a car and I'm worried that will happen to my daughter," Wilson said. The school's desire to "deescalate drama" resulted in Wilson's daughter, Robinae Johnson, being sent home three times without parental notification.
"The administration claims that to protect students they need to send them home before a fight happens," continued Wilson. "That's crazy. We need to make sure that this school has resources if these are the things that are going on. Bullying is a problem at this school, so we need to have programs."
"My son was a student here at Markham a year ago. I dreaded sending my son here at first but when I did send him here we had nothing but problems," said Fredrika Johnson. Last year, Johnson's son, Gene Sanders, was one of 16 students involved in an on-campus brawl that ended in the students' suspension for nearly the entire month of May. As a result, these students were unable to complete the necessary amount of credits to graduate and had to enroll at continuation schools. "He didn't graduate and he's incarcerated right now, not being at school getting an education."
READ MORE: New Development Breaks Ground In Watts
Principal Paul Hernandez and Assistant Principal Marcelo Martinez have been widely criticized for refusing to address the problem.
Rene Palacio, the mother of current Markham student Jasmine Palacio, and a former volunteer at the school, claims that Principal Hernandez pushed her out of the campus on false accusations.
"He tried saying that I was forcing kids to sign a petition but I really wasn't forcing anyone, as they knew what they were signing. The petition was to bring back our school counselor who I think was very good at her job," said Palacio. "My daughter used to be a straight A/B student but now she is a C/D student due to bullying. My two sons used to come here and they were suspended unfairly. I feel that Markham would be a better school if they got rid of the principal. The principal is the problem."
This perceived decline in leadership has also been making it difficult for teachers to do their jobs.
Having taught math and science at Markham for 10 years, Dr. Manuel Alvarez claims that this particular administration has levied a lot of false accusations against teachers.
"It's supposed to be a site level governance system, but it's pretty much been the principal trying to direct everything," said Alvarez. "The quality of education for the students has been impacted because the teachers have been pushed out as well as the administration mishandling the behavioral management here, in order to minimize the rate of suspension—which they've done under the table."
The sixth grade teacher also told of how many students regularly ditch class without repercussions, and even student assaults on teachers have often gone unpunished.
"Last year, we had a teacher assaulted every two weeks," said Alvarez. "And the principal did nothing until a member of his own administration team was assaulted."
Representatives from the teacher's union as well as a parent advocacy group stressed that they would continue working to ensure a future of safety for students, teachers, school workers and volunteers at Markham.
Contact Staff Reporter Arash Zandi here. Follow him on Twitter here.