Food
Mix N' Munch: A Medley of Customization And Childhood Nostalgia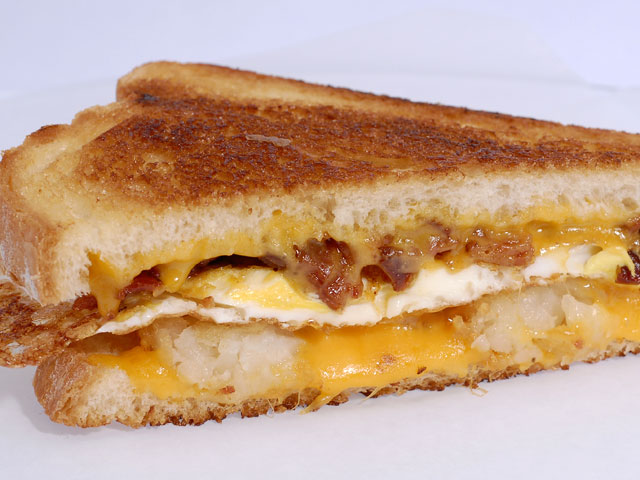 The concept behind
Mix n' Munch Cereal Bar and Grilled Cheese Café
originated while co-owner Heather Apraku was still a student at the
University of Southern California's Annenberg School for Communication and Journalism
. As a communications management major, she remembers choosing to do a business plan for her final project.
Apraku knew exactly what her business plan would be about. She recalled a discussed venture between her sister, Kimberly, and herself.
"When we were younger, we always talked about opening some kind of store together," Apraku says. "She [Kimberly] thought a cereal bar would be fun. It was something we talked about, but not seriously. I decided to write [my business plan] about this cereal bar idea that we talked about, not necessarily thinking that it would play out into my real life."
Apraku—who says she's the "grilled cheese person" and her sister is "the cereal person"—started doing research for her business plan, and near the end of the project, she realized that the idea was actually do-able.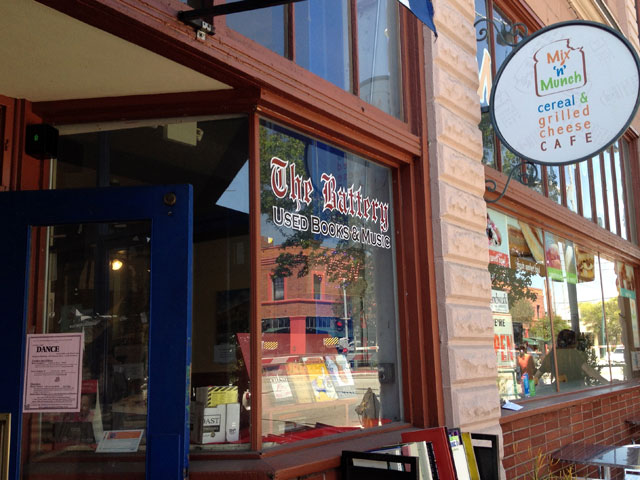 That was about four years ago. Apraku graduated from USC with her master's degree in 2009, and Mix n' Munch Cereal Bar and Grilled Cheese opened in 2010 in South Pasadena. The cozy eatery, sporting a full-on cereal bar, child-friendly corner with activities and comfortable seating, was designed for "the kid in all of us," according to Apraku.
"That's our tagline," she explains. "We felt the two [cereal and grilled cheese] are so nostalgic; they're comfort foods everyone's eaten as a kid. Your first sandwich is a grilled cheese and cereal, you eat from an early age. Everyone has a memory of these foods."
"When people come in, they're always a bit surprised," Apraku adds. "There are some cereal restaurants and then there are some grilled cheese restaurants, but not really together."
At Mix n' Munch, it's all about customization. Customers often enjoy the "Mix Your Own Grilled Cheese Sandwich" option. For a flat rate of $3.75, customers can select their choice of bread (including sourdough, white and Texas toast), two cheeses (such as Pepper Jack, mozzarella and Provolone), meat/protein (like bacon, Spam, fried egg) and veggies (pesto, arugula, grilled onions and more).
The eatery does provide a mouth-watering array of "Signature Grilled Cheese Sandwiches," too. Some of these signature sandwiches include "The Mix n' Munch Cristo"—complete with Gruyere cheese, Swiss cheese, turkey and ham on French toast-battered Texas toast—and "Cheddar Bacon Mac n' Cheese," consisting of cheddar bacon mac n' cheese and the customer's choice of cheese on sourdough. Other choices include "Pesto Perfecto"—comprising mozzarella, pesto and tomatoes on sourdough—and "Apple Muenster," made with Muenster and apple slices on dark sweet wheat.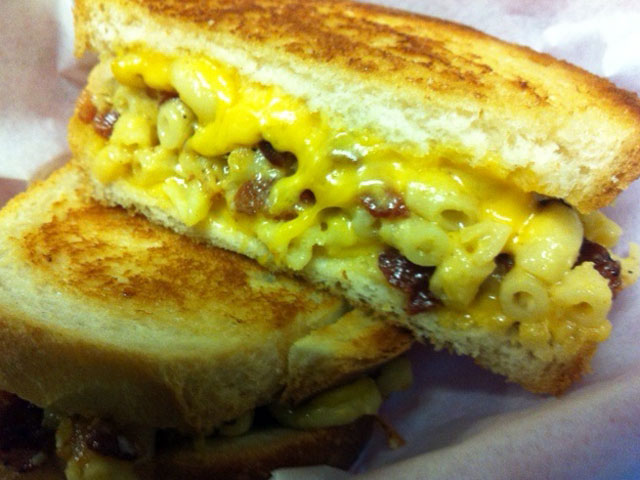 "The 'Mix n' Munch Breakfast Sammy' is our most popular [signature] sandwich," Apraku says. "It's got tater tots, bacon, a fried egg and cheddar in it."
Different specials are featured daily at Mix n' Munch and they rotate, according to Apraku.
"Lots of our specials became so popular that we keep them long term," she says. "For example, there's 'The Firebolt,' which we named after Harry Potter. It's Provolone, pepper jack, roast beef and a spicy mayo. It's so popular; it's been on our specials board for probably two months now. I think we might add it to the signature [sandwich] list because customers love it so much."
The eatery also has a secret menu, which its loyal visitors frequently order from.
"Our secret menu has specials that we've had throughout the year," Apraku explains. "People who are regulars know about it and love it. They'll come up and be like, 'Can I get the 'Betsy Ross' from the secret menu?'"
While grilled cheese sandwiches make up most of customers' orders, people still enjoy the available cereal bar.
"You can create your own bowl — you can mix in a variety of different cereals and mix-ins," Apraku says. "We have fruits, nuts and many other things."
Popular "Signature Cereal Bowls" include "The Cookie Bowl"—comprising Cinnamon Toast Crunch, Golden Grahams, Cookie Crisp and Oreos—and "Chocolate Peanut Butter Delight," including Cocoa Puffs, Reese's Puffs, walnuts and chocolate sprinkles. A variety of yogurt parfaits and oatmeal combos are also available, as are—wait for it—grilled dessert sandwiches. These perfect post-meal dishes include combinations like "Fluffernutter"—peanut butter and marshmallow fluff on white bread—and "The Elvis," comprising peanut butter, bananas and bacon on Shepherd's bread.
While the eatery currently has one location, Apraku eventually wants to expand the Mix n' Munch business.
"We've talked about a food truck; we've talked about opening another restaurant," she says. "We're open to franchising as well. I've always wanted to be back near USC because I love USC and the whole idea started there, too. It'll be neat to show the kids that something you do in college could really apply to what you do in the future. And besides, we have college kid food."
Take a virtual tour of Mix n' Munch Cereal Bar and Grilled Cheese Café below: