Arts+Culture
The Merveilleux Migration: America's Latest Dessert Trend Has Arrived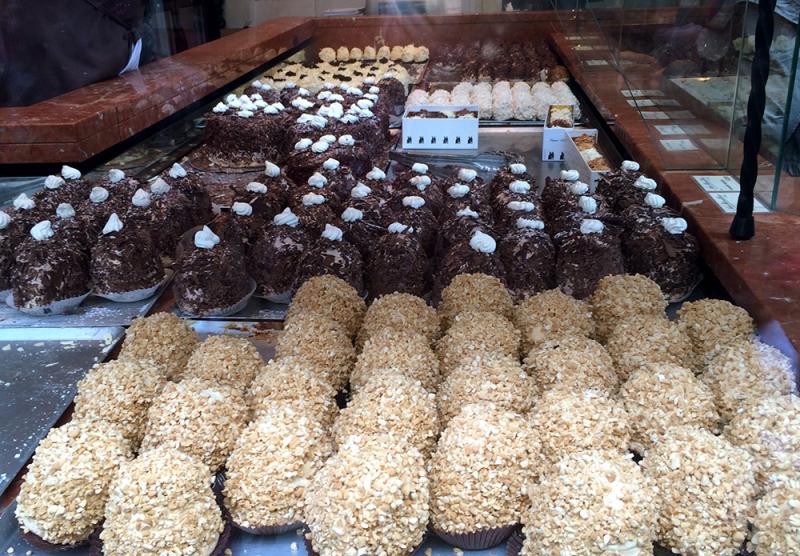 It's round, delicate, and covered with small specks of the finest flavors. Whipped cream, meringue and shards of chocolate come together to form a dessert that has been a staple of northern France and Belgium for centuries. It's called a "Merveilleux," and for many people, it is much more than a dessert.
As a dual citizen of France and the United States, I grew up spending my summers in the north of France with my mother's side of the family. The Merveilleux, to me, is more than just a sweet treat, but a symbol of childhood memories.
Sunday family lunch was never complete without a traditional French cake, which more often than not was a Merveilleux. Gathered around the table, squished between cousins, aunts, uncles and grandparents, those Sunday's were the best days of my life.
In France, pastry chef Frédéric Vaucamps is known for creating the most popular Merveilleux. Native to the north of France, Vaucamps has created a movement with the Merveilleux that has increased its popularity across France, and in other parts of the world as well.
From France, to New York, across to Los Angeles, and into Beverly Hills, the Merveilleux has begun its migration into American cuisine. For some, this may seem like just another dessert, but to many, it holds memories that have lasted much longer than it takes to finish one of these delectable treats.
Aux Merveilleux de Fred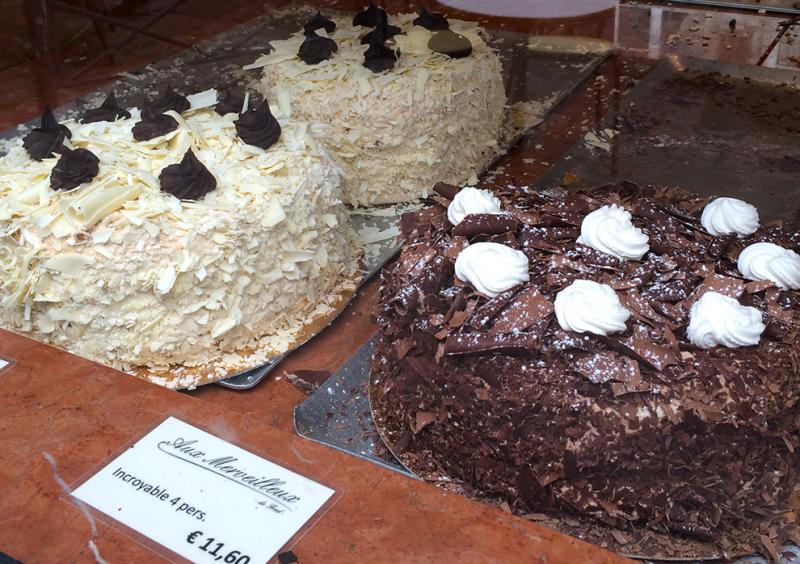 Vaucamps' story as a professional pastry chef began in 1982 in Lille, France. Initially, he had 40 different cakes in his shop. He would make 100 Merveilleux, and 10 of each of the other cakes. Little by little, he started dropping cakes from his menu.
For the first year and a half that Vaucamps had opened his shop, he said he would end up throwing out most of his cakes at the end of the day. They were not selling.
One day, a friend came to take Vaucamps to a famous beer festival that takes place in Lille every year. At the time, Vaucamps only had one person working in his store on a Saturday afternoon. He left his employee alone in the shop and went off to drink, what he remembers as, not remembering just how many beers exactly.
When Vaucamps came back to the shop, every cake had been sold.
"That was when I realized, finally, I made it," said Vaucamps. "That was the best night of my life."
Today, Vaucamps has 13 shops, with the grand opening of four more set for the next year, including one in New York City this fall.
Vaucamps believes his Merveilleux's have not changed since 1998. During a vacation period for French workers, a woman called the store to order a Merveilleux cake for her daughter's baptism. Vaucamps replied that he could not make the cake because they were closed.
"But my family ate this cake at my baptism," Vaucamps said the woman exclaimed.
"You have to make it for my daughter's baptism!"
The origin of the Merveilleux is not precisely known, but Vaucamps said he recalls reading about it in recipe books dating back to 1890. Though the dessert is wildly popular for northern French people, and neighboring Belgium, this delicacy remained a secret to other parts of the country, and the world until not too long ago.
In the fall of 2013, the Merveilleux hit both the west and east coasts of the United States. In Los Angeles, on Melrose Avenue, is Bo Nuage, and in Manhattan, is Ô Merveilleux.
"It's nice and not so nice to be copied," said Vaucamps. "When I eat one of my competitors desserts and I'm not fully satisfied, then I'm OK, but I know one day that someone will make something that I enjoy."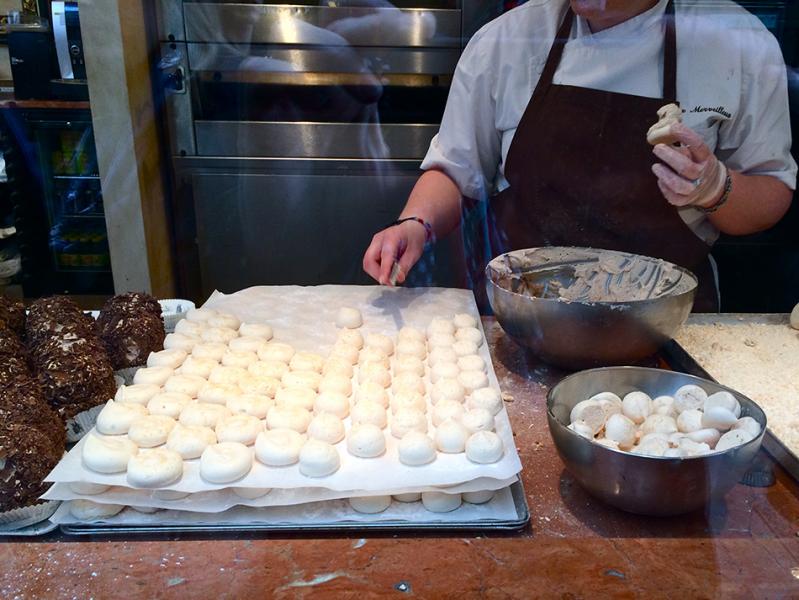 Just a few months after Bo Nuage, Le Mervetty opened in Beverly Hills. Both pastry shops offer their own version of this highly appreciated treat.
Each of the owners in all of these shops have their own story, their own past with this dessert. However, similarities abound to Vaucamps creations, which are France's most famous Merveilleux's.
"We create all of our Merveilleuxs in front of people, so it's easy to come and watch and understand the concept, but after that, thank God for us, we do have a few secrets that aren't seen," said Vaucamps.
With the opening of the first Aux Merveilleux de Fred in America in New York City set for this fall, it is only natural to wonder if it was spurred from competition.
"I am not going there to declare a war," said Vaucamps. "I don't want to go to compete with others, I want to go there to do my own business, and do it as well as I possibly can."
Ultimately, Vaucamps set his own goals for himself and his Merveilleux, and he promises he won't let himself get distracted by his surroundings.
"I'm not looking to have something better than someone else," said Vaucamps. "I'm just looking to have the best cake in the world, that's all."
Ô Merveilleux, NYC
Anne-Sophie Diotallevi cannot even remember the first time she ever tasted a Merveilleux because she said it had to be when she was about 2 years old. Belgian native, Diotallevi, said the Merveilleux has been in Belgian bakeries for over 200 years.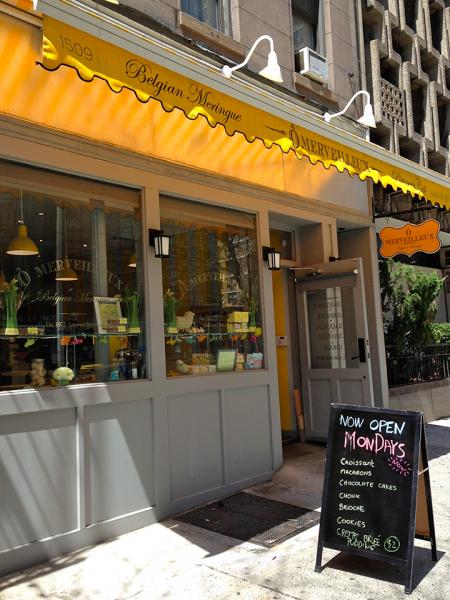 The Merveilleux is one of the most popular cakes for Belgian families to eat after traditional Sunday family meals.
"It really is a dessert that is a part of Belgian history, and it is a part of the Belgian spirit," said Diotallevi.
Growing up, Diotallevi's family owned restaurants, and Diotallevi found herself glued to the pastry chef in the kitchen, tagging along to his every move.
"It really was a passion," said Diotallevi. "I loved watching him bake, but I never wanted to make it my profession."
Diotallevi went on to study marketing, and it was not until she started approaching her 40th birthday that she realized she wanted a change. The idea to start making Merveilleux's came about three years ago.
She studied under one of her friend's, who is a professional pastry chef, for six months. Once she felt she'd perfected the cake, her and her husband packed their bags and moved to New York City.
For the past two years, Diotallevi worked to bring her childhood cake into New York City. It took her nine months to train an entirely American staff of pastry chefs to perfect this extremely precise pastry.
"The meringue was already well known, but the Merveilleux, not at all," said Diotallevi.
Then, last October 13th, the Merveilleux officially hit the dessert scene on the Upper East Side of Manhattan.
Diotallevi thought it was very simple why the Merveilleux could work in the United States.
"Americans like sugar, and they like to discover new things," said Diotallevi. "People already know what a meringue is, and this is just a better version of a meringue. We are making something recognizable, these are tastes that people know and have, and we just have to look at is as though we are going to adapt this dessert to fit people's tastes in the region we set up in."
Traditional American desserts are known for their density, frosting, and copious volume, but that is not necessarily always a bad thing.
"Americans do have good desserts," said Diotallevi. "They are very strong in everything cheesecake, brownies, and cookies, but when it comes to a dessert that is more refined, or as some would say, French, there is not as much."
The Merveilleux is unique in terms of dessert offerings in America. Its components are very different and intricate in their own right.
First comes perfecting the meringue so that it is airy and fluffy, but also maintains a certain crunch as well. Then of course is the whipped cream, with just the right amount of sweetness to it. Finally, the chocolate topping must be made with only the richest quality chocolate.
"A perfect Merveilleux comes down to the technique and the quality of the products you use to make it," said Diotallevi.
In just a few months Diotallevi will be joined by France's top Merveilleux creator, and instead of fearing competition, she is looking forward to it.
"There's room for everyone," said Diotallevi. "It is another Merveilleux that is different, and there are other ones in the U.S. too, and I think that it is great."
Bo Nuage, Los Angeles
Parisian native, Audrey Achar, tried her first Merveilleux out of curiosity. One of Fred's shops had opened in her neighborhood, and she immediately noticed that there was always a line of people wrapped around outside the building.
"The first time I tried it, I was hooked," said Audrey.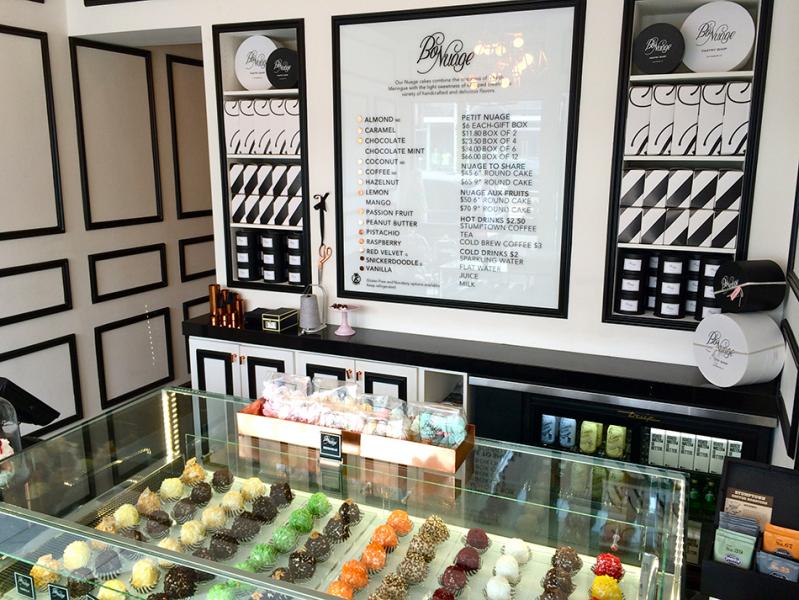 Soon thereafter, her now husband, Pascal Achar, had decided to move to Bamako, Mali, to open a French style bakery. Audrey followed him to join in this venture.
When the 2012 Malian coup d'état broke out in their town, the couple's shop was ransacked and they were left with nothing to spare.
Audrey's mother lives in Los Angeles, and owns Lette Macaron, a specialty French macaron shop. The couple decided to move to L.A., and the idea of opening their own specialty shop started running through Pascal's thoughts.
Though her husband had gone to culinary school, Audrey had never studied cooking or baking, she went to school to study literature.
Missing the Merveilleux she knew and loved in Paris, Audrey thought this dessert was exactly what Los Angeles was missing. Last December 13th, the Achar's opened their shop, and so began Bo Nuage, which means, Pretty Cloud.
"We took the recipe for the Merveilleux, and then we modified it," said Audrey. "We were inspired by the recipe, but we weren't bound to it exactly, so, we took it, changed it, and created 15 different flavors."
Part of reworking the recipe came from the desire to make their own creations. The couple wanted to introduce new flavors familiar to the American palate, like red velvet, and peanut butter.
One of the main differences in the Nuage, compared to the Merveilleux, is the whipped cream, which is slightly denser because of the nature of the city of Los Angeles.
"One of the reasons we modified the texture of the whipped cream is because we know that Los Angeles is a driving city, and often times travel time can be long, so we wanted to make sure that the cake would hold if someone had to transport it," said Audrey.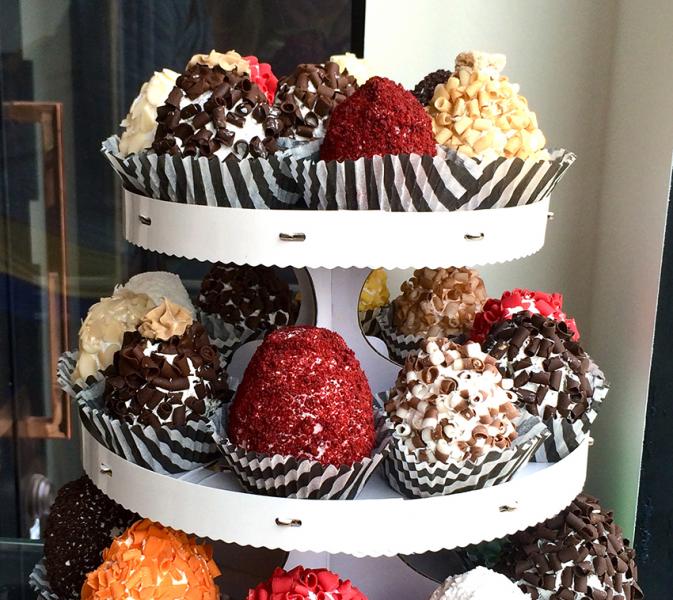 Traditionally, a Merveilleux has to be eaten soon after it is purchased. If not consumed immediately, it must be refrigerated because the whipped cream can cause the meringue to wilt if it sits for too long.
At first glance, the customers that walk in to Bo Nuage do not know what to think of these colorful creations. Some people ask if the Nuage's are cupcakes.
"People here are so used to the cupcake that initially, this shocks them, they're not used to a consistency that is so light," said Audrey. "It looks big and heavy, but after you take your first bite, you easily finish it quickly thereafter."
Now that Bo Nuage has a competitor down the road in Beverly Hills, Le Mervetty, the Achar's hope that the Merveilleux style dessert trend will grow in America.
"It's really great that there is a shop in Beverly Hills too because it promotes this dessert, and it shows people that this is something that will gain popularity, and that will flourish here," said Audrey.
Going off of Vaucamps's creation, Audrey wanted to make sure that his Merveilleux remained the only one of its kind.
"What Fred created, is unique to Fred, it's his recipe and it's his secret fabrication, and that's why we didn't want to copy it 100 percent," said Audrey. "We took the recipe and we had fun trying to create something that was a little different."
For Pascal, creating the Nuage's has become a labor of love, and it is something he sees as the next big dessert trend.
"If you don't love what you do, you don't want to work," said Pascal. "It's the new cupcake, voila, here it is… and it's gluten free!"
Le Mervetty, Beverly Hills
Etty Benhamou was born in Israel, but always felt like her soul was French. Her parents, born in Egypt, spoke French to her as a child, and ironically enough, Benhamou ended up marrying a French man.
Growing up, Benhamou found that she was always drawn to things that were of a certain texture.
"I'm a person that loves things like, a bubble bath, cotton, tutu's, everything that looks very fluffy and light," said Benhamou. "Like the foam on top of the ocean, that's me."
As a child, Benhamou loved to watch her mother in the kitchen. She was particularly fascinated with the way her mom would make things that required perfect egg whites.
Benhamou loved the transformation egg whites would make from something slimy, to beautiful, airy foam.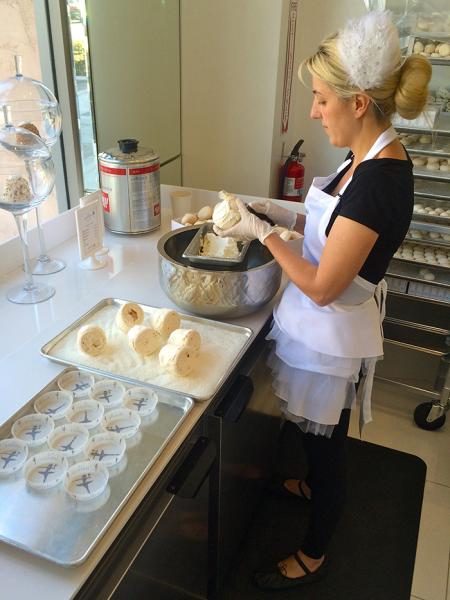 The first time Benhamou tried a Merveilleux in France, she immediately thought of her childhood, of her mother's egg whites. Egg whites are the base of making a meringue.
Benhamou and her husband had been living in America, but from 2000 to 2006, moved back to Paris, where Benhamou's husband's family lives.
In her time in Paris, Benhamou was constantly eating Merveilleux's, and though she wanted to learn how to make it, she was not adamant about learning how to, since she still had it at her disposition.
It was not until Benhamou and her husband decided to return back to America that Benhamou realized she would no longer be able to enjoy her favorite dessert.
Benhamou had never learned how to cook or bake in a traditional culinary institution, nor did she want to.
"I came back here (to America) and I started with two eggs, a little oven, and no mixer, I had a hand mixer," said Benhamou. "And it came out chewy, and it came out ugly, and you could not eat it, and I just kept telling myself… no one is going to teach me, I am going to get it.
As time went on Benhamou would travel back and forth between France and America to visit family, and to return back to the country she felt most at home in. On one of the trips, Benhamou went to Lille, and it was then that Benhamou first saw Vaucamps's original shop, and began noticing that the Merveilleux was everywhere in the north of France.
"Every day we were in Lille I would go to the bakery and I would eat it, and my husband said to me, 'What are you crazy, you're going to gain weight!' and I said, "I don't know what it is, but I am in love with this dessert," said Benhamou.
When Benhamou returned from that trip she was determined to figure out the secret to creating the perfect Merveilleux. Every time she traveled, she was looking to find the best ingredients, like the cream she uses, which she found on a trip to Florida.
Everything about Benhamou's passion was pure inspiration and raw intuition.
"There was something about me that I didn't want to go to school for this," said Benhamou. "I wanted to show that I could do this on my own, and make it just like in France, or maybe even better."
Benhamou longed for America to have desserts similar to the ones she was used to eating overseas. She was never satisfied with the options she had to choose from in the States.
"It's just kind of boring, it's always the same taste all the time, everywhere you go," said Benhamou. "All the dessert in America, it's heavy duty, there is nothing fluffy, and nothing light."
Benhamou wanted to make sure she could create the dessert just as she remembered it, and she would not settle for anything less.
"I didn't have the guts to open anything until I felt I made it perfectly," said Benhamou.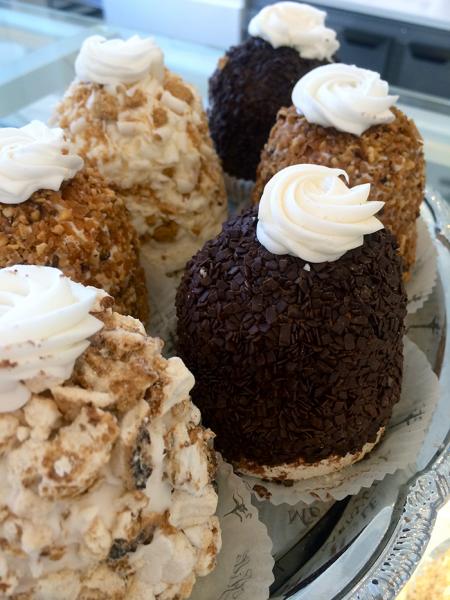 Roughly three years ago she began renting a kitchen space so she could practice taking her Merveilleux baking skills to a professional level.
In the last two years, Benhamou brought her Merveilleux to family events and various informal settings. Then, in 2011, she was paid to cater a BMV event, and the response was unanimous. Beverly Hills wanted the Merveilleux.
Coincidence with the love Benhamou has for France, and the Merveilleux, she opened Le Mervetty on Valentine's Day of this year.
Benhamou's shop is like a portal into France. Adorned with French style décor, soft French music, and finished off with Ballerina servers. Benhamou left no detail to spare.
"I don't want to become a bakery, and I don't want cakes that stay or last forever," said Benhamou. "I want to make it on the spot, so you get what you see."
Since Le Mervetty's grand opening a few months ago, the response from Benhamou's customers has been exactly as she hoped it would be.
"I've had people say, 'Thank God we have Paris here,'" said Benhamou.
Reach Staff Reporter Margaux Farrell here and follow her on Twitter.