Los Angeles
L.A. Public School Workers March To Raise Minimum Wage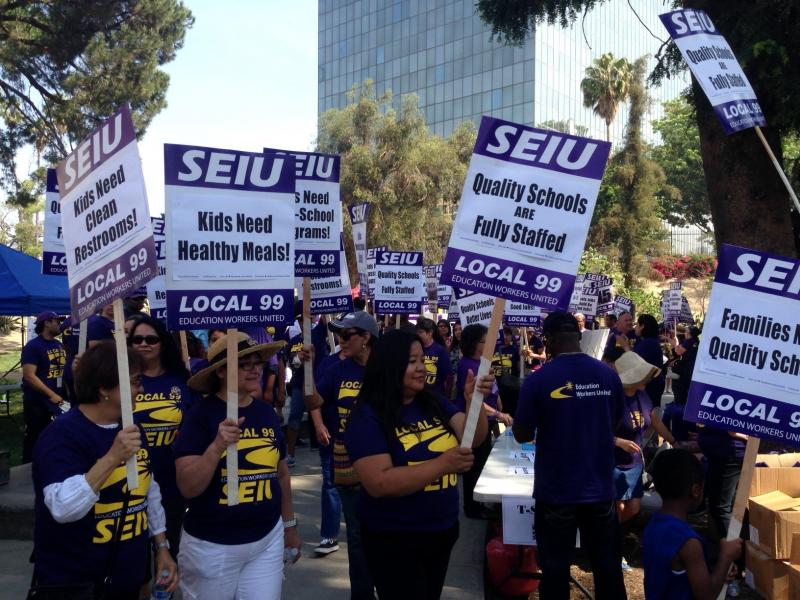 Hundreds of education workers rallied in Lafayette Park on a balmy Saturday, calling on the L.A. public school district to increase the mimium wage to $15 an hour and improve school services for students.
"Ain't no power like the power of the people, cause the power of the people don't stop!" chanted members of Service Employees International Union (SEIU) Local 99.
Nearly 55 percent of the union's members earn less than $15 an hour, placing many of them and their families at or below the poverty line. Also, nearly half of all SEIU Local 99 members have children in the Los Angeles Unified School District (LAUSD).
Bart Weil, a special education assistant at Stephen M. White Middle School, knows how much of a difference $15 an hour would make in his life. "I'll be able to afford to pay my rent and actually live," said Weil, "It's very difficult when you're working for less than what you should be making."
SEIU Local 99 is comprised of 45,000 education workers in Southern California that includes more than 35,000 cafeteria workers, bus drivers, custodians, special education assistants, and other workers who provide vital student services for the nation's second-largest public school system.
Booklets distributed throughout the rally described several stories of SEIU Local 99 members, as well as detailing contract proposals — including increased work hours for employees and expansion of afterschool programs — that will be presented to LAUSD superintendent John Deasy.
"We think that the jobs that our members do are very valuable. They are the backbone of the LAUSD and those that provide hundreds of meals a day should afford to put meals on their table for their family," said Executive Director of SEIU Local 99 Courtni Pugh.
California Assemblymember Raul Bocanegra of District 39, and State Senator Kevin de León attended the event as well, offering their support to help the proposals pass through LAUSD as soon as possible.
READ MORE: Gov. Brown's New Funding Plan Means Big Changes For LAUSD
Advocates were pleased with the turn out and hope their voices will carry down to Beaudry Avenue, where the school district is headquartered. SEIU Local 99 is hopeful that the proposals will go through.
"Everybody from custodians who talk with kids in detention about graduating, to the lunch lady who knows who the hungry kids are in school, are very dedicated, yet they can't pay for food and rent, so they struggle. I think that needs to change and this is a great first step," said Terry Carter, a spokesperson for SEIU Local 99.
For school workers like Tamalyn Moss, a special education assistant at West Adams Preparatory High School, the minimum wage hike is about not only improving workers' lives, but respect. "If these proposals pass, I can do more with my ten year old son," said Moss, "He plays the flute, so I can buy his own flute for him. It also means that I can help my parents out."
"It would make us feel that LAUSD appreciates us as individuals, not just aides."
Reach Staff Reporter Arash Zandi here. Follow him on Twitter here.