Music
Humble To Hollywood: Kenneth Humble Talks Production Dreams, Sacrifice And Faith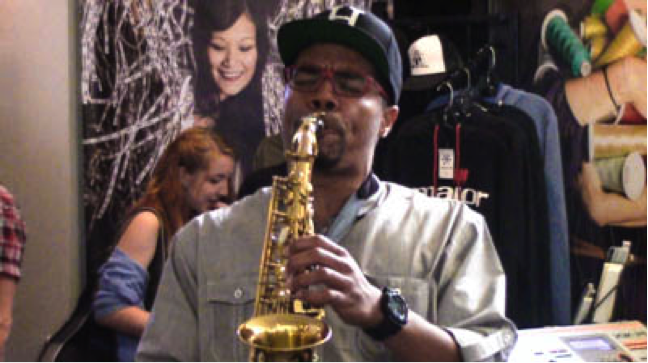 The Loews Hollywood Hotel is flooded with dreams as songwriters, guitar players, rappers and singers fill the halls, hoping to network their ways to a big break. Representatives from Billboard, BET and SONY are among the hundreds of guests in the bustling hotel mezzanine. Music vendors set up shop along the walls of each hallway, selling guitars, pianos, and electronic music equipment.
The bluesy sound of Whitney Houston's "Saving All My Love For You" can be heard from a distance. As the sound gets louder, a few people gather around a man who is playing Houston's sultry tune from his saxophone. He is wearing a hat embroidered with a large "H," a green button-up shirt, and jeans. His confidence and cool demeanor draw the small crowd in as he rhythmically blows air into the brass instrument. He humbly nods as the crowd applauds and rushes up to shake his hand. He usually avoids the spotlight but this was his time to shine.
Kenneth Humble flew to Los Angeles from his hometown of Springfield, Illinois to participate in the three-day ASCAP Expo. On the third day, Humble decided to break out his saxophone and show off his skills in the busy mezzanine. He has been playing the saxophone since the fifth grade. Now 32, Humble's love for music has only gotten stronger. Musical big shots like Jermaine Dupri, Erica Campbell and Mike WiLL gave Humble and hundreds of other upcoming musicians advice about how to break into the industry.
"Just understand that in this business the line is so long that most people drop out of the line before it's time," said Akon, rapper and producer. "If God says it's yours, it's yours."
A common word of warning that was passed down throughout the 9th annual expo was that pursuing a career in music would require sacrifice. The taste of sacrifice was all too familiar to Kenny. His music cost him a relationship with his former long-term girlfriend.
"She was used to seeing me a lot more and as we got into our professions we saw each other a lot less," he said.
The couple had been together from middle school through college.
"I think that's when I came to the point when I said, I don't want to have any regrets with my music," he reflected. "If I'm going to sacrifice this, I'm going to make it count."
Humble's father passed down his own love of music and encouraged his sons to master an instrument. Little did he know, one of his sons would one day pursue it as a career.
"My dad came in the room one day and he had an alto saxophone and he had a snare drum," said Humble. "He looked at me and my brother and he said 'One of you guys is going to play the drums and one of you guys is going to play the sax.'"
Humble surprisingly chose the drums. After some bickering with his twin brother Phillip, Humble switched instruments and made it his mission to master the sax with the National Anthem as the first song on his list. Since then, he has also picked up the piano and the electric bass, which now allow him to produce songs of his own with an entire rhythm section.
Jazz legends like Charlie Parker and John Coltrane were naturally major influences on the young Humble. He rooted his music in traditional and contemporary Gospel during his early years. After mastering the basics, Humble frequently checked out CDs at the local library and learned how to play songs by imitating some of those artists. Despite being inspired by some of those legends, the drug culture that was embraced by many of his favorite musicians almost made Humble take a detour.
"I don't want to live like this," he said. "I don't want to go out like that."
Humble asked Gospel artists Tye Tribbett and Erica Campbell for advice about how to balance music and morality at the ASCAP Expo. Drinking and doing drugs is not an option for Humble, who holds his religious faith in the highest regard. His faith helped introduce him to his fiancée, Shanté Evans. Evans and Humble have been together for three years and are set to marry in June.
"We crossed paths one evening as I was leaving Bible Study and Kenny was coming in the church for rehearsal," said Evans. "I always tell Kenny that it was Wednesday that I had on this short brown leather jacket and my skinny jeans that got him," she laughs.
Despite the demanding schedule of a musician, Evans and Humble work at being understanding of each other's careers.
"This is the time where you have to be understanding and schedule some ladies nights or occupy with other productive things," said Evans.
She currently works at Northern Illinois University as a full-time accountant statistician. Humble is in his third year at NIU studying music education. When asked about the future, the musician says that he envisions the power couple as the leaders of his production company, where his intended wife will direct the finances of their musical empire and he will manage the music production.
Despite witnessing how he and his alto saxophone have the ability to command a room, Humble wants to stay true to his modest name and work behind the scenes as a music producer. He recently established Humble Music Productions, a company that offers customized beats and music composition for every genre.
Humble's wide musical range proved to be invaluable at the ASCAP Expo. When he wasn't receiving advice from his favorite musicians, he used the time to network with songwriters, musicians and producers from every genre. He has already produced two songs that are set to appear on Chris Quality's debut album, "Lyrical Fitness." He met the upcoming rapper at the conference and negotiated production deals. Humble is also set to produce songs on upcoming projects with singers Jennifer Matthews, and CY Dieyi.
Money has never motivated the musician but there have been times where he says that he has felt cheated. Humble recalls playing at a venue on Thanksgiving Day for five consecutive hours.
"After playing all of my songs for five hours, I was paid with 25 to 35 dollars and a plate of food," he said. "That's just not right."
Regardless of what money may or may not ensue, Humble's dreams grew to be bigger and brighter than ever after visiting Hollywood Boulevard.
"It's funny but it's a true saying, everybody is a star [on Hollywood Boulevard]," he chuckled. "It's an inspiration to see so many people out there trying to pursue their dreams."
Humble fell in love with Los Angeles during his three-day visit in April. He hopes to move to the city of dreams some day and pursue music full-time. While many artists at the expo were concerned with "making it big," Humble wants to stay independent.
Although he prays for the opportunity to produce for artists like Beyonce and Chris Brown in the future, Humble plans on following the music wherever it may lead. With dreams of moving to Hollywood and pursuing music, Humble makes it clear that his faith in God will always come first.
"Whatever I do, He's going to be in the plan… for me and my fiancée," he said.
Contact Staff Reporter Ashley Velez here. Follow her on Twitter here.