NFL
Does Michael Sam's New TV Deal Harm His Brand?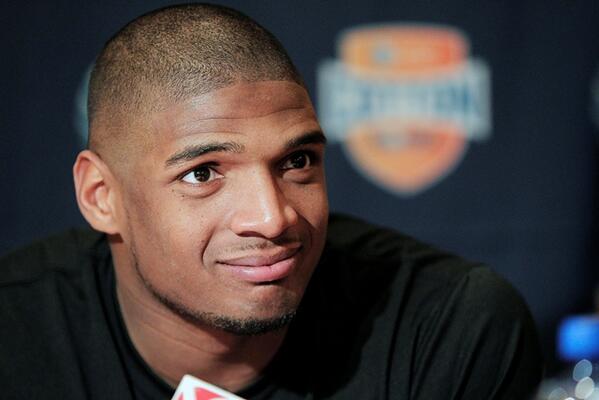 "I just wish you guys would see me as Michael Sam the football player, not Michael Sam the gay football player." Those were
the words that came out
of Michael Sam's mouth during his NFL Scouting Combine presser in February.
On Wednesday, the Oprah Winfrey Network announced a new documentary series highlighting the first openly gay player in NFL history. If Sam wants to be known as a football player first, opting for a television deal just four days after he was drafted by the St. Louis Rams could be damaging to his ideal brand.
According to Sports Illustrated's Peter King, the TV deal was not announced until after the draft. Would the Rams, or other teams that were interested in Sam, have viewed him as even more of a risk had this been revealed beforehand?
NFL teams want their rookies focusing on their first training camp, and late-round picks aren't even a lock to make the team. The last thing Sam needs is to become more of a media circus, and give the Rams an excuse to cut him before the regular season starts.
MORE: Michael Sam: The NFL's Biggest Experiment
NFL teams were not happy with AJ McCarron's decision to become a part of a reality show with his fiancée Katherine Webb. It's easy to picture Johnny Manziel getting grilled nationally if he pulled a similar stunt to Sam. Teams want to see their future cornerstones think solely about the game, not how they can be on television sets across the country.
Sam already is a cultural icon, but he should not be sending any controversial messages to the masses to impact his image and brand. His detractors can say that he's already selling his sexuality to become a PR stunt. With closeted and openly gay athletes looking up to him, Sam needs to be careful about what he does off the field before getting to make his statement on it.
It's understandable that Sam wants to cash in while he's a hot commodity. In fact, it'd tough for any rookie to turn down the publicity and money that Oprah Winfrey can offer. If he's trying to sell to the public, however, that he wants to be viewed as a football player first, this was not the right move to pull, especially to attain the brand that he wants before training camp begins.

Reach Senior Sports Editor Max Meyer by email.