Food
DK's Donuts Debuts 'Wow-Nut'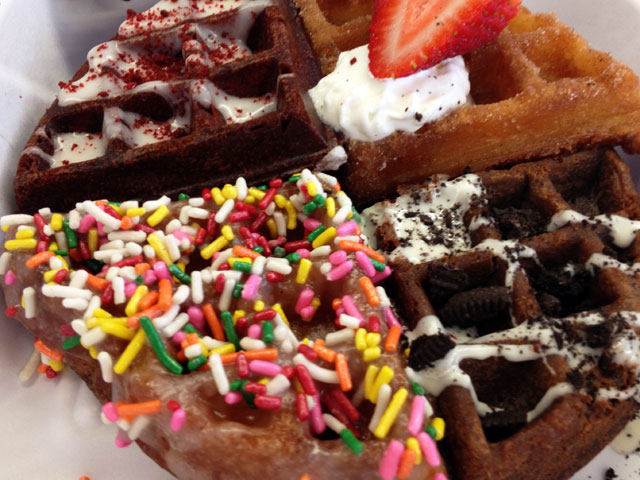 DK's Donuts
has done it again. But this time, they've combined waffle and donut batter to create the ultimate "Wow-Nut."
The newest addition to the bakery's menu debuted on May 2, according to co-owner Mayly Tao.
"We have always been trendy and trying to look for new products to carry," Tao says. "The fusion of the waffle and the donut seemed like the perfect mix. It's like a funnel cake, which is crispy but also really doughy. We started to experiment for a couple of weeks, and then we came up with this 'Wow-Nut.'"
And so far, customers have given DK's nothing but positive feedback about its latest novelty.
"I've gotten nothing but positive reviews," Tao confirms. "Customers have said they're delicious and amazing, like heaven in their mouths. [Our 'Wow-Nuts'] are the really the perfect blend between waffle and donut."
DK's "Wow-Nut" creation is a mixture of both waffle and donut batter created from homemade recipes. The mix is then put onto a cast iron waffle maker, deep fried in soybean oil and decorated with unique toppings, according to Tao. The bakery is currently featuring its "Beta version" of the Wow-Nuts, but changes are on the horizon.
"We [currently] have small triangles for $2 each, but we're soon going to make square ones for $3.50," Tao says. "Large 'Wow-Nuts' are $6.95, which comprise four slices."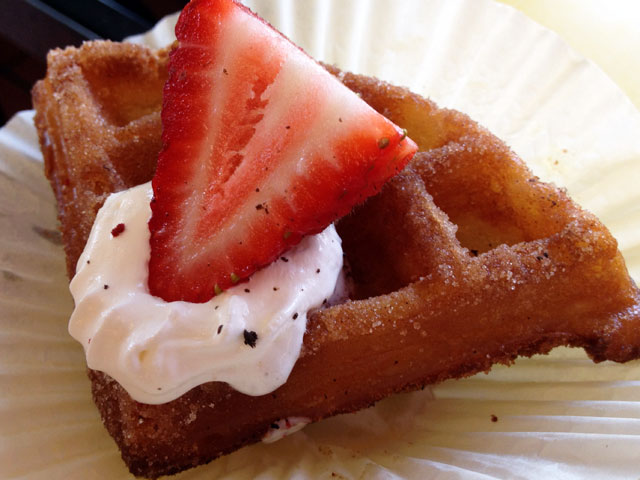 As of right now, these "Wow-Nuts" come in five different flavors — "DK's Original Wow-Nut;" "Red Velvet Lust;" "Birthday Sprinkles Text;" "Team Purple Yam" and "Chocolate Dream." Narrowing the selection down to just five flavors was a challenge for the DK's team.
"We always have so many ideas," Tao says. "We plan on coming out with a maple bacon version on our original butter waffle, as well as a blueberry waffle. The reason we don't feature all of them at once is because we're trying to see what people like. We always listen to people's suggestions and see what's popular with our audience."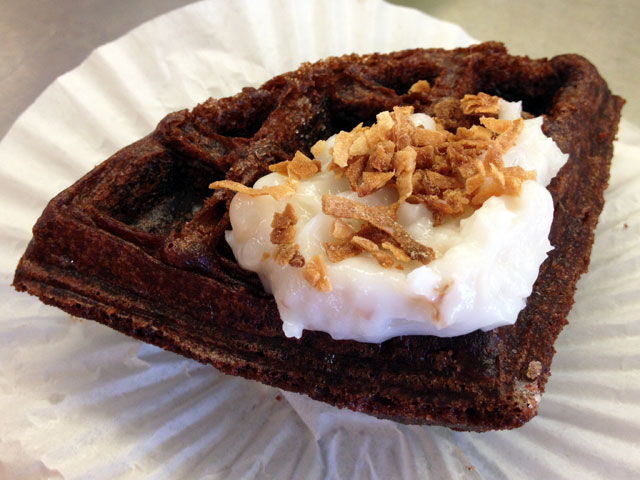 So far, the two most popular "Wow-Nuts" have been the "DK's Original Wow-Nut" and "Team Purple Yam."
"'Team Purple Yam' is made with an ube waffle, Hawaiian coconut glaze and it has toasted coconut on top," Tao says. The 'Original' features our waffle donut rolled around in cinnamon sugar and we add our homemade whipped cream and fresh strawberries on top."
Besides the "Wow-Nuts," DK's also has other recently debuted, newer menu items. These products include an "Ube Purple Crumb Cake Donut," which is topped with purple frosting and coconut (made from The Buttermilk Truck's special flour); a fresh "Strawberry Shortcake Donut," comprising a glazed donut, DK's house cream and strawberries; and a "Cookies and Cream" OREO donut made with a chocolate bar sliced in half, house cream and crushed OREO cookies, according to Tao.
On the "O-Nut" (DK's twist on the famous Cronut) side, the bakery just debuted a sweet-and-savory "Fried Chicken O-Nut."
"We've been experimenting with frying it or baking it because it's croissant and donut dough together," Tao says. "We started the 'Fried Chicken O-Nut' in early May."
And there are other "O-Nut" flavors in the works as well.
"We're going to incorporate Spam into one of our 'Double Decker O-Nuts,'" she says. "Maybe Spam and eggs or Spam and cheese."
Customers can even order sandwiches with the "O-Nut" exterior instead of using regular bread.
"You can choose anything on our menu—bacon, egg and cheese; a pastrami sandwich; a tuna sandwich—and put it in our 'O-Nut' bun," Tao says. "The 'O-Nut' is half croissant, half donut and you can use that as the bun of your sandwich. It's absolutely delicious."
Worried that your desired "O-Nut," "Wow-Nut" or donut flavor won't be in stock by the time you make it to DK's? Have no fear, as the bakery is open for 24 hours and constantly restocks its shelves.
"If customers are interested in a specific product or they are coming late, they can give us a call and ask what we have in stock," Tao says. "We get lines out the door at 2 a.m. and midnight. If we have any big updates [about our products], it'll be on our social media — Instagram, Facebook and Twitter."
Take a virtual sample of DK's "Wow-Nuts" below: