California
Climate Change And California Agriculture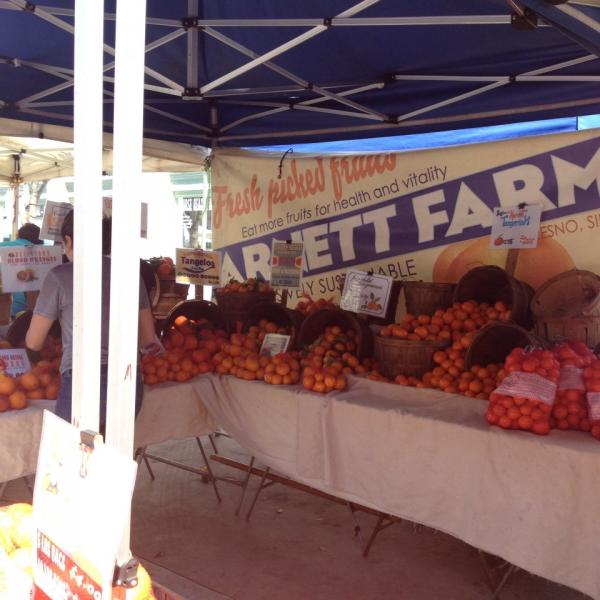 Scientific research of climate change and its effects on California's
agricultural sector
, are stirring concerns for both farmers and scientists.
California is the largest and most diverse agricultural producer in the nation and is the supplier of half the United State's fruits and vegetables, according to the Union of Concerned Scientists.
Scientists are continuing to express challenges brought on by global warming, particularly rising temperatures.
Increased heat, potentially brought on by global warming, is seen in studies to change precipitation patterns and also cause an increase in the demand for crops' water supply. This also results in fewer cool hours for trees that require it to bare fruit and nuts, according to Dennis Baldocchi, an environmental scientist at the University of California Berkeley.
Some of the biggest concerns, Baldocchi explained, are for the increased temperature throughout the California Central Valley, which could cause preemptive ripening of harvests.
Baldocchi has worked with a team of scientists who, for the past few years, have been researching weather changes, particularly a process which they call "winter chill."
According to Baldocchi, winter chill primarily affects fruit trees which are largely located in the Central Valley.
"About 90 percent of the fruit we eat comes from our Central Valley and for these trees to produce flowers, buds and fruit they need to have a sufficient period and duration of winter chill - a certain amount of hours between 32 degrees and 45 degrees fahrenheit," Baldocchi said.
Baldocchi and his fellow researchers have also been looking at long term climate trends in California and are starting to see that many of the Central Valley orchards are starting to receive fewer hours of winter chill then they are used to getting. With this study they are also looking at other aspects of climate that might be affected.
"We have a hypothesis that when we are getting more warming we, are getting less winter fog," Baldocchi said. "When we have less winter fog, we have less cooler nights and cooler days for these trees to have winter chill."
There is 30 years of satellite data with which they are able to document a notable decline in the number of foggy days that typically occur in the Sacramento and San Joaquin Valleys of California. While scientists are observing these patterns, they are unsure of the exact cause.
"I cannot say definitively that this reduction in fog is totally due to global warming, it might be some natural cycles with that also, which is something we still need to learn more about," Baldocchi said.
Environmental scientists' research, related to the topic of climate, holds the interest of the many farmers who see the direct effects of these changes. Baldocchi explained that he has many farm advisors calling and talking to him because they are finding that the buds on their cherry trees are warmer in the winter time.
"This is a big problem they deal with. Either they are not getting the production they hope for or they actually have to spray some hormones on their plants or trees that is expensive to break dormancy," Baldocchi said. "So these are some of the extra costs."
These costs are often reflected in the price at which the produce is sold.
A Hillside Family Farms employee who wished to remain anonymous spoke to this issue of climate change that resonated with him.
"All I can say is that yes, we have been feeling the effects of climate change. While its hard to pinpoint, its definitely there."
They explained while they sometimes have to raise their prices, its typically no more than a quarter or fifty cents.
"We want to bring the best price to the customer but also make a living," he said.
Not all farmers are feeling the effects of the climate change, though. Smit Farms of Linden, California has their own aqueduct and water supply so they are able to maintain appropriate water levels.
Berumen Boyz Farms in Fountain Valley are seeing a mix of the effects from the hotter temperatures.
Conditions aren't drastically affecting all of the produce at the Berumen Boyz Farms, said Seth Berumen.
"We have greenhouses that we can use to maintain some of the crops, despite the weather."
However, with the greenhouses alone, they are not able to protect all their produce.
"You can see how the heat has affected the produce just by looking at them," Berumen said. "These carrots don't stay as orange and therefore we cannot charge our usual full price."
These are just a few of the challenges farmers throughout the Central Valley face. Baldocchi expressed concerns for the farmers in these regions, should these climate trends persist.
"The reality, is that they may have to shift to where certain fruits are being better produced," Baldocchi said. "They may have to move up the foothills to higher elevations, things that are growing in the Southern San Joaquin Valley may have to be moved to the Sacramento Valley."
Reach Staff Reporter Alana Victor here.