California
California Youth Crisis Line Empowers Youth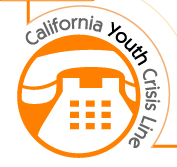 "I'm really sorry to hear that, can you explain a little bit more about what's going on," asked Mary McCormack, the lead counselor at the California Youth Crisis Line.
As a counselor at the , a statewide, 24-hour, free and confidential hotline, McCormack frequently asks this question.
The hotline supports teens and adults ages 12-24 as well as any adults supporting youth. The line receives 20-25,000 calls per year.
"We are here to offer support to people regardless of the issue. When they feel like they don't have anyone else to reach out to or they feel like other people might judge them, we're here to listen and support them," said program coordinator Teryn Heckers.
The hotline is run by the California Coalition for Youth (CCY), a nonprofit organization that advocates for public policies, programs and services that help the youth.
The line has six paid employees; all other counselors are volunteers.
The California Youth Crisis Line is different from other hotlines in many ways, but perhaps the biggest difference is that the California Youth Crisis Line aims to empower youths, not give them advice.
"To empower somebody is to build up their self esteem and their courage. A lot of teens and young adults are constantly told what to do. Our goal is to empower them and show them that they have the tools to make the correct decision," McCormack said.
In order to do this, counselors routinely ask callers to elaborate on how they are feeling. Counselors and callers then discuss the various possible solutions and the pros and cons of each possibility.
"We're of the mindset that the caller knows what's best for them. Especially with youths, there's already a lot of people in their lives trying to tell them what they think is best for them and we give them the chance to be heard. They're more likely to follow through if the feel like they can do it and like the came up with it," said Amanda Johnston, California Youth Crisis Line's community outreach coordinator.
The line operates throughout California and helps callers find resources specific to the issue they are dealing with in their area.
The California Youth Crisis Line is also different from other hotlines because it handles all issues and does not focus on one type of problem.
The line has been in operation for 25 years. At its inception, it catered to issues related to homelessness and runaway youths. While the line still handles these issues, it also handles bullying, eating disorders, depression and more.
According to McCormack, the issues most commonly dealt with are family and relationship conflict, runaway and homeless youth issues and mental health issues.
She said the line does not get a lot of calls from people at risk of suicide because those people usually call suicide hotlines instead.
Johnston said that many middle and high school students who call in do so to discuss bullying or cutting.
Some of the older people who call in discuss financial stresses or unsafe living conditions.
Johnston also said that a decent number of parents call to ask questions about how to talk to their children. These parents are concerned about what they find in a child's bedroom or recent behavior changes. The counselors give the parents advice on how to start a conversation with their child.
Heckers said that because the line is anonymous, there is not a lot of data on the callers. Those who do give their age are usually 15-17 years old.
Over the years, she said she has noticed that until age 17, many more girls call than guys. At ages 18-22, more guys start to call in, even though the number of girls calling does not change.
"Younger boys, they don't really get the message that it's okay to talk about their problems, about their feelings, or about anything, so I guess my hope is that as they're getting older they're finding that it is okay to talk a little bit more about what's going on and that we're really not going to judge them and that it is okay to reach out to get help," Heckers said.
With all the issues volunteers are expected to deal with, there is a lengthy training process.
The more than 50 volunteers are required to put in 40 hours of training over two weeks. The training lasts three and half hours Monday-Thursday nights and 4-5 hours on Saturday.
During this training, volunteers have a crash course where they learn about each topic they might deal with. During these crash courses, representatives from various organizations come in to discuss issues such as cutting, bullying and child abuse.
Next, new volunteers work with someone who has been at the California Youth Crisis Line for 3-6 months. The new volunteer spends two shifts watching them answer calls.
After all this training, the new volunteer finally starts answering calls on his or her own.
Anyone over the age of 16 is allowed to volunteer, but McCormack said 75-80 percent of volunteers are college students. Many of these students are studying psychology, sociology, education, nursing or another related profession.
"This is a way they can try their field out and see if this is what they want to do," Heckers said.
Wanting experience in a field relevant to their major is how Johnston, McCormack and volunteer Alice Thomas became involved.
"I volunteered because I really wanted experience with people going through a crisis and was studying psychology," Thomas said. She has been a volunteer for the past two years.
Johnston was also a psychology major.
The position of community outreach coordinator became available while she was volunteering and she was hired in October. She now works to educate people about the line, as well as to recruit new volunteers.
McCormack volunteered for two years before being hired as the lead counselor. In this position she assists in the recruitment, training and placement of volunteers.
Heckers added that volunteering at the line is not an easy job, so those who do are very committed.
"If they wanted to volunteer just to volunteer, they would go somewhere else," Heckers said.
Due to the tough nature of the calls, it is important for volunteers to be able to separate the job from their daily life.
"To be able to do the work that we do, you have to have a fun part and have some humor in your personality—not humor about the calls, but the ability to put the phone down and have happiness and humor in your life and not take everything home," Heckers said.
Many of the volunteers become close friends while working at the crisis line.
"With the kind of topics that come up you get into some kind of deep discussions. Yeah, we're fun and we're goofy sometimes, but we have to deal with some really tough stuff and you get in really deep conversations sometimes with your partners and you really get to know these people and really personal things can come up," Heckers said.
Johnston voices a similar view.
"Everyone here is volunteering usually because of some personal connection or wanting to give back and help other people and that creates a really supportive environment for our counselors," Johnston said. "We have to make sure that when you get off the phone you can decompress and not take it home with you."
Heckers also said that volunteers are often people who have faced their own hardships and have learned to deal with them.
"Everyone, everyone in their life goes through tough stuff, and I think that the people we get here as volunteers tend to be the people that recognize that they've gone through tough stuff and they've made it through and have healed and now they're at the point that it's time to give back and support people with their struggles," she said.
Volunteer Rebecca Mackay was a teenage runaway who now acts as a counselor at the line.
"I've had a lot of experience with the issues that we help others with," she said. "It's kind of like a circle of giving back."
Heckers said that she and the other staffers "take pride in getting to know each of the volunteers." Heckers' favorite moment at the line, though, is a specific call she took.
This call was from a young girl calling back for the second time to thank a male counselor she had previously spoken to. The man was not at the call center, so Heckers talked to the girl instead.
"She told him she had been sexually assaulted by the friend of a close friend and what she didn't know is that the guy that she was calling to talk to was actually a 16-year-old high school junior," Heckers said. "It just kind of hit me in that moment the power of not being able to see each other.
"The girl was still a minor, she was 17 I believe, and in real life I just don't see a 17-year-old girl opening up to talk to a 16-year-old guy about how she'd been sexually assaulted, but over the phone our guy had a chance to listen and be that support and it's amazing what you can do when the anonymity is there," Heckers said.
Johnston's favorite moments are also the ones where she knows she helped someone.
"(Calls) that usually stick out to me are the ones where you can tell that during the time of the call you were able to help relieve some sort of burden or help the caller and a lot of times they'll vocalize that, they'll let you know that they feel much better," Johnston said. "It's really great when you know you've given someone something that's kind of irreplaceable."
Those who work at the line said it has had a positive impact on them as well as the callers.
"It's amazing to hear that you are helping and making a difference in someone's life," volunteer Refugio Pantoja said.
"The state of California is a better place because we have this line," Mackay said.
Reach Deputy Editor Hannah Madans here.