NFL
2014 NFL Draft Preview: Trojans In The Draft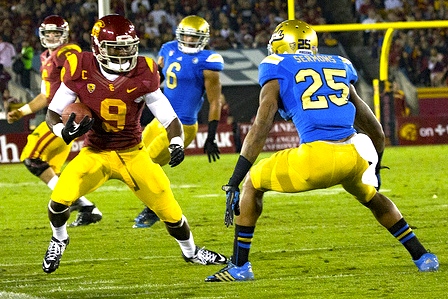 1) WR Marqise Lee
After a successful freshman year in 2011, junior wideout Marqise Lee had a breakout season in 2012, catching 118 passes for 1,721 yards and 14 touchdowns. However, quarterback struggles, the absence of Robert Woods, and injury set him back in 2013 and he only caught 57 passes for 791 yards and just 4 touchdowns. Lee showed off his speed and athleticism at the NFL Combine, proving he is still the athlete he was in 2012. He is considered to be the 5th best wide receiver in the draft and the 27th best overall prospect, and is projected to be a late first-round pick. Teams interested in Lee are the Kansas City Chiefs, Carolina Panthers, New York Jets, New Orleans Saints, San Francisco 49ers and Philadelphia Eagles. His strengths include his speed, route-running, vision, elusiveness, vertical jump, and the ability to make an impact on special teams as a returner. However, his size and last season's injury cause questions of his durability.
2) C Marcus Martin
Martin started his junior season at center and was named an offensive captain. Martin is big and has a good build for an interior lineman. In addition, he is quick off the snap, flexible, slides well in pass protection, and is physical, nasty, and plays to the whistle. However, Martin lacks experience playing the center position. The previous two seasons he played ten games each year, both at left guard. 2013 was the first year he got experience at center, but he took advantage of the opportunity and is now considered the second-best center in the draft. Martin is projected to go as late as the late second round, and as early as the early first round.
3) S Dion Bailey
Bailey came to USC as a safety, but was quickly switched to outside linebacker, where he started 11 games and was named the Pac-12 Freshman Defensive Player of the Year. In 2012, Bailey continued his success at outside linebacker. In the offseason before the 2013 season, Bailey dropped ten pounds and moved back to the secondary to play the nickel position, recording 61 tackles, six pass breakups, five interceptions, 6.5 tackles for loss, and one forced fumble.
Teams question his physicality and tackling ability, and his lack of experience at safety worries them. However, Bailey is an athletic, hybrid player who reads plays well and is rarely out of position. He is fast and accelerates well, moving fluidly with a change of direction. He puts himself on quarterbacks' radars with his good hands and ability to pick passes off. Bailey is the No. 4 safety in the draft and is expected to go in the late third round or early fourth round.
4) DT George Uko
George Uko is the No. 15 defensive tackle in the draft class. He has a good frame with long arms, is explosive off the snap, has quick and active hands, and is athletic and gets good penetration. What worries scouts is his lack of bulk, his inability to quickly change direction, bad balance, and struggles stopping the run. A successful 2013 season has made Uko a projected mid-4th round pick.
5) TE Xavier Grimble
Grimble is ranked the No. 10 tight end in this year's draft. He has good size and deceptive speed. He is both a solid run blocker and receiver, but his greatest skill is what he can do after the catch. He is a big player, and his size appeals to scouts, but his lack of balance makes him easily knocked around by small defenders. Another weakness is that he shows little burst off the line of scrimmage after the snap. In 2012, Grimble was named All-Pac-12 honorable mention, however, 2013 was a down season for him as he struggled with nagging injuries. He finished his junior season with 25 catches for 271 yards and 2 touchdowns. Grimble is expected to be drafted in the late 5th round.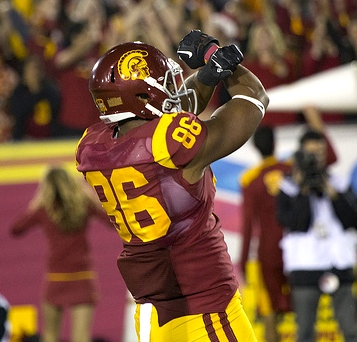 6) DE/OLB Devon Kennard
Kennard returned to the Trojans' defense as a fifth-year senior after missing 2012 due to injury. Kennard's return made an impact immediately because of his ability to control the outside edge and get to the quarterback. In 2013, he recorded 9 sacks and 62 total tackles. The issue Kennard has to deal with for the NFL is his ability to play in a 4-3 defense. He is thought to not be strong enough to play the traditional defensive end position, and too slow and not fluid enough for the outside linebacker spot. Another concern is his durability, as he had hip surgery in 2010 and suffered a torn pectoral in 2012. However, he is complimented for having a stout frame with long arms, being quick off the snap in both a two-point and three-point stance, he uses his hands well and has a strong bull rush, and he has good flexibility allowing him to dip under the reach of bigger tackles to get to the quarterback. Kennard is expected to be in early 6th round pick.
7) DE/OLB Morgan Breslin
Breslin transferred to USC in the spring of 2012 after being a standout junior college player. His first season at USC, he recorded 62 tackles, which included a team-high 19.5 for loss, 13 sacks, 4 pass deflections, a forced fumble, and a fumble recovery. Breslin made the All-Pac-12 second team, and was an honorable mention All-American by Sports Illustrated and Pro Football Weekly. There were big expectations for Breslin going into his senior season in 2013, but injury held him back. Breslin only played in 5 games, where he had 15 tackles and 4.5 sacks. A hip hernia held Breslin out of the last seven games of the 2013 season, and that has caused questions about whether he has the same explosiveness that he once had. Like Kennard, his size and run defense make it hard for him to play the traditional defensive end spot. He is criticized for his struggle to disengage at the point of contact and lack of strength to power rush. However, he makes up for it by being quick off the snap, maintaining good balance to dip under tackles and get to the quarterback, being quick around the corner and wrapping up his target, and having a good hand speed to get past blockers. Breslin could have very well been a first round pick if he remained healthy all of the 2013 season, but as a result of his hip hernia, he is expected to go in the late 6th round.
8) OT Kevin Graf
Graf is a tall and experienced right tackle who started 38 games for USC. He has the ability to get out of his stance fast and play hard. He is able to provide enough pass protection for a quick passing game and is mobile enough to make blocks at the second level. Those qualities along with being a three-year starter at an elite program are in Graf's favor. However, he struggles on his own when he doesn't have help and he doesn't use his hands well. Speed rushers beat him to the outside, and he struggles picking up the blitz. He is considered the No. 19 offensive tackle and is projected to be taken in the 7th round.
9) RB Silas Redd
Redd was a transfer running back from Penn State after the Sandusky case. His last season at Penn State, he missed a few games at the end of the season due to a collarbone injury. As a sophomore at Penn State he rushed for 1241 yards and 7 touchdowns. His first season with the Trojans, Redd split time with former running back Curtis McNeal and recorded 905 yards and 9 touchdowns, and was named All-Pac-12 honorable mention. In 2013, his senior season, Redd was expected to have a very successful year. Unfortunately, knee injury limited him to just 81 rushes for 376 yards and only 1 touchdown. In addition to his injury, a slow 40-yard dash at the NFL combine raises concern about his speed and the health of his knee. Other concerns about Redd are his ball control, as he exposes the ball to defenders and does not switch hands, and the fact that he is easily tripped up by arm tackles below the waist. Scouts like his strong frame, his ability to burst through the hole, his good jump-cut and vision, and his soft hands as a receiver. However, injury struggles and lack of speed have put him in a position to most likely go undrafted and signed as an undrafted free agent.
10) OG John Martinez
Offensive guard John Martinez started every game in both his sophomore and junior season, and in 2012 was an All-Pac-12 honorable mention. Unfortunately for Martinez, his senior year he saw a significant loss in playing time, only starting a few games. His drop in success in 2013 from 2011 and 2012 significantly hurt his playing time. Martinez is ranked the No. 25 offensive guard in the draft, and No. 412 overall. He is projected to go undrafted and will hope to earn a tryout and a spot on a roster by the fall.
11) CB Torin Harris
Harris is the No. 46 cornerback in the draft, and is another former Trojan likely to go undrafted. Harris was successful early in his career at USC, starting the first 4 games of the 2011 season as a sophomore before being sidelined by injury the remainder of the season. In 2012, Harris started 5 games and appeared in 10 games, recording 60 tackles for the season and a team-best 6 pass deflections. However, in 2013 he had a decline in productivity. His senior season, Harris appeared in 9 games and again had 30 tackles, but his overall play suffered. Former safety Josh Shaw moving to cornerback, Dion Bailey playing the nickel position, and the emergence of Kevon Seymour all lessened his time on the field. He showed weakness getting beat deep and in man coverage. However, his tackling ability and experience could allow him to earn a spot on an NFL roster sometime after the draft.
Reach Staff Writer Jordan Schuchmann here or follow him here.